Approaching Community with Intention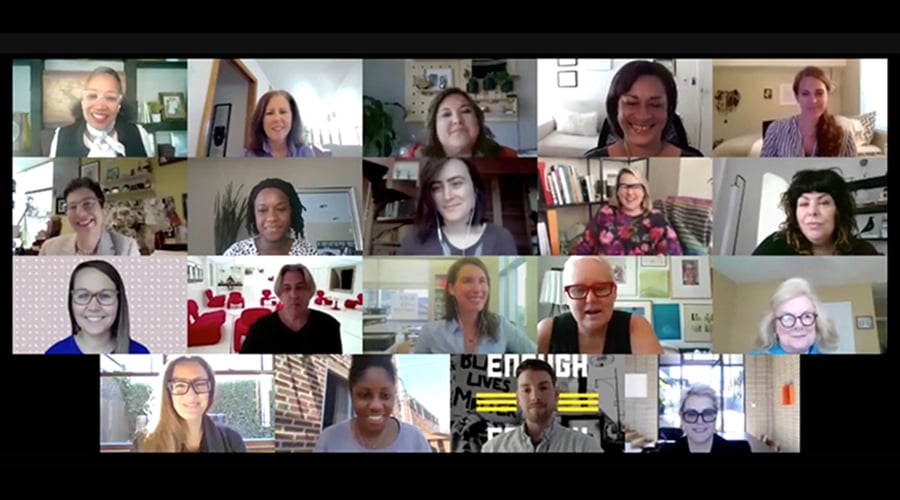 In a recent webinar presented by KI and IIDA—Coffee with Cheryl—as part of the Community as Strategy program series, a panel of design professionals investigated community building in the time of COVID and what it means to meaningfully engage with community during times of societal unrest.

Last year's Community as Strategy program series took KI and IIDA to six U.S. cities where designers, architects, and clients discussed the importance of supporting communities through design and described their unique respective community needs. This year's series, while still regional, looks drastically different—through the use of virtual technology—but the primary thesis remains: maintaining community is vital, and in challenging times, how will design help?

KI was honored to host this iteration of Coffee with Cheryl and once again welcome IIDA Executive Vice President and CEO Cheryl S. Durst, Hon. FIIDA as our moderator. Together with 16 design professionals, we considered our most pressing questions for the future: In a work-from-home world, how can design help maintain community? What will be necessary for designers to communicate within the built environment? How do we continue to engage in community given all we know about the world around us?

Panelists were invited to share their thoughts on ways design can support, reinforce, and engage community, especially during times of adversity. This notion of community, given that we are living through the pandemics of both coronavirus and systemic racism, is more important than ever. According to Diana Farmer-Gonzales, IIDA, Assoc. AIA, managing director and principal of Gensler's Miami office, "we have to be intentional with community and with how we build it." In our social media-saturated world, "community" can often become insular and homogenized. It is up to us to break free from systemic standards and accept feelings of discomfort when building strong, inclusionary communities—discomfort, Farmer-Gonzales explains, can be a crucial part of growth and a catalyst for galvanizing communities.
Expanding your community can also mean redefining what community means and looks like to you. Part of reckoning with the current situation involves reexamining who your community members are, how you connect with one another, and what communities you yourself are a part of. In Pittsburgh, Jane Hallinan, IIDA, an interior designer at Perkins Eastman, shared that she and her coworkers are now reaching out to each other in meaningful ways to discuss what is going on in the world. "We are having conversations about how we can be engaged as a firm and how we can engage the wider communities in Pittsburgh," she says.

Betsy Vohs, CEO and partner at Studio BV, agrees that the scope of community should be wider. In Minneapolis where Voss lives, the rethinking of community was profoundly important in early June after the death of Goerge Floyd sparked nationwide protests and led to a significant reflection on racism and the systems that perpetuate it. "In Minneapolis, people are really coming together to rebuild in both a literal and metaphorical sense," she says. Even now, they continue working together towards a better future, where communities can be repositioned to be more inclusive and where we can take a hard look at the powers that be and rethink how safety within our communities can be achieved.

So how do we go about strengthening and expanding our communities when so much about the way we interact in the future is uncertain? From a workplace perspective, the first and foremost thing community leaders must do is listen to their community members and employees and generate trust, says Sarah Kuchar, owner and creative director of Kuchar Studio. "People really do miss socializing, but they want space and they want a level of certainty. We have to ask ourselves, how can we design social spaces differently in the future?"

Recently, Kuchar's firm sent out an in-depth workplace survey to get a sense of how her employees were feeling about returning to work, assuming the stay at home order was lifted. The survey revealed that what people want most is transparency from their employers and clear direction so that they don't have to police each other.

Ronnie Belizaire, IIDA, corporate real estate manager, Americas at Daimler North America, says that one of the most important things her organization has learned through this experience is putting trust in people while they work from home but continuing to lead with a calm, confident voice giving them clear, specific directions. "People are extremely adaptable," she says. "They can work from home and be trusted to do their jobs. We are looking for meaningful support from leaders," she says.

When we do eventually start returning to offices, we will crave a sense of community—no one wants to go into an office to just be heads-down. Designers and design professionals must rethink these spaces so that they can both create and support community, while maintaining a sense of safety, spatiality, and calm.

And speaking of reopening, designers will play a key role in the various phases of reopening across the country as clients will look to firms to help with safety and security in their spaces. Sascha Wagner, FIIDA, AIA, principal and CEO of Huntsman Architectural Group, says that designers should aim to empower individuals and companies to have agency, but continue helping lead the way when it comes to safety within those specific communities. "We will all have to redefine our relationships with one another in a physical space," he stated.
Moderated by:
Cheryl S. Durst, Hon. FIIDA, executive vice president and CEO, IIDA
Deborah Breunig, vice president of A+D marketing, KI


Panelists:
Subscribe
Stay up to date with the latest trends and more.