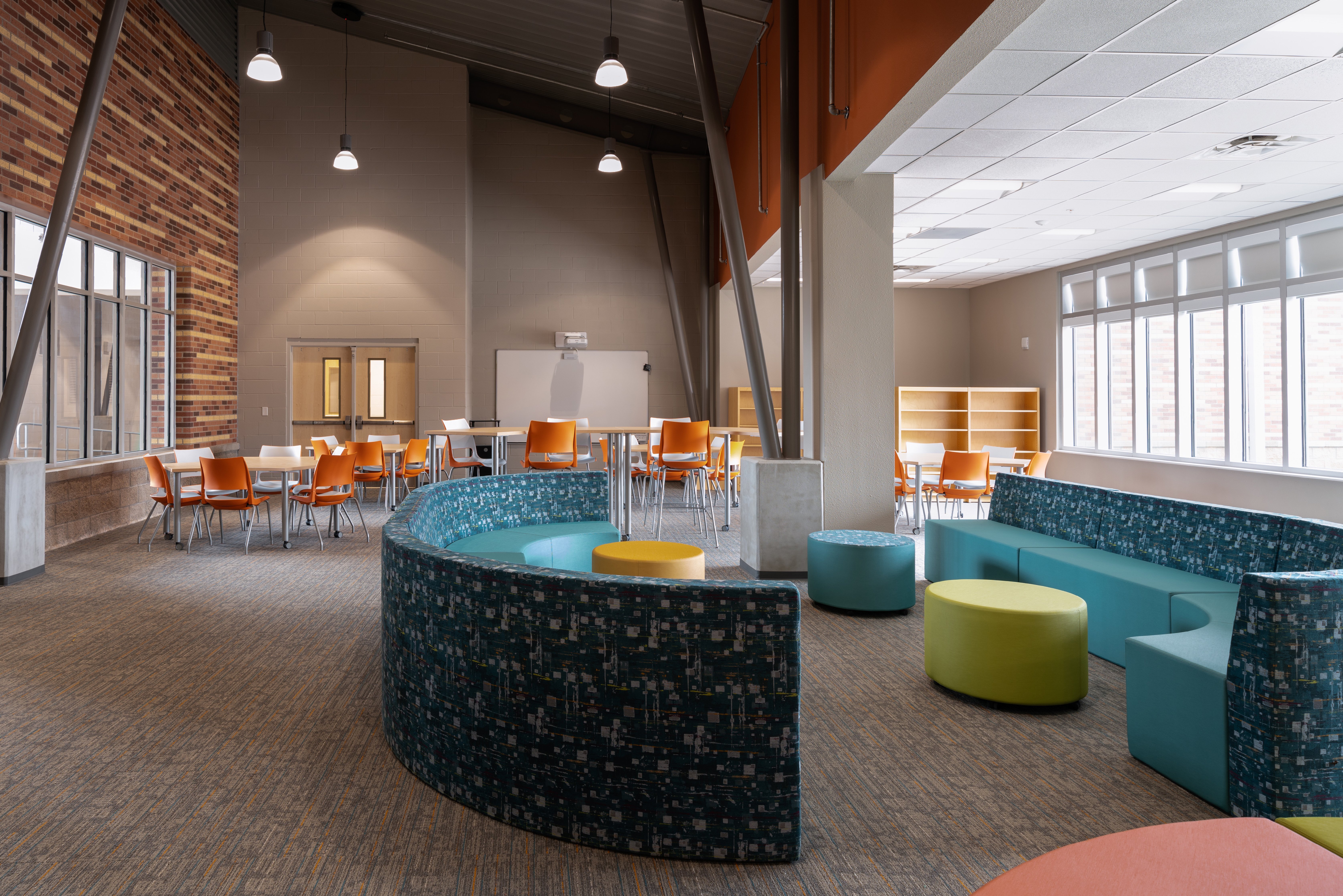 New Elementary School Reflects Flex Ed Commitment
Imagine an elementary school with no gym for future athletes, no stage for budding stars and inadequate classrooms for tomorrow's leaders.
Those are just some of the difficulties the Burkburnett Independent School District of Burkburnett, Texas was facing when it started planning a new, 80,000 square-foot school to house all third- through fifth-grade students.
The district also wanted to build a school centered around student and staff collaboration.
Our desire was to build a campus and campus culture to facilitate learning at high levels with ample space and opportunity to implement project-based learning, hands-on activities and real-world, problem-solving application.
Kendy Johnston, Principal
The district engaged with BYSP Architects to ensure a flexible yet connected design that addressed educational, social, recreational and environmental needs. Specifically, the district wanted to expand on the concept of student-centered learning it had tried to incorporate into its existing schools. Terry Lowry, Interior Design with BYSP, toured these schools to get a better understanding of how to approach the design.
"These were not traditionally structured classroom settings," Lowry said. "The teachers and students were already accustomed to learning in a relaxed environment where students could choose their seating. We knew we wanted to provide both a plan and furniture options that allowed for a continued, modern atmosphere for learning."
As a result, the new Overton Ray Elementary School is one of the most flexible and fluid elementary schools in North Texas. Aside from the 24 classrooms, the campus includes a variety of collaborative spaces, three STEM labs, three collaboration stations, an amphitheater and a student lounge.
To support continued collaboration, most of the furniture choices included casters for ease of movement. The school also chose dry-erase desktops to further promote collaborative learning opportunities for students and staff. Having ample storage in both classrooms and labs adds to the functionality.
"The overall design represents an engaging, collaborative and flexible learning environment," Lowry said. "Teachers have access to furniture that allows the freedom to rearrange in many different configurations for their students. They are especially pleased with the Ruckus chairs because students are comfortable, relaxed and interactive while learning."
Principal Johnston agreed, "This school allows 21st century learning for our students. The furniture is flexible, functional, comfortable and durable – everything we were looking for – all with a 15-year warranty, another important purchase component."
Case Study Newsletter
Sign up to receive the latest updates from KI with inspiring spaces and solutions.