You Are (Virtually) Here: The New and Mixed Reality of the Modern Workplace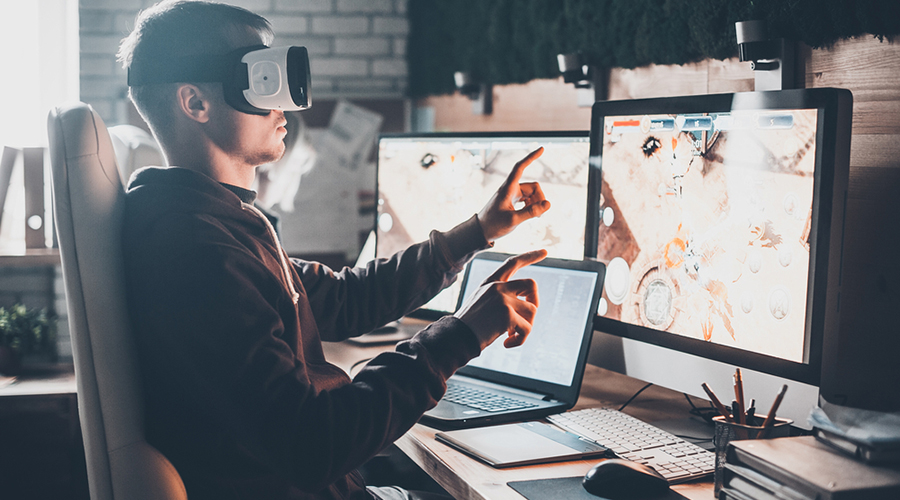 Today's workplace looks and "works" dramatically different than it did 20 years ago or even a decade ago thanks chiefly to technology. Working remotely, teleconferencing, and co-working and collaborative spaces, once the stuff of dreams are now today's business norm.
Now, hold on to your augmented-reality smart glasses. The workplace is about to transform again, this time at warp-speed thanks to the latest tech trends.
These workplace transformations are being fueled by high-tech, fast growth companies, along with a younger generation that demands technology tools to allow them to work anytime, anywhere, 24/7 as efficiently as possible. The ability to collaborate with partners will follow the trend from voice conferencing, to video chat, to telepresence, to virtual reality.
In 2017, KI conducted research aimed at architects and designers who work frequently with tech companies. Our research found that the newest tech tools are being used to generate more profitable products and services, as well as greater and faster innovation across every industry.
How fast? We interviewed Brian Collins at Microsoft, a company that has always measured progress by rate of innovation. He said, "We used to release software every two to three years. Now updates are weekly, daily, or even hourly depending on what the need is."
And his spaces are changing accordingly. His Microsoft crew is moving from private offices to team-based environments to help their release cadence become even faster. Bringing his teams together has helped them become more aligned and improve both quality and speed of release.
The results of Microsoft's innovative approach are creating workplace innovations for us all. Just this past May, Microsoft released two mixed reality apps designed for first-line workers: Microsoft Remote Assist and Microsoft Layout, both used with its HoloLens, eyewear with a self-contained, holographic computer that lets users engage with digital content and interact with holograms.
Microsoft Remote Assist enables workers to remotely collaborate with an expert and be guided through a task. Using the head-mounted HoloLens, a front-line worker can make a hands-free video call, share images of what he is seeing with an expert, make onscreen annotations, and have that expert walk them through a process or solution, without having to physically be there.
Similarly, Microsoft Layout is a design app that allows users to see how a room will look in the physical space around them or in a virtual space using 3D model holograms, and collaborate in real-time with others.
These newly launched mixed reality tools incorporate one of the faster tech trends in today's workplace: virtual reality. It is closing the gap between different tracking, living, and gaming software, which is why the current innovations in virtual reality are paired with the increase in gamification in the office. And it's no surprise that each generation that precedes the last is more and more excited to experience this technology.

A recent report from Goldman Sachs even predicts that virtual reality will be an $80 billion industry in 10 years!

Yet change doesn't always happen in large strokes. Other tech gadgets are popping up everywhere and may become more mainstream in the very near future. These small tools may well usher in new ways of working in the same way smartphones freed us from our personal computers. Think of these gadgets as you would smartwatches or portable device chargers. They may not be distributed by employers, but the tech-savvy recruits that employers are racing to attract will most likely snatch them up and start using them without a corporate push.

Imagine a group of colleagues meet for lunch to prep for a presentation. While discussing the presentation they are able to project a presentation on a coffee shop wall using a simple projector like Beam Lab which plugs in to any light socket. At the same time, another employee uses a write-anywhere mobile device like the Phree smart pen to write and annotate notes directly on the presentation without physically writing on the wall. They save their changes digitally and head to their presentation.

So, how do these tech advancements affect your workplace? These tech trends are going mainstream and will undoubtedly alter the face of the current office.

We learned from our research that tech firms now devote nearly 60% of space to "we" space or collaborative settings as opposed to individual "me" space. Corporations will have to reconsider the allocation of space and resources to accommodate these tools as well as employees wishing to incorporate the tools into their daily routines.

It's only a matter of time before your office will be jumping on the tech bandwagon!

If you'd like to learn more about what's driving tech culture, I encourage you to contact us to schedule our CEU, "Emerging Space: How the Technology Industry is Driving Workplace Change."

Subscribe
Stay up to date with the latest trends and more.