Women in Healthcare Design with Ardis Hutchins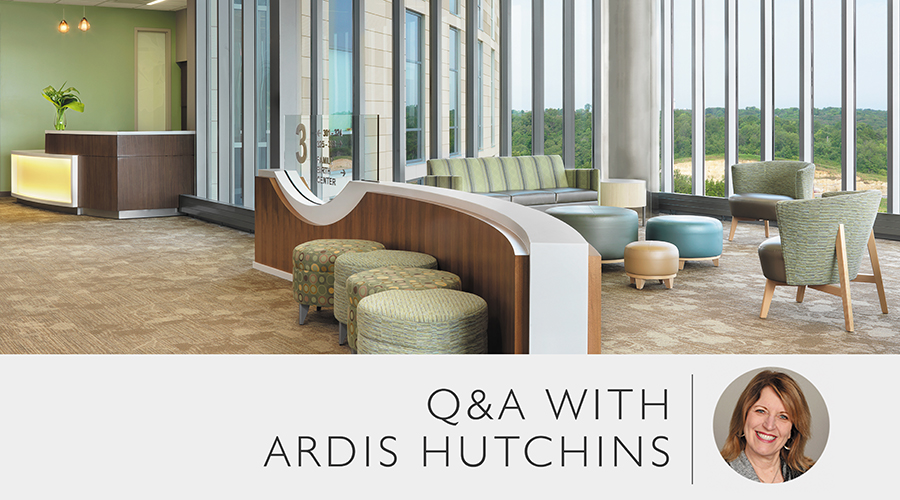 Recently, we had the opportunity to have a conversation with Ardis Hutchins, Interior Architect at the University of Wisconsin Hospitals and Clinics. Ardis has over 30 years of professional experience - 18 of those years spent specializing in healthcare interiors. Ardis is also a founding member of the American Academy of Healthcare Interior Designers (AAHID). She graciously answered a few questions for us below.
March is Women's History Month. What key contributions and insights are women designers bringing to healthcare environments?
The field of healthcare is dominated by women professionals, primarily nurses. It is often quoted that women make 80% of the healthcare decisions for their families. In general, women as care providers for their families have always been actively involved in healthcare and are sensitized to the needs of patients.
Florence Nightingale wrote about the importance of a quiet/ calm atmosphere; natural light and air quality/ natural ventilation in the healing environment. Today there are more women architects and interior designers specialized in Healthcare Design, and I have found them to be passionate about improving Healthcare environments for patients and staff. In general hospitals and clinics are becoming less scary/ institutional and more focused on the patient and their families.
What are some of the most relevant ways healthcare design has changed in recent years in response to women's needs?
Women today have a stronger voice and their needs are being heard. Because women are decision makers and seen as healthcare consumers, we now have beautiful Birthing Centers. Hospitals know that if a woman has a positive experience when she gives birth in their facility, the family is more likely to use the hospital's Emergency Room and other facilities. Today lactation rooms are common throughout healthcare facilities to meet the needs of women workers and guests. There are special Women's Health facilities such as Breast Centers.
The patient room in a hospital has dramatically changed. In new hospitals private rooms are the norm and a dedicated family zone for visitors and an overnight guest is included. Access to nature through patient room windows with a view of nature and access to the outdoors such as healing gardens are a current trend.
Has this benefited the population as a whole? If so how?
Healthcare design like healthcare is driven by data and outcomes. Evidence based research design has proved that people heal faster, require less pain medication, and the length of stay is reduced when the environment is improved. Providing amenities required by female staff improves employee satisfaction and employee retention.
Can you think of a time where you had to challenge the status quo within the spirit of great design?
Challenging the status quo is part of the job of a good designer. Looking for ways to improve work flows/ efficiently/ productivity. Specifying products that are easy to clean and maintain are critical in a healthcare environment. Trying improve the patient and family experience is of upmost importance. Because I work for a healthcare organization in Facilities, I am very sensitized to providing safe supportive spaces. This means designing for patients with low vision. It also means designing spaces to reduce slips and falls, etc.
What's the most exciting trend you see in the future of your industry
Advancements in technology. It's a game changer. We are designing healthcare environments for the future and trying to make spaces as flexible as possible. In 2015 we built a new hospital and we used systems furniture throughout the registration areas, staff spaces, etc. It was the right decision. One year later we were able to quickly make changes to improve workflow. I'd like to recommend a good book that I learned about when I attended Healthcare Design last November, The Patient Will See You Now, by Eric Topol, MD. It is about the impact technology is making on healthcare. I found it to be a book of good news.
If you weren't designing for healthcare, what would you be doing instead?
I really like the field of healthcare design. If I wasn't designing healthcare environments, I would probably be working in product design. I'm also interested in senior design and improving homes for aging in place.
Subscribe
Stay up to date with the latest trends and more.