When a Building Becomes an Experience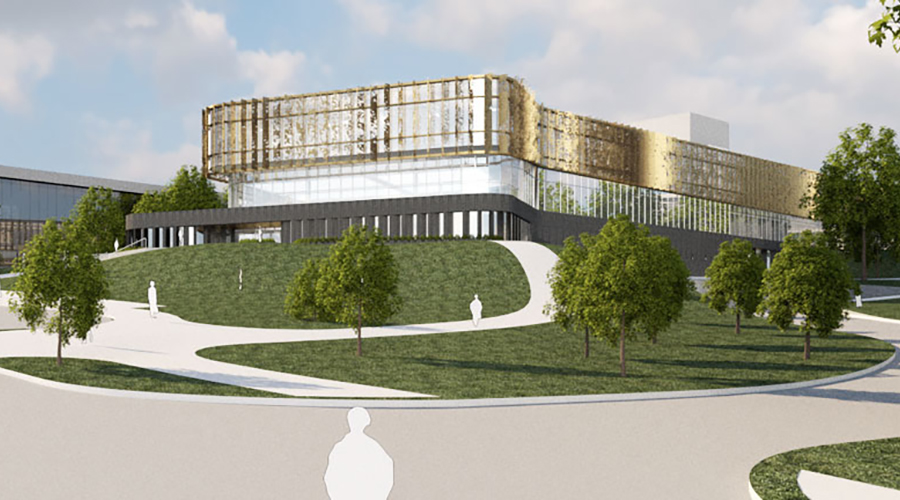 KI and IIDA are hosting a six-city panel discussion focused on Community as Strategy. The emerging topic centers around how the idea of community is shaping design in various markets and locations. Each event features a panel of designers, clients and academia and is hosted by Cheryl Durst, IIDA's Executive Vice President and CEO. This blog features the most recent event held at the IIDA headquarters in Chicago.
Chicago is a city known for its eclectic architectural mix of historical buildings and sleek skyscrapers. So, it's a bit ironic that much of the discussion at the Community as Strategy event centered around creating a three-story "building that's not a building, but rather an experience more like a walk through the woods."
KI caught up with Chicago panelist Robert Benson, design principal with CannonDesign, for a more in-depth discussion about the new student center at Western Michigan University in Kalamazoo, Mich. expected to open in 2021.
The project is a prime example of how clients are demanding, and designers are employing, strategies aimed at creating a greater sense of community – and versatility – from corporate offices to learning environments.
Benson said the university pitched the student center as being "outwardly engaging to the community" with flexible, efficient spaces "that easily adapt to changes in use." They specifically asked for a design to meet community goals.
The conversations at both the Chicago and St. Louis panels revealed the genuine interest in designing spaces that welcome – and connect – diverse groups of people. WMU is the perfect case in point. With a diverse mix of students, including non-traditional freshmen, international students and first-generation college students, WMU administration wanted to create an inclusive campus environment.
"You have a bunch of different people coming together, and the university really wanted the student center to be the place where they all feel comfortable," Benson said. "They said very early in the process they wanted a building everyone can see themselves in."
To develop a vision for the building, Benson, the WMU core team and WMU student representatives spent time traveling to other campuses to tour student centers. CannonDesign partnered with Renee Wallace of Doers Consulting Alliance to create a more inclusive design process to identify student group needs and desires. Finally, the team presented ideas and discussed options with a large range of students. Ultimately, student voices shaped the final design of the building, especially the feedback from a group of Native American students.
They pointed out that all the spaces on campus were rectilinear, which prompted Benson and his team to take a step back and explore a different approach – one that reflected the student community, as well as the physical community surrounding the campus, which is set amidst a hilly and forested area.
Benson said a key aspect behind Community as Strategy is listening to what the community wants.
"If you want community outreach, you can't design it FOR yourself or FOR them," he said. "You have to design it WITH the students. View things as best you can through their eyes and then show it back to them."
Motivated by the students' observations and inspired by the hills and forests surrounding the campus, the design team began developing plans for a building that would create a sense of walking through a forest into a clearing where people would gather and sit around a fire circle.
The center of the building serves as the "clearing" where people gather. Its grand scale is made more intimate by the roughly dozen meeting spots that populate the center.
"A big part of the design is blurring the difference between inside and outside," Benson said.
A large skylight floods the space with natural light. A staircase mimics the gradual rise of the hilly surroundings. Hammocks hang in quiet areas.
The three floors of the student center offer places to study, give presentations and host meetings or events. There are also various dining options, retail spaces and recreation areas. The WMU student center represents what more and more businesses and organizations are seeking in their spaces – a sense of community.
"The university plans to leverage the student center as a focal point for introducing potential students, faculty and industry partners to the school," Benson said. "Walking through this building will tell you a lot about the WMU community."
And that's an experience you won't forget.
What's next:
With a short break in the Community as Strategy panel events, we'll turn our attention to the IIDA Student Mentoring Program which provides Interior Design students a front-line look at the profession. It's safe to say this new generation of architects and interior designers will be designing spaces with a focus on community.
2019 Community as Strategy Upcoming Panel Events
Washington, D.C.: July 10
New York: August 14
Boston: TBA
San Francisco: TBA
Subscribe
Stay up to date with the latest trends and more.