What Does Your Post-Pandemic Workplace Look Like?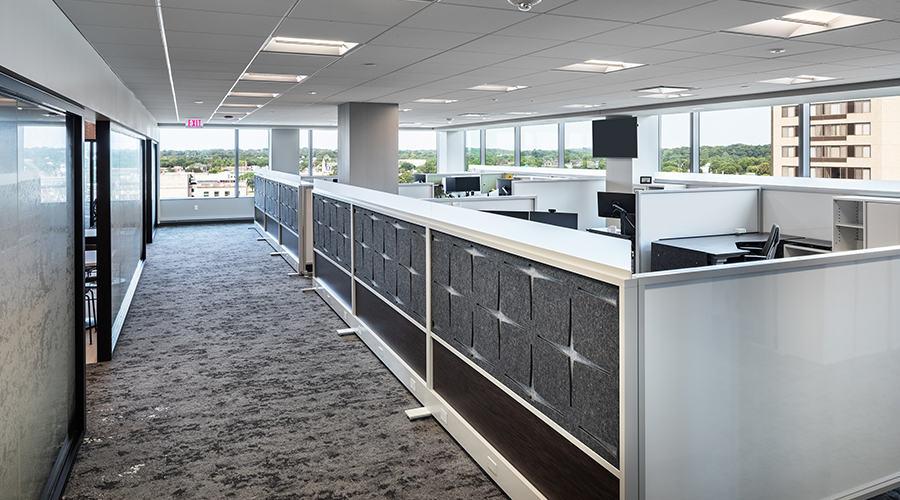 As states begin to lift their stay-at-home orders, employers and employees alike are wondering what their return to the office will look like. Some may fear that their current office layout doesn't meet the new standards for social distancing and safety.
At KI, we can alleviate those worries. Through our Infinity from KI process, dedicated KI specialists help organizations personalize their workplaces to their brand and culture. Whether that means modifying one of our existing products or co-creating a new solution from scratch, we can bring your vision to life.
Subtle Modifications
Modified Universal Screens and Dividers
Whether employees sit at long work benches or individual workstations, employers may adjust layouts with dividers to reduce the spread of germs.
Our modified Universal Screens can be measured to fit any desk size and stand 24 inches above a work surface when fully raised. They're available in fixed and height-adjustable formats, both of which can easily be clamped to freestanding desks. That allows employers to adapt their workplaces for social distancing at a moment's notice.
Modified Storage
Our modified 700 Series Storage can provide privacy to employees working in shared workspaces that feature benching. Equipped with a tall, magnetic and dry-erasable back panel, the storage units help employees feel like they have an individual workstation.
Architectural Walls
Employers can use architectural walls to break up larger spaces without extensive renovations. All three of our architectural walls -- Evoke, Lightline and Genius – are manufactured to meet the exact specifications of an existing environment.
Modified products can be tailored to an organization's brand and aesthetics, too. One firm might opt for privacy screens in company colors, while another might have the brand logo displayed on the glass of a Lightline movable wall.
Complete Creation
For some employers, modifying existing products may not be enough. They need a completely new solution to address their new normal at the office. Infinity from KI can help organizations create that solution, from idea to execution.
For example, some employers may make limiting the spread of germs their number-one priority when they return to work. To make that goal a reality, they may need custom desks of a specific width that allow for six feet of distance between employees. Adjustable-height privacy screens, touch-free storage nooks, and built-in hand sanitizer dispensers might be other must-have features.
Other organizations may want to redesign their workplaces to simultaneously maximize social distancing and flexibility. Perhaps they'll divide their current open floor plan with tall, mobile screens made from glass that's easy-to-clean and allows natural light to permeate the space. They might pair these mobile partitions with custom workstations, seating and storage lockers on casters so that employees can socially distance on demand.
Customize for the Future
Returning to work may require workplace solutions that don't exist -- yet. These unprecedented times call for new, truly innovative solutions. With Infinity from KI, employers can envision what their workplace of the future looks like -- and chart their own course forward in the wake of the pandemic.
Subscribe
Stay up to date with the latest trends and more.