What Community Means Now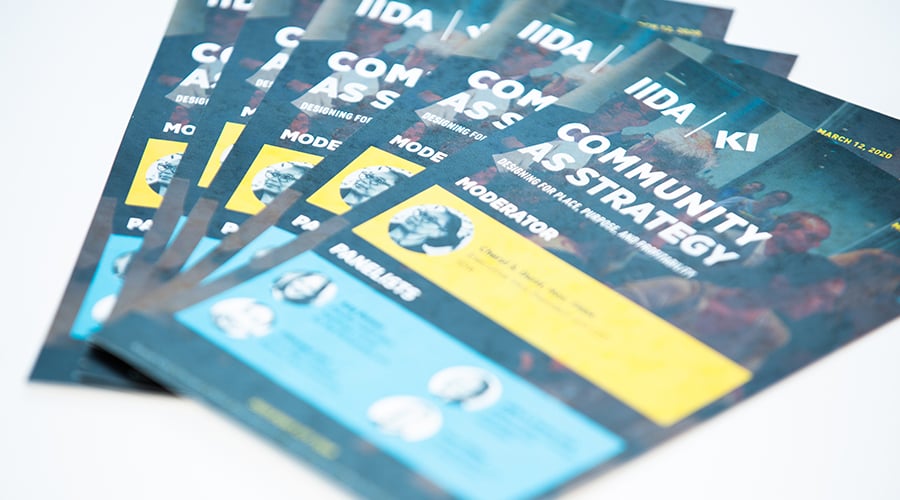 In early March, in the weeks before the full severity of the current crisis was clear, KI, IIDA, and a group of local Kansas City design leaders convened at the Kauffman Center for the Performing Arts for what was to be the first in a series of events for KI's second iteration of the Community as Strategy series.
The series focuses on design's critical role in the formation and upkeep of community. Now that the world around us is changing seemingly moment to moment, maintaining community is more important than ever. As design professionals, we ask ourselves: how can design help?
"With so many days ahead of us that will potentially be 'not normal,' this historical moment will teach us a lot about who we are as a culture and what we value," said IIDA Executive Vice President and CEO Cheryl S. Durst, Hon. FIIDA. "These important ongoing conversations will most certainly include design."
Right now, we are all looking for new ways to manifest community as our ability to physically gather and connect becomes limited. This extends to our professional lives, as we transition to working from home or dealing with the emotional ramifications of temporary layoffs. Keeping staff employed is a growing concern for design leaders.
"The Kauffman Center has quite a lot of part-time staff, a lot of whom are custodial or contract workers. I worry about their safety," says Amy Boesen, the facility supervisor at the Kauffman Center. "I'm noticing that there has been a distinct shift in appreciation for different types of workers in the current environment."
As events are postponed or cancelled, gatherings put on hold, and our own interpersonal relationships tested by the bounds of the virtual sphere, we explore what community means—and how it can be maintained—in times of fear, disconnect and uncertainty.
"In my experience, the Midwest is all about close-knit communities," said Boesen. "As things begin to unfold, we will begin to better understand how important that is for us and our loved ones. At Kauffman, we keep in close communication with our staff, medical personnel law enforcement to keep the building and our patrons safe."
Safety is now at the forefront of everyone's mind and is something that both design and community play an important role in—when it comes to public buildings and spaces, we need to ensure access to safe environments. COVID-19 is creating a unique situation where public spaces are off-limits and healthcare spaces are at capacity. Design thinking has been able to bridge some of that gap by turning locations like New York's Javits Center or Chicago's McCormick Place into temporary field hospitals.
As the needs of our healthcare communities continue to shift, these pivots in design thinking will undoubtedly be a great support and hopefully a vehicle for change. Bringing design into public policy is necessary for this to happen, especially as we continue turning different spaces into medical environments, homeless shelters and storage facilities. "There is no point of reference for this kind of situation in our profession, but we are quickly adapting," said Julie A. Sayers, IIDA, senior project manager and associate at encompas, "In the long run, we will look to design and architecture for normalcy and problem-solving."
One of the most beneficial elements of design is that it enables you to think differently, a skill that is critical during this liminal period. Design considerations are needed for almost all major elements of society during times of crisis and non-crisis alike from public transportation and infrastructure to emergency housing to medical supplies.
"Designers are helpers in the aftermath of crises," Durst points out. "We are wired to solve problems and create innovative solutions."
The KI and IIDA Community as Strategy in-person events will resume when the health and safety of all the participants can be ensured. We hope that all of our partners and the community at large remain safe, as we stay connected and build community virtually during this time.
Subscribe
Stay up to date with the latest trends and more.