The Maker Movement: Trends Impacting the Future of Teaching & Learning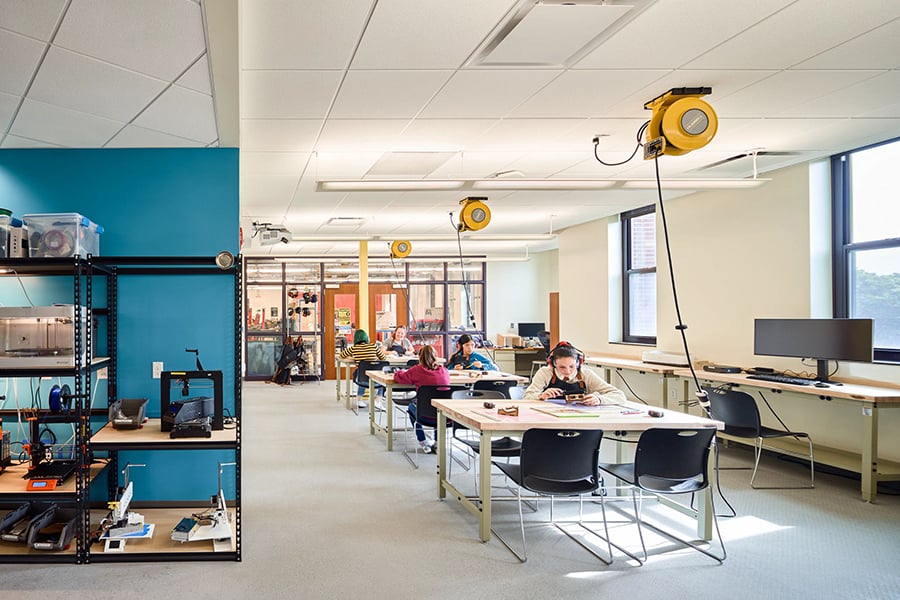 It's evident that the state of higher education is undergoing turbulent change. On a daily basis, institutions must prove economic viability, deal with competition (both brick and mortar or cloud-based) and fight against the declining perceptions of the value of higher education. It's time for change!
Education leaders are tasked with reacting strategically and proactively planning for the future. Education spaces, technologies and student experiences will need to be aligned. All of these changes will dramatically impact how faculty teach, how students learn, how planners plan and how education spaces are transformed.
So the question remains: "What is going to change in our teaching and learning environments?"
Based on recent research and observation, we've identified a variety of forces in education that will have a dramatic impact on teaching and learning environments. We'll be covering more trends in future blogs, but for today, we explore four trends impacting the future of education and a learner's journey.The four trends include:
The Maker Movement – This DIY (do it yourself) movement focuses on learning and doing. It is experiential, creative and very hands-on. Doers in the Maker Movement include tech enthusiasts, engineers, scientists, educators, crafters, hobbyists, authors, artists and more. There is a strong element of show and tell - showing what is "made" and sharing what is learned. The Maker Movement encompasses real-world and virtual world simulations, collaborative project-based learning and the Internet of Things (physical objects embedded with small sensors, software, electronics, and IP addresses that allow for interactivity and control by users and connected devices).


Social and Peer Learning – In this movement, learners develop skills along with peers in a setting where there is no implied authority of one person over another. Learning is a lateral experience. Learners rely heavily on mobile devices.


Entrepreneurship – Entrepreneurship and related work and real-world experiences are becoming increasingly important to a learner's educational journey. Courses and academic programs now include entrepreneurial activities to supplement traditional instruction.


Design Thinking – Design Thinking has been proposed as a replacement for traditional liberal arts courses. Design Thinking is problem based, creates choice through ideation and makes decisions through convergence. Then, possible solutions are proposed and ideas implemented. It is a key element of entrepreneurship.
When these four trends intersect, they form the foundation for "Maker Co-Learning Spaces".
The Composition of a Maker Co-Learning Space
Now, let's look at the composition of a Maker Co-Learning Space scenario. The maker movement has shown us that unleashed creativity leads to surprising results in terms of what is produced and the experiences that "makers" have. We are starting to see these spaces pop up in classrooms. Educators are beginning to modify courses, assignments and physical spaces to reflect the movement.
What does a Maker Co-Learning Space look like? Unlike the traditional classroom, students will sit, stand, walk around, interact with objects and move from group to group. The role of faculty is one of co-learners and process guides or leaders rather than a lecturer from the front of the classroom.
These spaces will use innovative classroom furniture and be purposely less structured in terms of layout to maximize creativity, interaction and problem solving. Attributes of a Maker Co-Learning Space include the following:
Physical spaces that are wide and flexible to allow easy flow of materials in and out
Walls that serve less to define space, but rather serve as sound barriers and carriers of technology
Seating that is mobile, portable and comfortable for students as they move from group to group
Students will work with their hands, creating models of potential solutions, making prototypes, testing outcomes and sharing what they learn as they learn it
Simple tools like sticky notes, markers, and creative objects that will be critical in driving creativity
Storage that provides quick access to a variety of materials
Now that we've defined what a Maker Co-Learning Space looks like, how does a student use the space? Please view our video to follow a student through the Learner's Journey.
Subscribe
Stay up to date with the latest trends and more.