Silicon Valley Reinvented Your Phone. Next Up? Your Workplace.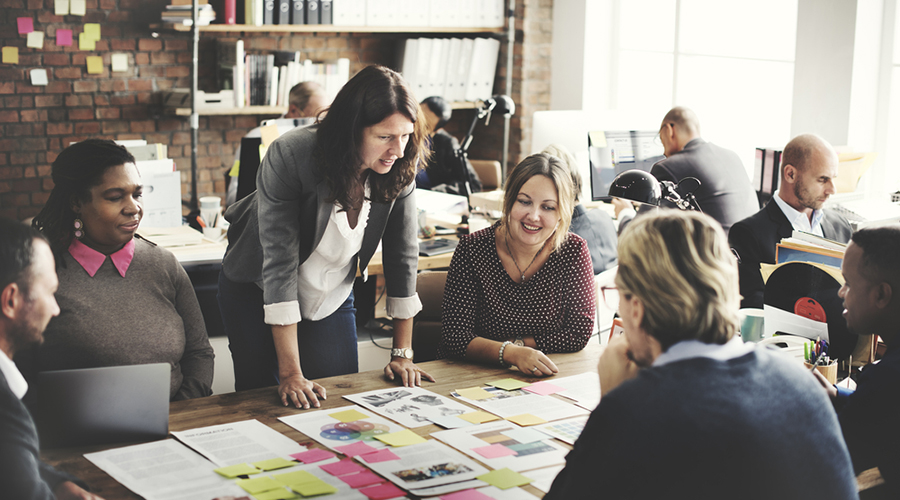 "Alexa, schedule a meeting for me." Amazon just announced that its popular voice-activated assistant is headed to the office. It wants Alexa for Business to help with tasks from launching conference calls to printing documents.
Tech giants like Amazon seem to have no shortage of ideas that fuel the kind of business growth that's the envy of firms across the rest of the economy. Those ideas flow freely -- and disproportionately -- at fast-growth tech companies in part because they've designed their workplaces to encourage that kind of activity.
They've done so not with office ball pits and ping-pong tables but with classic design principles that allow people to collaborate more easily, work more flexibly, and take time to recharge within the workplace. Those principles are behind much of the tech sector's fast growth -- and can deliver similar results for firms elsewhere.
It seems counter-intuitive, but tech companies are actually encouraging workers to spend less time in front of their screens and more with their colleagues. According to a survey conducted by our team at KI of nearly 400 architects and designers who work with tech companies, 80 percent of tech firms prioritize in-person interactions over electronic communication.
So they're designing offices accordingly. Nearly 60 percent of tech office space is devoted to shared environments, instead of the nose-to-the-grindstone workstations one might expect in a coding-centric workplace. The top two floors of Salesforce's 62-story San Francisco office are communal employee lounges designed like living rooms that overlook the Bay Bridge.
Collaborative workspaces strengthen meaningful relationships that keep people connected to their jobs. Employees who have a best friend at the office are seven times more likely to be engaged at work, according to Gallup. They're also healthier and deliver higher-quality work.
Tech firms are also embracing outdoor workspaces; 40 percent have them. For example, Microsoft recently built 12-foot-high, Wi-Fi-equipped treehouses at its wooded Redmond, Wash. campus.
Not all work can be done outside, of course. So tech companies have brought nature indoors. Google's "biophilic" design uses carpets and wallpaper to invoke organic patterns and natural textures in the workplace. Over 90 percent of tech firms use "daylighting" -- natural light from outdoors -- to illuminate their offices in some way.
Employees who spend time outside think more clearly. One study found that an extended stint in nature increased performance on a creative, problem-solving task by 50 percent. Workers are 18 percent more productive when they have natural light and windows that let in fresh air. Just adding plants to an office bumps up productivity by 15 percent.
Workplace wellness is another element of first-rate office design. Over 60 percent of tech companies offer wellness programs to encourage healthy lifestyles -- and reduce stress. At LinkedIn, employees can unwind with on-site massages. More than half of tech businesses have exercise amenities on-site.
Research shows that healthier workers bring in more revenue. Sick workers who participated in a wellness program at one company increased output by more than 10 percent the following year, according to a new study out this summer. For every $100 the company studied spent on its wellness program, it earned $176 in output.
The tech sector's workplace revolution is slowly spreading. Companies' interest in designing a workplace that promotes healthier employees has doubled in the past three years. Four in 10 employers now prioritize employee satisfaction when deciding office layouts.
Take cosmetics company L'Oréal, which opened its new headquarters in New York this year. The 10-floor office building includes lounge-style meeting spaces with natural light and a rooftop terrace with views of the Hudson River. Fittingly, there's also an on-site nail salon where employees can take a break.
Or consider pest-control services provider Alterra. The Provo, Utah-based company took on-site exercise to another level when it built an NCAA-regulation-size basketball court and a golf simulator in its headquarters. Now, one employee describes Alterra as "The Google of the pest industry."
Through workplace design, tech companies have found concrete ways to make their employees happier, healthier, and more productive. Businesses of all kinds should learn from them.
Subscribe
Stay up to date with the latest trends and more.