Sam Houston State University Emphasizes Student Connection Through Design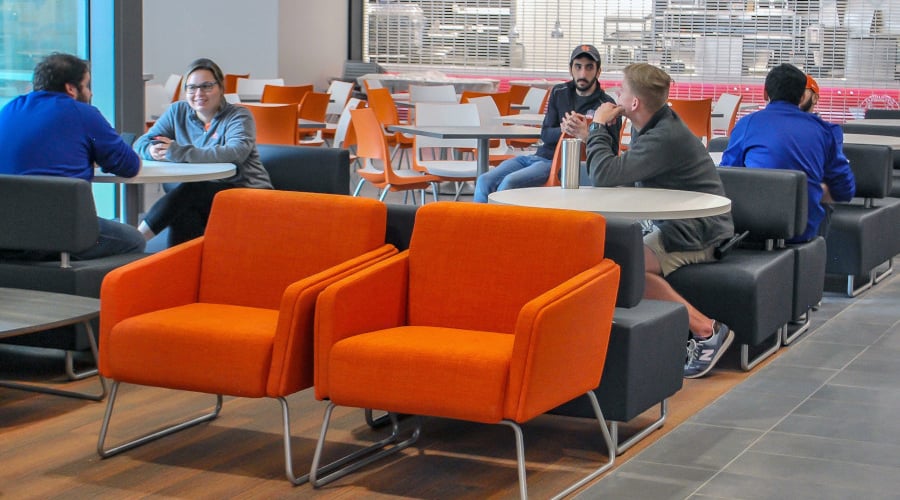 The student union is a staple of any college and university. It's the place where students connect - study – socialize – eat – shop. It must be many things to many people, including students, staff and members of the local community.
Around the country, colleges and universities are looking at ways to connect students to campuses as part of attraction and retention efforts. More and more schools are investing in thoughtful design as new evidence shows that campus design plays a significant role in student enrollment and success. Often students leave school not because classes are too hard but because they are lonely, homesick or are dealing with non-academic variables. Meaningful gathering places such as student unions become touchstones for students and the surrounding community.
Sam Houston State University recognizes the importance of the student union and recently transformed the Lowman Student Center, which serves as the campus living room and home-away-from-home of Sam Houston State University.
"In many ways we have to be all things to all people all the time. We could be doing orientation one day and the next day we could be doing a pageant for a student organization or hosting the board of regents for the Texas state system," said Rob Webber, Director of Lowman Student Center.
An 80,000-square-foot expansion and renovation have reshaped the Lowman Student Center into a welcoming, vibrant and flexible facility that includes a ballroom, book store, dining commons, student gaming area, lounge spaces and a variety of meeting areas. The building and furniture solutions are designed for frequent reconfiguration given all the space requirements.
Working with EYP Architecture & Engineering in Houston, TX, the center is designed to exude a fun, relaxed vibe. Natural light floods the center and rich upholstery in vibrant school colors of orange and blue bring spaces to life. The custom textiles and KI furniture establish a cohesive and modern feel throughout the building.
Lounge areas, study nooks and an eight-lane bowling alley offer areas to connect. The Kat Club game room, fondly named after mascot Sammy Bearkat, is the place to play video games, watch sports on one of 27 high-def TVs or to participate in karaoke or game tournaments. Students can also take advantage of a coffee house and art gallery. Meeting spaces offer campus organizations a formal place to congregate and provide areas where individuals and small groups can work and quietly study.
The renovations and furniture solutions have been fully embraced by students.
"Students are moving furniture around and creating dyads, triads, quads and pockets of engagement where they are having conversations. The MyWay furniture in the majority of our lounge spaces was specifically selected because of the wide variety of ways in which students can interact with the space," said Webber.
Room reservations are up 44 percent and user traffic has increased almost 100 percent since renovation and expansion.
Webber summed up the success of the Lowman Student Center, "We've come to a point where our student center feels like a place where people can gather and be."
Subscribe
Stay up to date with the latest trends and more.