Ricochet Stools: Freedom to Fidget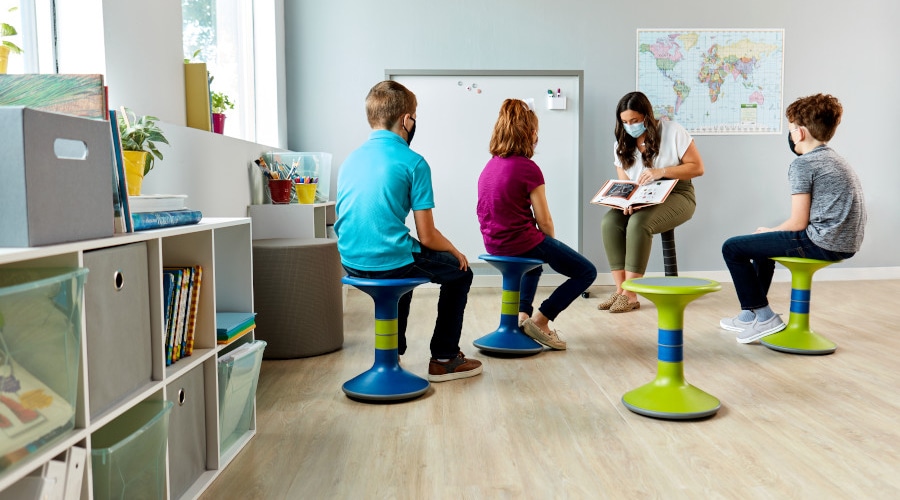 Elementary school children love to play, and sometimes, that transfers to playing while sitting. Both movement and play are essential, and we are launching the new Ricochet Stool to provide an "active sit," balancing a less disruptive, yet active, movement opportunity.
Active Bodies, Engaged Minds
Research shows that children, especially younger ones, learn best when they have the freedom to move around. They can process and remember new ideas more easily. Movement also helps them focus.
Ricochet offers several features to keep bodies active and minds engaged:
A convex base allows for a 12-degree wobble in all directions with a rebounding motion, so students have the freedom to fidget while staying safe.
The base's underside is made of textured, non-slip thermoplastic rubber padding to ensure stability, whether on carpeted or hard floors.
The stool allows for a 360-degree "active sit," which helps improve posture, build core strength, increase blood flow and boost metabolism -- all of which improve concentration.
Available in five heights from 12 inches to 20 inches and with a 400-pound weight rating, Ricochet can accommodate everyone from preschoolers to adults.
Flexible for a New Normal
Ricochet's flexible design helps teachers and administrators address school capacity and cleanability concerns:
Thanks to an all-poly construction, Ricochet's nonporous, wipeable surfaces are easy to disinfect.
Ricochet weighs just six pounds and has a 12-inch diameter, so students and teachers can easily lift, carry and reposition it for social distancing.
Schools can save space by stacking up to three Ricochet stools together. When flipped upside-down, Ricochet's gently concaved seat with a waterfall edge nests with the convex base for a sturdy storage position.
Make It Your Own
Ricochet can blend into any space or purposefully stand out. Ricochet is available in six vibrant colors: Cayenne, Rubber Ducky, Zesty Lime, Ultra Blue, Nordic and Flannel. Schools can mix and match those colors to create two-toned stools that show off their school's colors -- or they can opt for a solid tone for a cohesive aesthetic.
Beyond the Classroom
Ricochet can also be deployed outside the classroom. Whether in a makerspace, public library, doctor's office waiting room or even a pediatric hospital, Ricochet offers a lightweight, colorful and cleanable way to keep kids both active and focused while they sit.
Subscribe
Stay up to date with the latest trends and more.