Q&A with Nancy Widi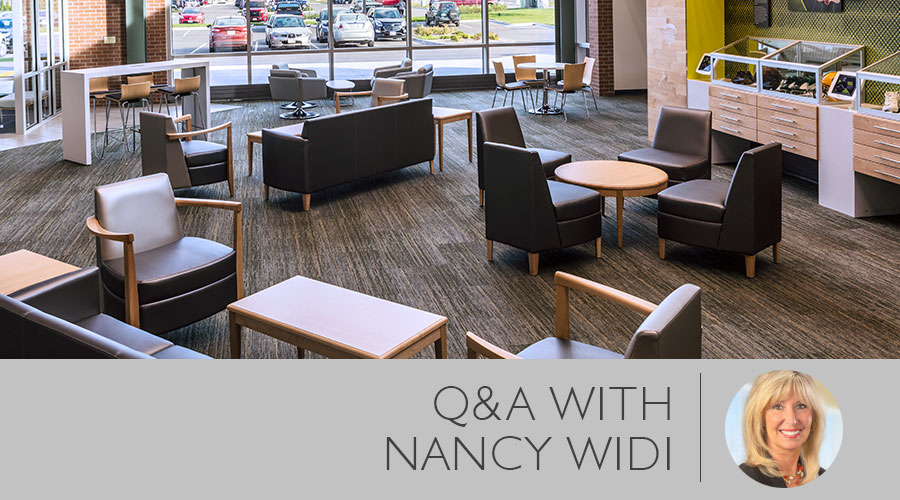 We recently sat down with Nancy Widi, Senior Interior Designer, Somerville Architects & Engineers to gain insight on what inspires her, who has influenced her design work throughout her career and what brought her into the industry.
Who are some of your major influencers when it comes to interior design?
My major influencers have actually been my mentors and the team members that I've worked with over the years. I've been with many different firms and I've learned from all of them, but at the end of the day, you really learn the most from your clients.
You've been working in interior design for a number of years, healthcare in particular, are there any specific considerations for healthcare outside of other industries?
Yes, there are different codes and most importantly there is the patient privacy, so we are always trying to design for that because of HIPAA or other recent laws. Also, healthcare spaces simply have a warmer environment.
What would be your dream project?
I just recently completed my dream project with the Bellin Sports Medicine Clinic. But I've had many enjoyable projects over the years and they've ranged from healthcare facilities to airports to automobile galleries to financial facilities. All of them have been great!
View Bellin Health Titletown Sports Medicine and Orthopedics Case Study
Do you have a favorite designer who has inspired you over the years?
I like Stacy Garcia. She's a New York designer that designs textiles, furniture, lighting and she's just been a real inspiration. She's kind of a trendsetter.
Thank you, Nancy, for being a part of this Q&A! We love the work you did for Bellin Health.
Subscribe
Stay up to date with the latest trends and more.