Movable Walls Can Transform Your Office Post-Pandemic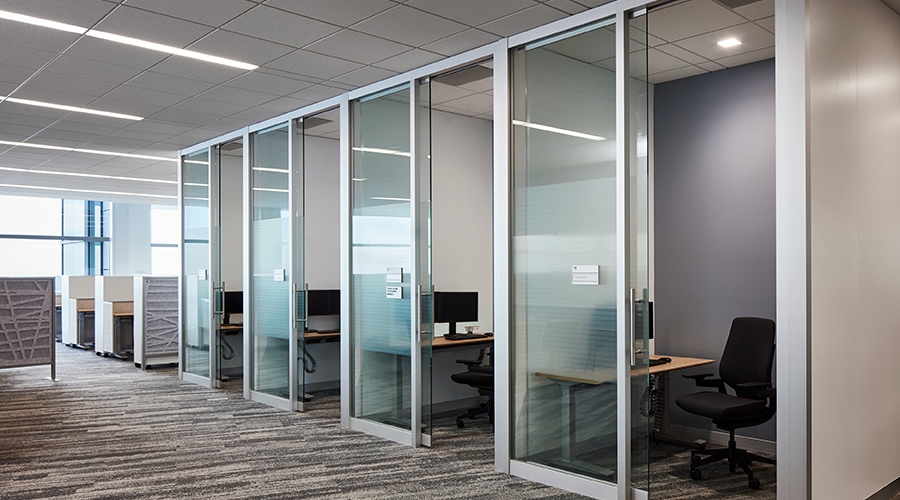 What will our offices look like when we return to work? Commercial real estate firm CBRE recently tried to answer that question in a new report on the impact of COVID-19 on office design. The report predicts an increase in easy-to-assemble, easy-to-clean products that support social distancing as well as flexibility in shared spaces.
Movable architectural walls are perfect examples of furniture solutions that meet those criteria. Employers can install and reconfigure them without a major renovation or demolition. And they can do so on short notice -- KI architectural walls install four times faster than stick-built solutions.
We offer three architectural walls that can stand alone or work in tandem: Lightline, Evoke and Genius.
Keep Things Airy with Lightline
Employers may worry that the walls and dividers necessary for proper social distancing will make an office feel dark, cramped or constricted.
Enter Lightline. It's a unitized glass architectural wall system that works seamlessly with an office's existing aesthetic. Comprised of 80 percent glass and 20 percent aluminum surfaces, Lightline maximizes natural light, so it's a great choice for organizations with smaller footprints or a limited number of windows. The glass and aluminum surface also make Lightline easy to sanitize.
Lightline's features include:
Sleek, rectilinear profile.
Heights up to 120 inches and widths up to 48 inches.
Half-inch thick glass that minimizes exterior sound.
Sliding or hinged doors.
Use Evoke Instead of Drywall
For organizations where flexibility is paramount, Evoke offers an unprecedented level of control. Evoke installs more quickly, easily and at a lower cost than drywall and other traditional movable wall systems. Reconfiguring a workspace with Evoke yields minimal waste and requires little construction, so it's well-suited for employers with an eye to sustainability.
Additional Evoke features include:
Passive aesthetic with virtually seamless reveal lines.
Ability to customize with paint, inkjet prints, screen wraps, markerboard and magnetic accessories.
Unbeatable acoustics with a Sound Transmission Class (STC) performance rating up to 50.
Genius Is the Wall That Does It All
Genius is a jack of all trades that can be specified in a variety of materials, finishes, textures and colors.
One employer who wants a minimalist aesthetic that's also easy to clean may opt for glass panels with a silver powdercoat paint frame. Another employer may opt for a wall frame with a wood veneer that matches an office's existing furniture. Genius can meet the needs of both employers -- and create unmatched visual impact in the process.
Key features include:
Sliding or swinging door options.
Compatibility with all KI systems furniture lines.
Integrated power for technological capabilities.
Better Together
All of KI's movable walls work seamlessly together. And they all offer above-average soundproofing, installation without the typical dust of construction, minimal assembly and endless reconfiguration and customization options.
It's not yet clear just what our workplaces will look like in the months and years to come, but a clean and safe environment will play a major role in the foreseeable future. With easy-to-clean surfaces and fast and clean installation, architectural walls empower organizations to create dynamic workplaces that can suit multiple purposes -- including delineating space to keep us safe and healthy.

Click to learn more about KI's architectural wall solutions.
Subscribe
Stay up to date with the latest trends and more.