Learning Spaces Workshop Puts Educators at Heart of Classroom Design
May 15, 2019
K-12 Education
Higher Education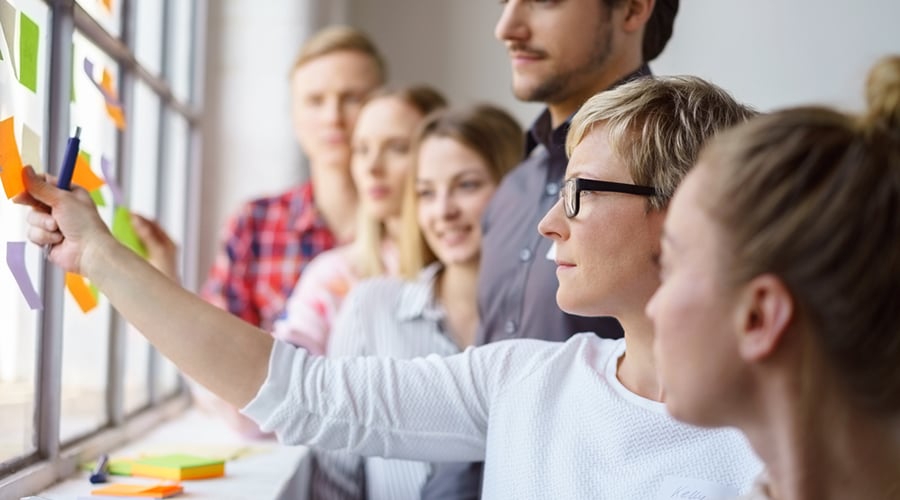 Classroom design can lead administrators and staff down a varied path of questions as they work to find the ideal solution for their school: how should it look? What should it feel like? What educational styles are important to us?
There are often numerous opinions and ideas around those questions as staff work to find the ideal classroom design. Generating a productive discussion is at the core of KI's Learning Spaces Workshop - a program designed to bring varied educational ideas and styles together to create a tailored classroom.
The conversation is important: what works at School A may not work at School B. Each is unique and has its own culture. The workshop empowers educators to discover and understand their specific needs. We're there to listen, discuss and move the conversation forward.
Occasionally I'm asked to come in and give a lecture for 90 minutes about classrooms and furniture, but it's a lot more fun to talk for 10 minutes and spend the remainder of the session creating an interactive discussion among educators around what their classrooms could look like.
In my role as the workshop facilitator, it's not uncommon to meet with schools where staff have two (or more) very different ideas of classroom structure. Some teachers and students want traditional classrooms with desks facing forward, lined up in rows. Others see merit in active learning arrangements where students seamlessly slip between group work and more rote-based learning and teaching styles.
Listening to staff is a big part of the workshop. Those voices, along with students, are ultimately where the "right" solution for the school will be found. Each school, district, college and university are different. There's no one-size-fits-all solution. The workshop strives to distill what's important for educators and students from their own voices and ideas.
Plus, it's hands-on, light-hearted and yields a useful product. Sure, there's talk of furniture, but the focus is on finding a consensus among educators of what classrooms could look like at their school.
How it Works
We recently held a workshop at Canterbury School of Florida, an independent college preparatory school with 80 faculty and more than 400 students in St. Petersburg, Florida. The school is exploring classroom and furniture options as buildings on two campuses undergo renovation.
The workshop followed a typical path:
Phase 1: After a short introduction, staff analyze and discuss a handful of key questions in small groups in what are, inevitably, energetic conversations focused on what's important to them, the school and students. The format encourages frank conversations of classroom design and principles between educators.
At Canterbury, discussion focused on finding a balance between more traditional classroom settings and newer pedagogies. Three questions were central to the dialogue:
Where have we been? A discussion about the history of education in general and at the school.
What are we hearing? A talk about emerging trends in education, including flipped classrooms and active learning.
Where are we going? Here is one of the key points of the workshop, where teachers lay out their vision for their future classrooms to each other, often melding more traditional ideas with emerging classroom methods.
With an outside facilitator (KI) guiding the discussion, the workshop offers an opportunity for teachers to dig into peer-to-peer conversation and lay out what's important to them as a school and as educators. Handing off facilitation duties also frees administrators to hone in on what is being communicated.
"I could listen just for the pure answers from our faculty," said Pam Walker, Canterbury's director of advancement and development.
Phase 2: In this step, ideas generated by the groups are written on sticky notes, collected, and presented back to the entire group for a vote on favored design elements.
Phase 3: Here is where the creativity of the group really shines.
With key thoughts from discussion and voting distilled to a handful of ideas, teachers turn their attention to building a conceptual classroom with craft supplies. The room comes alive as teachers move model furniture on colored squares of pastel-colored construction paper representing learning spaces. Children's modeling clay and pipe cleaners are fashioned into scale students and prototype pieces of furniture.
The session wraps up with members explaining what they built and their design rationale. Nothing is off limits and some designs are very abstract, but the exercise – and follow-up discussion – illustrates what's important to the school, staff and students.

Common Ground
Canterbury's workshop provided a cross-section of ideas for designers to begin creating conceptual classroom renderings. Most importantly, teachers were able to find some common agreement on options appealing to staff and students.
"Some folks were on one end, some folks on the other," Walker said. "Watching them have that dialogue as they were walked through the steps was priceless."
The workshop also produced actionable materials, including insight into a desire for a mix of furniture types in classrooms to meet student needs.
"We're taking all the information from our faculty and coming up with a couple iterations of what we heard," Walker said. "It's being able to go to our teachers and say, 'This is what we heard from you, is this what you're looking at?"
Sure, I could talk for 90 minutes, but it's a lot more fun to turn it over to educators to discover the answers - and create the solutions - for themselves.
To learn more about our Learning Spaces Workshop, check out this short video.
Subscribe
Stay up to date with the latest trends and more.