KI Provides Mentorship Opportunities During IIDA Student Mentoring Program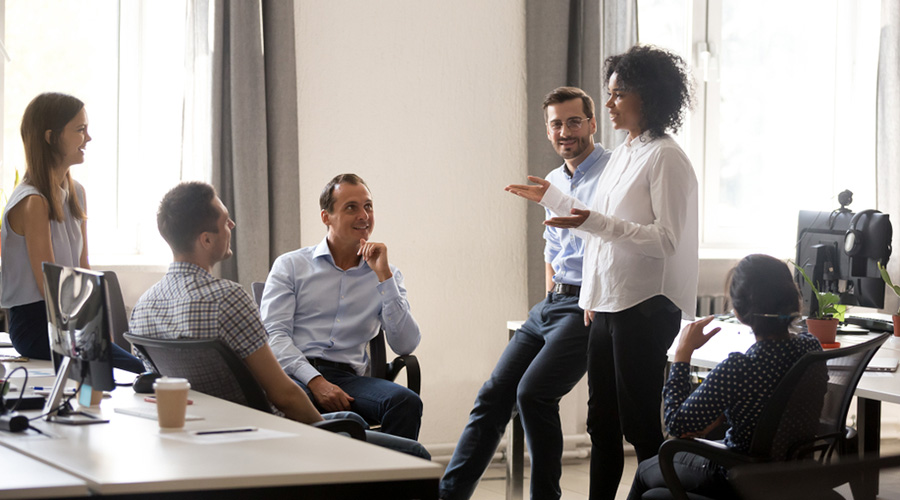 While residential interior design grabs the spotlight through television networks like HGTV, there are some fantastic career opportunities elsewhere in the industry, including manufacturing.
For the last decade International Interior Design Association's Student Mentoring Program has connected students and professionals for a day, providing a window to the variety of jobs in the industry including options future designers may never have considered.
IIDA is eager about the opportunity to showcase the vast number of opportunities in the profession. So is KI. Three of KI's employees spent a day earlier this year mentoring college students in locations from coast to coast.
The impact a personal relationship can have in expanding the business shouldn't be underestimated. An experience lasting a few hours can leave a lifelong impression.
"Spending a day with someone at a firm, a manufacturer, or a showroom - no matter where we put these students - they always walk away with a much more fundamental understanding of the diversity of this profession," said Ryan Ben, IIDA's Student Engagement & Advancement Manager. "The design profession encapsulates so many different jobs that it's staggering to think you can do almost anything under the umbrella of interior design."
Five years ago, the IIDA program had 400 to 500 students and mentors. This past year it counted more than 1,300 participants. It's not just the number of interested students increasing, so are the number of mentors - people who see the value of the program and are willing to offer their time and expertise to help the next generation of architects and designers.
It's heartening to see the mentorship program growing. We've always been impressed with the sharing nature of designers. Even people in competition with each other are willing to work together to collectively advance the industry.
The 684 IIDA mentors who participated this year exemplify what's great about the design community: a desire to see the profession thrive and a willingness to share time and acquired knowledge to help others succeed.
"We can grow this community"
For the trio of KI employees-turned-mentors, the program was an opportunity to help future design professionals advance their studies and careers. It also offered a chance to highlight the roles of people with interior design backgrounds within manufacturing: from creating CAD drawings to sales positions and working with customers in the field.
Jeana Brunscher, a senior CAD design coordinator who has been with KI in San Francisco for five years, focused on residential design during college. Initially she didn't consider pursuing a commercial job as she had no direct exposure to this side of the business. It was a hidden career path.
Brunscher's optimistic that mentorship programs can help open the eyes of other students to these less-obvious career paths.
"Commercial is such a second thought when you're in design school," she said. "But the more exposure we get these students to the commercial side early on, before they're out in the field, the more we can grow this community."
Brunscher said this type of program would have been valuable to her as a student and may have pointed her to a commercial career sooner. Since shifting to the commercial side, she has developed a diverse portfolio -- work with major colleges, social media giants and a well-known global internet retailer -- where her designs are part of a larger community.
Brunscher mentored a pair of students, spending about five hours with each. Discussions included an introduction to KI and a step-by-step overview of how design projects unfold and the array of jobs involved in the process.
"I tried to make a point that if you decide to go through hospitality or commercial, there are so many opportunities with dealers, A&D, and manufacturers," said Brunscher.
She hopes her students saw a different set of opportunities that can be unlocked with a degree in interior design.
"I wanted them to know there's much more than residential and that they can take their degrees and use them in so many different ways," Brunscher said. "It felt good to work with them."
Tangible Experience
While educators do a great job of talking about the range of career of options in classrooms, the mentorship program provides students a personal connection to delve deeper into career paths.
"The mentoring program does a good job of making the design experience a little more tangible and feel a little more real," Ben said. "It's one thing to talk about all the different ways you can work in the industry. It's another thing to actually see it happen."
At the KI Boston location, the team planned a full day of experiences for the participating student, including a tour of the KI showroom, a continuing education unit at an architecture firm, hands-on project work in the office and a field measure at a grade school.
Well-crafted days like that help illustrate the importance and varied roles of an interior design background for commercial applications in a very real, hands-on, way. It also provides more general information about the industry. In this case, the student learned who KI is as a manufacturer, the range of products, the significance of relationships with other businesses, and what employees do daily.
"Most students get into design thinking the only path is to work at a big firm designing the interiors of office spaces, restaurants or retail environments," Ben said. "As they're introduced to all of the different options of the profession, that's when we start cultivating healthcare designers, sales folks and manufacturers. The mentoring program takes people who love this profession and shows them all the opportunities their particular skillset could be applicable to."
Sharing Knowledge
Mentorship is a two-way street. Students learn about careers and ways to land a job while mentors get an opportunity to find out what's being taught in schools and colleges and how the latest technology is shaping the profession.
Finer details, like networking connections and searching for a job, are frequently covered in the day-long interactions.
"I can remember when I was in school and all the questions I had as I was preparing to enter the workforce. It can be a little intimidating," said Beth Ann Faber, a KI sales specialist and mentor in Chicago with a background in interior design. "I'm more than happy to provide some advice and insight and the mentorship program was a good way to do that."
At its core, mentorship is about passing on acquired knowledge, expertise and inspiring others to embrace the industry and, ultimately, make it better. It's also an opportunity to turn a spotlight on less-obvious – but extremely gratifying - areas of the industry.
"It's in our best interest to help the next generation as much as possible," Ben said. "If we all care about this profession as much as we express that we do, we want this next group of designers and design professionals to be better than us."
What did students think of the program? We caught up with the students who were paired with these KI mentors and will bring you their stories in a future blog.
Click for more information on the IIDA Student Mentorship Program.
Subscribe
Stay up to date with the latest trends and more.