It's Finally Time to Draw on the Walls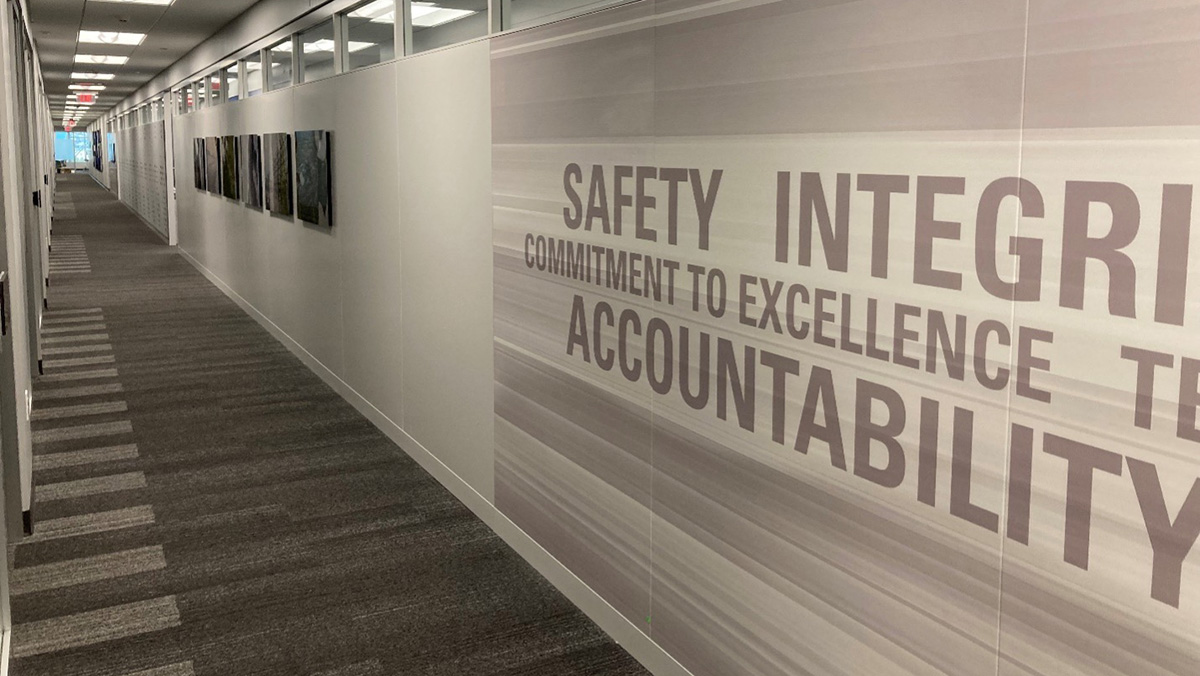 We learn as kids that taking crayons or markers to a bare wall is an absolute no-no. At KI, we've long wanted to indulge our inner child -- and draw all over the walls.
Our architectural walls give our customers the chance to do just that. We leverage the power of high-performance inkjet printing on Evoke and Genius architectural walls to transform bare walls into vibrant ones. Inkjet printing can feature just about any design, logo, graphic or artistic element our customers can think up.
Bold Business Designs
When inviting a new client or prospective employee to the office for the first time, it's important to create a welcoming environment that will stick with them long after they leave.
In a modern office, inkjet-printed architectural walls can offer visitors a warm, purposeful welcome. Featuring the company logo or a representative phrase on the walls can be very impactful to all who come through the space. That was the Georgia Bureau of Investigation's goal for its outer office walls, which prominently display the law enforcement agency's official logos and mottos.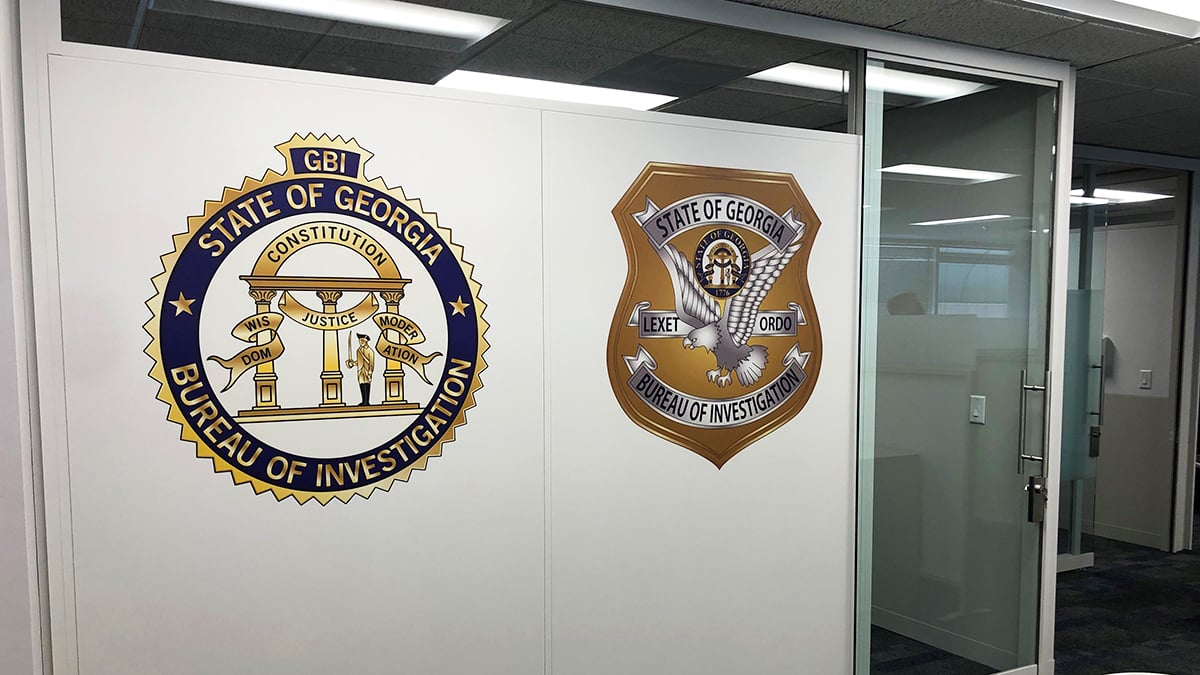 Employers shooting for a retro or cozy vibe can print designs with a distressed wood or patterned motif onto their architectural walls. If they opt to refresh their office design a few years later, the process is actually very easy. Simply request to work with our team at your site to swap out the wall shells to deploy a new print -- within a matter of hours! Our architectural wall panels can even be quickly rearranged by our team as well. There's no need for a teardown or an elaborate paint job to reconfigure or redesign your space.
Creativity in the Classroom
From K-12 to higher education, inkjet-printed architectural walls make for a great addition to any school. A world map or timeline could extend across several wall panels for history class. In an English classroom, walls could boast quotes from classic literature. Hallways can stir up some school spirit with custom school logos and vibrant color schemes.
At one midwestern high school, administrators used an inkjet-printed, abstract pattern that runs vertically along their wooden doors and transom panels above. The graphic that spans over multiple surfaces transforms the doorway and makes the space more intriguing and visually impactful for students.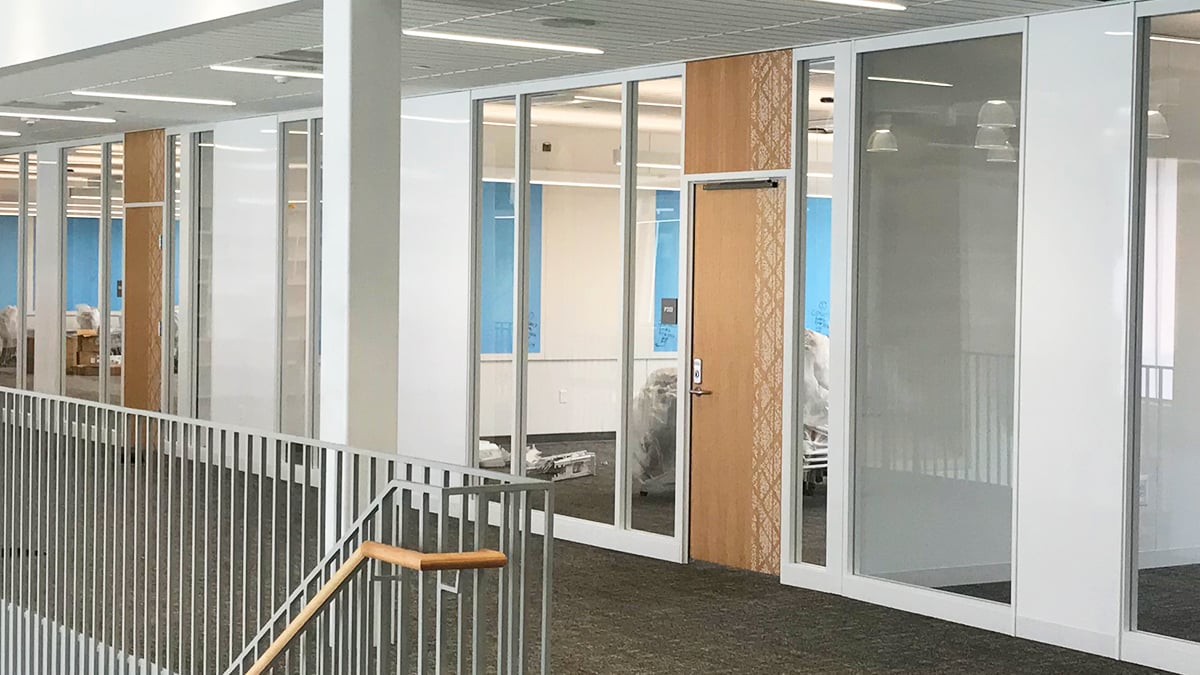 Hospitality in the Hospital
Filling a hospital with color and visually appealing graphics can lift the spirits of patients, their families and staff. Architectural walls can be customized with inkjet printing that mimics wallpaper or paint to provide pops of color without the need for hanging art that could be knocked off its hooks or fade over time.
Genius and Evoke architectural walls are also easy to wipe down. That can make them a superior choice over traditional drywall in a hospital setting, where cleanliness is crucial.
In addition, inkjet-printed architectural walls can be a great canvas for wayfinding and signage that points people in the right direction. That can be a huge relief to patients rushing to make an appointment or visitors who fear they may be lost.
For an outpatient transplant care facility, our team created a gradient pattern based on photography provided by the client. The result was a bespoke design in rich blues and greens -- the hospital's brand colors -- that transformed a nondescript, highly trafficked corridor into a 70-foot-long, floor-to-ceiling work of art.
Your Canvas Is Waiting
With inkjet-printed architectural walls, the possibilities for customization are endless. Not sure how to fill your canvas? Reach out to your local KI rep. We can help you bring your creative vision to life.
Subscribe
Stay up to date with the latest trends and more.