How Will the Coronavirus Impact Workplace Planning and Culture?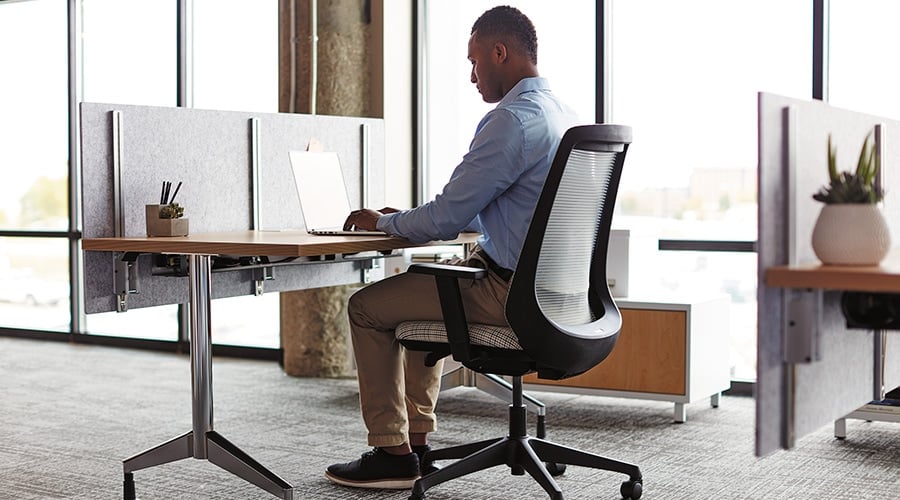 In the past few weeks, the terms "virtual happy hour," "online lunch date" and "Zoom coffee chat" have grown universal. They're ingrained into the course of our remote work day.
But eventually, we will return to the office. When we do, we may still need to practice social distancing.
We recommend that employers begin to envision what returning to work will look like. That vision may be different for every employer. But here are a few strategies worth considering:
1. Rethinking the Office Layout
Today's workplaces aim to make the most of every square foot. Many deliberately open spaces up to encourage workers to engage with one another.
Open offices and shared spaces may be unpopular after we return to work. Before the pandemic, a coworker coughing in the next workstation over was simply an annoyance. Afterward, it may be anxiety-inducing.
To ensure employees feel supported, managers can reexamine how they use collaborative spaces, from cafés to lounges. Larger tables may be in order, so employees can share a lunch break while sitting further apart. Dividing office space with privacy booths or movable walls to create areas designed for just a few people may be worth considering, too.
Some organizations may institute new meeting policies that cap the number of people who can physically share a space. We spoke to one executive at a national restaurant chain who said that his company will practice social distancing by reducing the number of people who can be in conference rooms and cafés at one time.
2. Flexible Remote Work Policies
The idea behind "flex working" is that employees choose when, where and how they get their work done. AECOM, an engineering and design firm, has found that its employees are more focused when they can choose whether to work from home or the office. They also appreciate the freedom to make their own schedules. That has boosted morale.
"I believe this situation has forced organizations to acknowledge how effective remote working can be," said Kelly Bacon, principal and director of AECOM's Strategy Plus team.
The benefits of flexible work can extend society-wide. "This not only has positive impacts on individuals and teams, cultivating better work-life balance, but could have positive impacts on traffic patterns, relieving congestion," Bacon said.
3. An Increase in Technology
Some employers may be surprised at how seamless the transition to a fully remote workforce has been. As a result, they may be more open to remote work -- and remote meetings -- in the future.
"Video conferencing has quickly become a necessary day-to-day connector that provides our natural need for social and human interaction," said Brett Shwery, senior vice president and interior design director of AECOM's Americas division. "I suspect that the workforce will embrace video conferencing as an acceptable alternative to in-person meetings, resulting in less travel time, reduced stress and effective work-life balance."
Into the Unknown
Being away from the office can give employers and employees alike the opportunity to step back and think about what they'd like the workplace to look like when they return. Now is the time to seize that opportunity -- and begin planning for the future.
Subscribe
Stay up to date with the latest trends and more.