How to Address Your Employees' Feelings of Vulnerability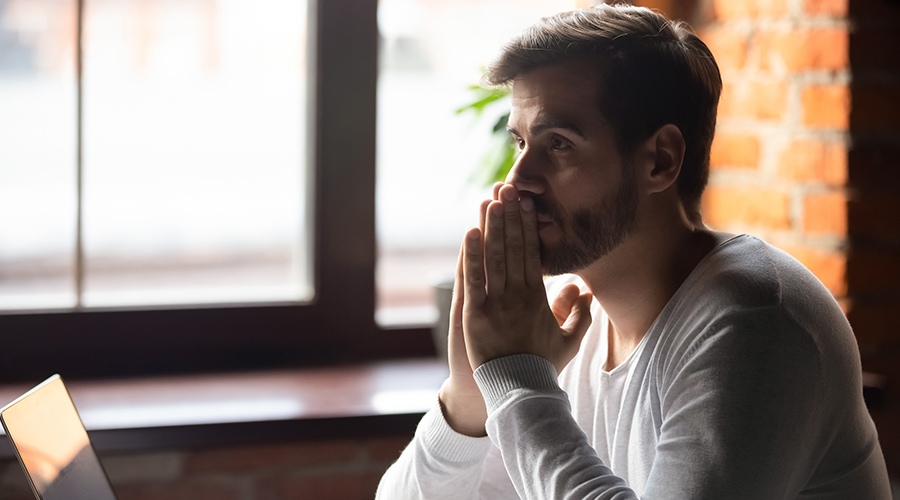 Everyone is feeling vulnerable right now. And that's okay.
We've gone from focusing on where to go for vacation and what summer camp our kids will attend to worrying about whether we're fed, safe, healthy and financially secure. Simply having to think about our more immediate needs exacerbates our stress and anxiety.
For those of us who are fortunate enough to be able to work from home, our days are suddenly very different, perhaps even uncomfortable. We may crave social interaction with coworkers; video conferences are great, but they're still not a perfect substitute for in-person meetings. We may miss the comfort of our old routines -- perhaps lunch at that hot spot near the office, or the podcast we used to listen to on our commute.
Employers can help their employees work through these feelings of vulnerability. Here are a few tips on how to support your team:
1. Technology: For many of us, technology has been a savior in these trying times. It allows us to stay connected to our colleagues, meet with our customers and be as productive as possible. But for others, all the new gear induces anxiety. Some employees may not have the tech savvy to master the ins and outs of Zoom and Slack in one day. Others may not have the equipment needed to field video calls and presentations at home.
As employers, we should remember to be patient and help employees through the learning curve. Encourage employees to be honest and share when they're feeling overwhelmed.
2. Social Media: It may come as a surprise to younger folks, but not everyone knows how to share photos on Facebook, post an Instagram story or connect on LinkedIn. In an era of social distancing, these apps have become among the only ways to connect with friends and family.
Managers can prompt their colleagues to view social media as a resource for personal and professional connections.
3. Job Security: Unemployment is surging in the wake of the pandemic. That's scary for everyone. Some employees may feel a dire need to prove their value to their employer.
Transparency from organizational leaders can help alleviate employees' anxiety about their job security. Regular updates about a person's performance, and the financial health of the company, can go a long way to ease stress within the workforce.
Looking Ahead
Many of us are wondering what work will look like when the crisis subsides. Will everything go back to the way it was? We encourage employers to consider what changes they'll want to make when everyone is back at the office.
Some of us may adopt more flexible meeting policies. Managers who previously preferred in-person meetings may be more amenable to colleagues calling or videoconferencing in.
Others might scrap some meetings altogether. We've all attended an obligatory meeting that actually prevented us from getting urgent work done. Remote work has helped discontinue some of those unproductive meetings. When we return to the office, perhaps we'll be more selective about the meetings we call. That might even boost productivity.
We'll also rethink what the workplace looks like, and how people interact within it. The debate over the open office will no longer be just about privacy but about health and safety. Flexible workplace design will be more important than ever.
At KI, we value the role design plays in fostering human connection. Although we're physically separate, organizations can still support and empathize with their employees in their most vulnerable moments. Doing so will help teams build community from afar -- and return to the office stronger than before.
Subscribe
Stay up to date with the latest trends and more.