How Companies and Colleges Are Getting in Sync
April 5, 2023
Higher Education
Workplace
Discover how companies and colleges are partnering to prepare students for today's job market, equipping them with in-demand skills for success.
---
The price of college tuition rises almost every year. As it goes up, some families question whether their child's degree will be worth its hefty price tag.
That's also partly due to a shift in hiring. It used to be that a college degree was the most important thing a young adult could have as they entered the job market. Nowadays, many employers are more interested in a candidate's skills, rather than the degree they hold.
As a result, companies and colleges are increasingly working together to equip students with desirable skills that can help them thrive after graduation. By creating meaningful partnerships, colleges can better defend their value proposition and businesses can invest in a successful future workforce. Below, we explore a few ways colleges and companies are getting in sync.


Generating Excitement for Different Careers
Skilled trade positions are the hardest jobs for employers to fill. Businesses are working to educate a new generation of students about the variety of trade careers—from electricians and welders to cosmetologists and robotics specialists—and the benefits they offer, including competitive pay and less student loan debt.
To do that, companies and schools are collaborating to get students excited about these possibilities.
At KI, we're part of the Northeast Wisconsin Manufacturing Alliance, a group of manufacturers, high schools, colleges and chambers of commerce that partner to get students excited about manufacturing careers with apprenticeships, skills training classes and more than $400,000 in college scholarships.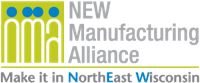 The partnership makes a real difference. The number of students enrolled in machining and welding programs in northeast Wisconsin technical schools tripled and quadrupled, respectively, over a three-year period.


Teaching the Skills Students Need to Succeed
If the first step is increasing awareness about different careers, the next step is ensuring students are equipped to succeed on their first day of work. As a result, companies and colleges are working to create more opportunities for students to learn specific, in-demand skills.
Some partnerships focus on experiential learning opportunities for technical or hard skills. California Polytechnic State University, for example, teamed up with coding boot camp Fullstack Academy to offer web development training programs to CalPoly students. Major companies like Boeing, ExxonMobil and Chrysler have all created boot camps for local community colleges on everything from repairing airplanes and drones to pipefitting and automotive technology.
Other partnerships focus on soft skills that are critical for a modern-day workforce. The University of Virginia and Capital One collaborated on a career preparation summer program that covers critical thinking, real-life problem solving and interpersonal communication. Meta's Facebook has partnered with dozens of community colleges across the country to develop a curriculum on digital advertising, marketing and social media skills.
Programs like these aren't strictly pipelines to funnel graduates to work at the major companies that partner with universities. Small businesses everywhere can benefit from these skilled and qualified graduates.
Supporting Students' Transition Beyond Graduation
Our own research shows 90 percent of new employees report feeling "lost in transition" in their first year on the job. Equipping students with a variety of soft and hard skills before their college-to-career transition certainly helps. But employers shouldn't overlook the role design can play in helping new graduates find their way in the workplace.
Taking inspiration from how college campuses are designed can give young professionals a sense of agency and opportunities to foster genuine connections with peers and mentors. When offices mirror the variety of private and social collegiate spaces, they can support new graduates with different work styles and ease their transition from the college campus to their new office.
Revaluing the Degree
Whether it's a two-year or four-year program, college is a significant financial investment. Synergy between companies and colleges not only helps maximize the value of a degree, but helps every student reach their potential.
Employees who are confident and fulfilled in their skills and career path are more engaged, more productive, happier and healthier. It's hard to put a price tag on that.
Subscribe
Stay up to date with the latest trends and more.