How Architectural Walls Enhance Healthcare Spaces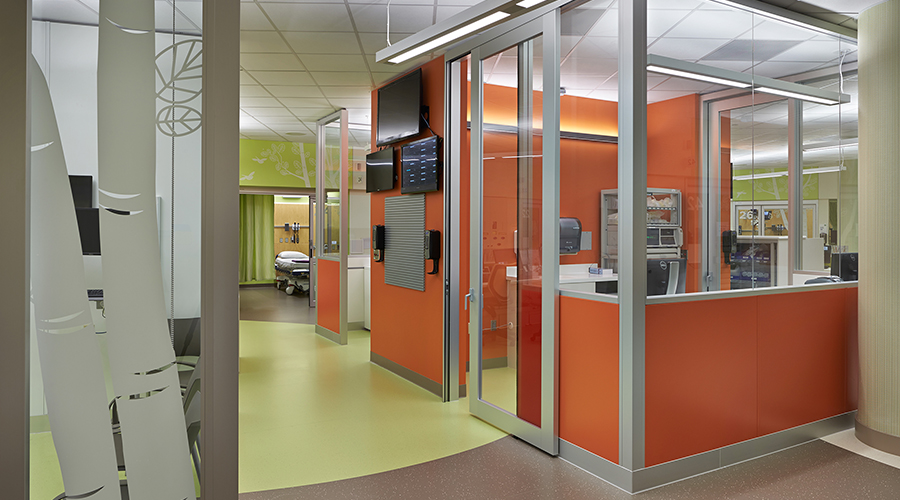 Healthcare environments -- from community hospitals and outpatient care centers to emergency departments and administrative offices -- are dynamic, diverse spaces. Now more than ever, healthcare spaces need to adapt to today's challenges, which include heightened concerns over infection control and ventilation and the need to accommodate social distancing.
Movable walls are an efficient and cost-effective means of creating a versatile healthcare space.
Healthcare Benefits
Cleanability: Our movable walls can be specified with durable finishes that support cleaning with a 1:10 bleach solution, which reduces the risk of transmitting pathogens. Click to view our Infection Control Cleaning Guidelines.
Air quality: Our architectural wall systems meet strict limits on chemical emissions and are SCS Advantage Gold certified.
Flexibility: Users of a given space can quickly and easily reconfigure architectural walls as needed. As healthcare professionals adhere to changes in capacity or social distancing measures, this flexibility is paramount to keeping patients safe.
Privacy: Our movable walls have best-in-class Sound Transmission Classification (STC) acoustics ratings to ensure privacy for confidential conversations between patients and providers.
Design Benefits
Easy installation: Our movable walls arrive pre-assembled or with a small kit of parts, so contractors can install them easily and quickly without disturbing existing spaces or damaging ceiling or carpet. This approach expedites construction schedules and minimizes dust and debris.
Sustainability: Unlike drywall, which is permanent and creates considerable waste, our architectural walls are reusable and recyclable.
Adapting in the Age of COVID-19
If the pandemic has taught us anything, it's that we need to be adaptive and resilient. That's especially true in healthcare settings. As streamlined alternatives to traditional construction, movable walls represent a safe and flexible way for healthcare facilities to prepare for whatever tomorrow may bring.
Click for more information on KI's suite of architectural wall systems.
Subscribe
Stay up to date with the latest trends and more.