Creating Learning Spaces in a Connected World
November 21, 2016
K-12 Education
Higher Education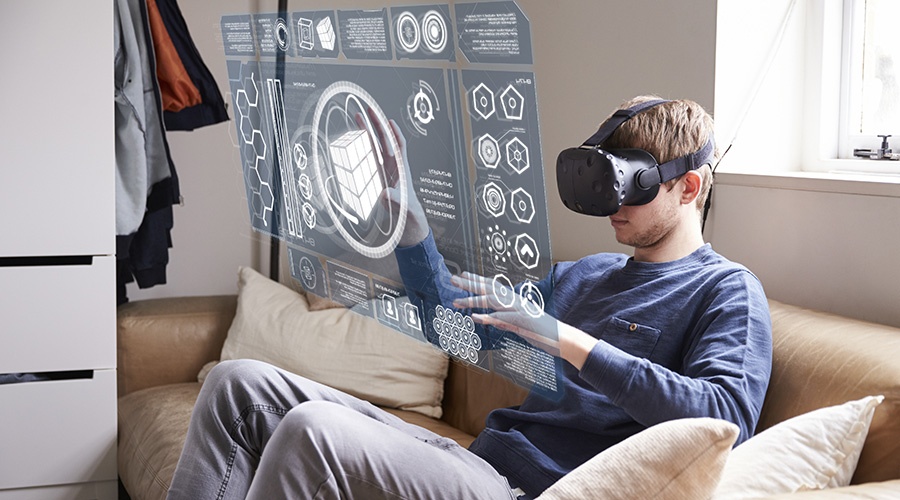 There is a video for everything… workout routines, recipe tutorials, DIY projects and baby's first steps. We connect and relate to visual experiences. And soon, there will be a virtual, augmented, gamified, and even a technology-embedded experience for everything. These experiences not only trickle into our personal lives but are becoming pervasive in business and more importantly, education.
YouTube was introduced to the world on February 14, 2005. It might come as a surprise that the first iPhone was released on June 29, 2007, nearly two years after YouTube, a major source of self-directed learning tutorials. If we pause and reflect, we notice two things: 1.) that we now use a device, nearly every minute of the day, that has been a part of our world for less than 10 years, and 2.) we access an unlimited amount of information on that device, including YouTube.
So I pose the question to you? What type of device are students using most to access online information that supports learning - Is it a smartphone, a tablet, or a notebook?
Virtual Reality Learning Experiences
In 2015, Pearson Ed published their "Project Tomorrow" report, in which they discovered that approximately 1/3, or nearly 17 million of the total 54 million K-12 students in the United States, are issued some sort of mobile technology device through their school district. While this school-issued device is either a tablet or laptop, the usage of smartphones within learning applications is on the rise. Below is a summary of smartphone usage among students:
Grades K-2: 22% smartphone usage
Grades 3-5: 50% smartphone usage
Grades 6-8: 73% smartphone usage
Grades 9-12: 89% smartphone usage
In the instance of grades 6-12, smartphone usage heavily outweighs both laptop and tablet usage. In grades 3-5, the smartphone comes in just narrowly behind the common school-issued tablet or laptop. This data reinforces what Apple already knows; the future of the connected world lies entirely in smartphones.
We now have 11 generations of Apple iPhones. The world has a reported 1.4 billion Android smartphones in use. Google has introduced their own smartphone, Pixel. All of these mobile devices, regardless of manufacturer, have the shared capability when paired with a cardboard box to create virtual reality.
Talk about contrast! The future of the connected economy, when paired with a basic paper good, invites users to engage in an entirely new virtual experience and learning environment.
I always carry Google Cardboard with me. In nearly every discussion, conversation or presentation, I pull it out of my backpack and show how this incredibly simple $10 box offers a teacher and a learner the opportunity to go deeper, and wider in a learning activity. They are able to connect to content and ultimately experience it through context. There are now powerful pathways towards more engaged and active classroom learning, available through the simplicity of a smartphone and a cardboard box.
In 2015, Google launched its Pioneer Expeditions project. Through this program, schools received a kit containing everything a teacher would need to take their learners on a virtual field trip. The kit included the two primary components we've already mentioned - smartphones and a cardboard viewer -along with a tablet for the instructor to lead the virtual expedition and a router that allowed Expeditions to run without an internet connection. Educators were able to access over 100 virtual trips ranging from the Great Wall of China to the Moon.
Personally, I've had the chance to take my own kiddos on expeditions at our dining room table. How? Our home has an iPad and several smartphones like nearly every home in America. We've explored everything from the San Diego Zoo and Mount Fuji to the Congo. A trip to the heart? No problem (yes, the pumping epicenter of your existence can be toured, virtually). Want to tour a college campus? How about Boise State or Rutgers? All of this is possible through virtual reality. Teaching and learning is happening right at home.
Immersive Virtual Simulation Learning
Virtual reality is just one of many immersive virtual simulation learning tools that is starting to transform how students from kindergarten through high school and beyond learn in the 21st century. Higher education, for example, is in the midst of unprecedented change as it integrates these emerging technologies into curriculum. Institutions and educators are tasked with creating classroom environments that foster the adoption of virtual simulation, spaces that allow students to work virtually but also face-to-face in small groups and large groups.
There are a number of trends, including virtual reality, which will redefine traditional classrooms and enhance the learner's journey:
Virtual Worlds - Computer-based simulated environments inhabited by users as avatars with a varying degree of reality versus fantasy.
Real World Simulations - Actual events or situations created in a safe environment to stimulate innovation where students learn and problem solving. Simulations bring together multiple perspectives and disciplines in order to best account for the large number of variables at play in the real world.
The Internet of Things - Physical objects, including humans, that are embedded with small sensors, software, electronics, IP addresses - all connected via a cloud-based infrastructure that allows for interactivity and control by a user and other connected devices.
Gamification - Adding elements of game play to a non-game activity.
3D Printing - Mechanical processes that produce three-dimensional objects, primarily through computerized additive processes through which successive layers of material are laid down under computer control.
Virtual Learning and Classroom Space
How do educators create environments that encourage the use of these technologies? Immersive virtual learning can happen in rather limitless arenas. Much like my own engagements with my kids, they, as "students," require both physical proximity, as well as the virtual engagement to maximize the learning power of the virtual expedition. We always conclude our virtual reality adventures with face-to-face interaction and engagement which is exactly what educators will do in their "classroom".
Learning spaces and school classroom design will need to transform in significant ways. Spaces should be open, modifiable rooms that allow for seamless blending of virtual tools, real work and professional development resources, computer devices and human movement and interaction.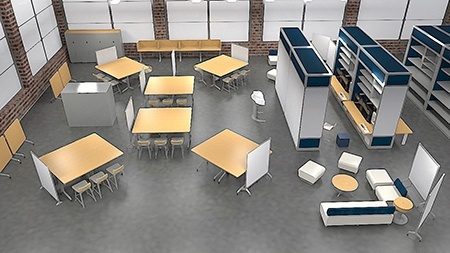 When we started, there was a video for everything. Now, there is a virtual experience for everything. Technology is becoming so engrained in our daily activities that it will soon go unnoticed, just another path to accomplish daily tasks. Smart objects with sensors and location devices will allow easy tracking and rendering of real objects in virtual spaces. 3D printers will make it fast, easy, and affordable to render objects in the real world. All of the technologies outlined above will begin to shape the design of physical space, supporting the learner and educator on their journey towards deeper, more human-centered learning.
For more information on trends impacting the learner's journey, download KI's eBook, "The Learner's Journey: 4 Learning-Space Scenarios That Reflect 13 Dynamic Trends Impacting the Future of Education".
Subscribe
Stay up to date with the latest trends and more.