Architects & Designers Confirm the Importance of Active Design in Tech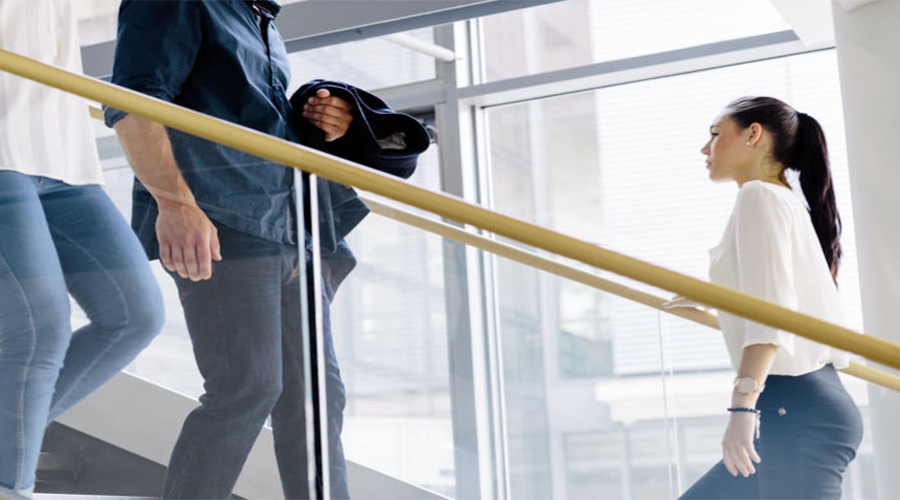 For the first time in a decade, adult obesity rates in the U.S. are decreasing! Now that's something to be proud of. Given all of the negative commentary about our culture being sedentary, binging on fast food and Netflix, it's encouraging to hear that we may be turning this ship around.
This stat really stuck out to us at KI. We're a company that pride ourselves on supporting employees with health and wellness initiatives and benefits. But, are we the minority? Do other organizations put as much emphasis on the importance of health, and are employers a factor in this positive change?
In 2014, KI researched and published recommendations for implementing Active Design in the workplace. If you'd like to know more about Active Design, click here, but to summarize, the principles of Active Design turn sedentary office environments into spaces that can encourage healthier work and lifestyles. Principles include incorporating daylighting, height-adjustable worksurfaces, the use of stairs, etc. into workplace design. Our research is backed by data collected from interviews and surveys conducted with architects and designers, a group that is at the forefront of workplace design and trends.
Three years later we reached back out to these design professionals asking for their insights regarding a specific industry, technology. Our goal was to pinpoint the drivers for workplace change and design in tech – their culture, priorities, pain points, etc. The results revealed that work/life balance, technology, and yes, wellness are top priorities of tech employees and organizations.
Interestingly enough, we found that tech companies are dealing with the same wellness issues as the average organization, but many are addressing the issue through design strategies and innovative solutions.
Before we dive into examples, let's back up and review the problems related to health and wellness. Here are some quick statistics:
35% of Americans are obese. Even though rates are declining, a large portion of the population struggles with being overweight.
$73.1 billion – the estimated cost of obesity among U.S. full-time employees
69% of employees report that work is a significant source of stress
51% of employees feel less productive at work as a result of stress
172 million – the number of work days annually U.S. workplaces lose due to depression
Problem #1 – The Rising Costs of Healthcare
Employers pay on average $5,000 per year for a single employee's health plan; a family plan doubles that figure. On a yearly basis, most companies see increases, making it that more expensive to insure.
Problem #2 - Presenteeism
This is a term that is starting to gain steam, the idea that employees come to work when they are sick and can't perform to their full abilities. Research shows that productivity is cut by 1/3 or more when an employee is ill. This doesn't account for other employees they may be getting sick as well. When surveyed, employees reported being unproductive an average of 57.5 days a year. Read that number again!
How are tech companies, and organizations more generally, addressing these problems? This is where we asked the A&D community to shed light on wellness standards and design practices that are taking hold.
We asked A&D participants, "Has your client's priorities for "wellness" changed over the past two years?" Here are the results.

We then asked, "Does your firm actively encourage design solutions that promote wellness as a standard practice?" A resounding 75% answered yes. Wellness demands are increasing, especially in tech firms, and designers are on board!
Knowing that these A&D participants worked closely with tech clients, we asked them to identify what wellness concepts were included in their tech projects. The numbers below highlight the percent of change between this survey and the Active Design survey from 2014.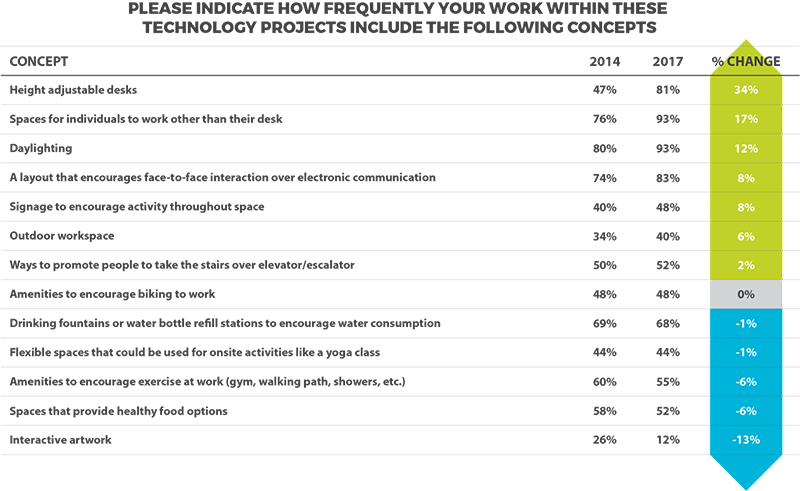 We were not surprised to learn of the rise of height-adjustable worksurfaces as well as alternative work areas and daylighting. These are trends being felt across all industries, each contributing positively to overall health and wellness. Active Design continues to influence workplace design.
In addition to the principles of Active Design, tech firms are doing a lot to encourage employees to proactively manage their health and well-being. We've learned of company's incorporating design standards like WELL or fitwel certification.
Tech giants have also gone as far as offering the following wellness amenities on-site:
Spinning classes
Subsidized massages
Walking competitions
Classes on mindfulness
Organic gardens
Golf lessons
Basketball courts, soccer fields
Nature trails
All of this is done in the hopes of keeping employees happy, healthy and present.
If you'd like to learn more about what's driving tech culture, I encourage you to contact us to schedule our CEU, "Emerging Space: How the Technology Industry is Driving Workplace Change."
Subscribe
Stay up to date with the latest trends and more.