All Wall Solutions Are Not Created Equal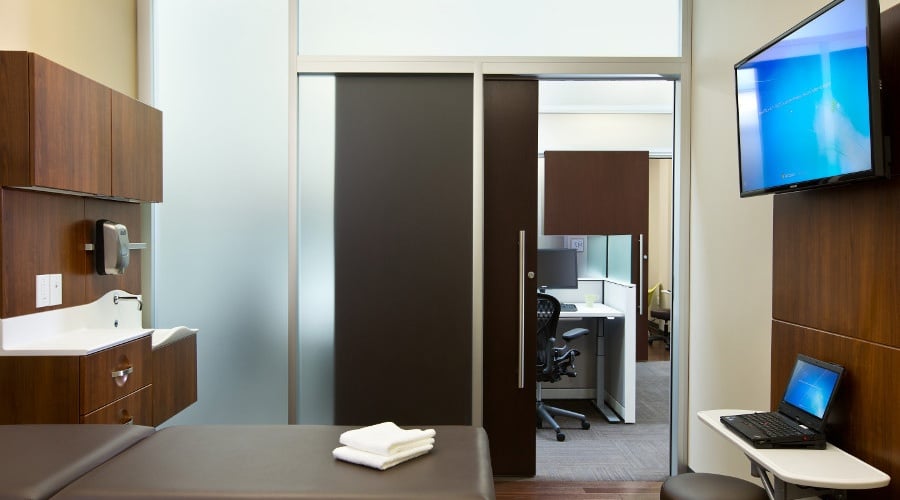 The planning and construction of healthcare facilities is no small feat. From conception and construction to completion, building and designing environments for healthcare is a technically-involved process. Architects and designers must take into consideration infection control, surface material finishes, acoustics, patient privacy … the list goes on and on. They are also operating within strict budgets and timelines. One of the most important aspects in the construction process is the delineation of space -- or wall construction in a facility. While you might assume facilities put up drywall and call it a day, there are alternative architectural wall solutions that save time, money and offer benefits beyond traditional construction.
Architectural Walls in Healthcare
First, it's important to define the different types of "wall" used in healthcare. Drywall is a type of board made from plaster or another material used to form interior walls. Drywall is permanent and does not allow for reconfiguration of space. It is non-reusable, creating considerable landfill waste.
A demountable wall system or stick-built solution includes many different parts and pieces to construct and is assembled on site. These solutions tend to be more permanent with physical attachments to building construction. Installation is typically tedious, labor-intensive and also creates waste when walls are removed.
Architectural or movable wall systems are unitized, meaning assembled off-site, and designed with a small kit of parts. This means quick installation for contractors and designers. They are also semi-permanent, giving facilities the freedom to modify or reconfigure spaces. This is key for healthcare environments that frequently flex based on patient and staff needs. Architectural walls may be up to 99% reusable and 97% recyclable, reducing environmental impact.
All of these attributes allow healthcare facilities to stay within budget, complete projects on time, plan for future expansion or shifting needs and reduce their carbon footprint.
Below is a recap of the benefits of movable wall systems over demountable or traditional wall construction:
Installation: Architectural walls small kit of parts may be assembled off-site or on site in half the time, expediting construction schedules.
Flexibility: As user needs change, spaces can be quickly and easily reconfigured supporting future expansions or adaptation.
Sustainability: Walls are reusable and recyclable.
Cleanability: Because architectural walls are pre-assembled or have a small kit of parts, on site dust and debris is minimized.
Privacy: Best-in-class Sound Transmission Classification (STC) ratings support privacy requirements. Patients and healthcare staff are able to hold personal/private conversations.
For more information on architectural walls, view the video below.
Subscribe
Stay up to date with the latest trends and more.