Press Release
KI Introduces the Zoetry Collection, Designed by David Allan Pesso
GREEN BAY, WIS. (Jan. 26, 2022) -- KI is proud to introduce the Zoetry Collection for bold, beautiful lounge environments. Designed by David Allan Pesso, the collection offers exceptional comfort and high-design visuals through a range of lounge and guest seating, benches and tables.
"The Zoetry Collection represents the intersection between purposeful and poetic design," said Angela Allen, KI's director of product marketing. "With a variety of components and specification options, Zoetry is an ideal fit for creating versatile environments across markets. We're thrilled to partner with David Allan Pesso to bring this collection to life."
"The inspiration behind Zoetry has to do with fascination with the European residential market," said designer David Allan Pesso. "There's a juxtaposition between fine-tailored upholstery and the platform they typically rest on: beautifully articulated, heavily tooled die-cast metals."
Pesso's vision is evident throughout the Zoetry collection. Each piece is crafted with an aluminum leg and frame design, providing visual continuity throughout any environment. Deeply cushioned seating offers a luxurious experience while complementing the frame's sleek, clean lines and angles.
The Zoetry Collection includes the following: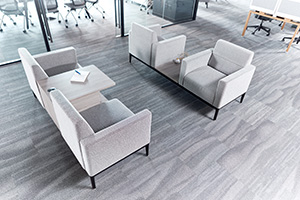 Lounge seating and guest seating, including single, loveseat, sofa, bariatric and tandem models with shared arms and inline tables. Contrasting stitch options are available in 16 thread colors. Select lounge models are available with optional privacy screens, which provide visual and acoustic benefits.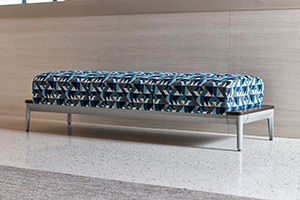 Benches, including two- and three-seat models with standard or bariatric cushion sizes. Optional wood or poly arm caps are available on units with arms. Armless models feature a laminate surface on each end for placing personal items.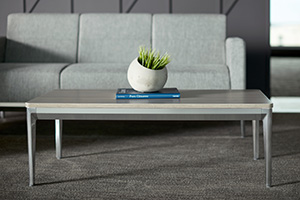 Occasional tables, including square and rectangular tables in four sizes. Worksurfaces are available in nearly 50 finishes, including laminate and solid surface.
All components within the collection are available with optional power modules.
With its multitude of configurations and array of specification options, Zoetry makes it easy to plan for a variety of elegant, approachable spaces.