Press Releases
KI Introduces Enhancements to Evoke® Architectural Wall at NeoCon 2016
CHICAGO - KI introduces the clerestory option for Evoke Architectural Wall at the NeoCon® World's Trade Fair 2016 (#1181). A glass transom, the clerestory option brings natural light into space while maintaining visual and audio privacy. Evoke uses ½" glazing to maintain its best in class STC value. It upholds the nearly seamless aesthetic Evoke is known for by using a seamless vertical mullion.
Evoke is a new paradigm in movable wall and permanent construction. It is more adaptable, seamless, movable, affordable, and creates quieter spaces than any wall system before it. It renders drywall virtually obsolete. With Evoke, change within a space is quick and simple. Its pre-assembled construction, vertical adjustment capabilities and simplistic design enable efficient relocation and reconfiguration. A vast array of finish options provide versatility to achieve any aesthetic goal. Evoke can be painted, printed or wrapped.
The hallmark of Evoke is its clean, minimal panel connections. Its non-progressive unitized construction features a smooth panel-to-panel connection resulting in less than 1/16" vertical reveal between panels. This forms barely visible reveal lines. Designed to support high levels of productivity within an environment, Evoke walls offer the greatest acoustic protection available-with a Sound Transmission Classification (STC) rating of 50.
Evoke is highly recyclable. It is pre-assembled, minimizing dust and debris and is constructed with non-offgassing materials contributing to better indoor air quality for sensitive environments.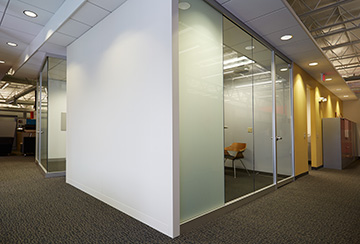 KI manufactures innovative furniture and wall system solutions for education, healthcare, government and corporate markets. The employee-owned company is headquartered in Green Bay, Wis. and operates sales offices and manufacturing facilities in the United States, Canada, Latin America, Europe and Asia. KI tailors products and service solutions to the specific needs of each customer through its unique design and manufacturing philosophy. For more information, visit www.ki.com.