KI In The News
EDspaces Preview 2023
officeinsight
November 6, 2023
By Rob Kirkbride, officeinsight | November 6th, 2023
---
Schools continue to undergo profound changes. Many have shifted to a collaborative work style, similar to the corporate world, where the teacher engages students in a more open and casual way. The rows of desks are mostly gone, replaced by comfortable seats and clusters of work areas. COVID has further changed education, pushing health and wellness to the forefront of design.
So where does a designer learn about all these changes to educational spaces — from kindergarten through higher education? At EDspaces, a conference and expo that starts today and runs through Thursday in Charlotte, N.C.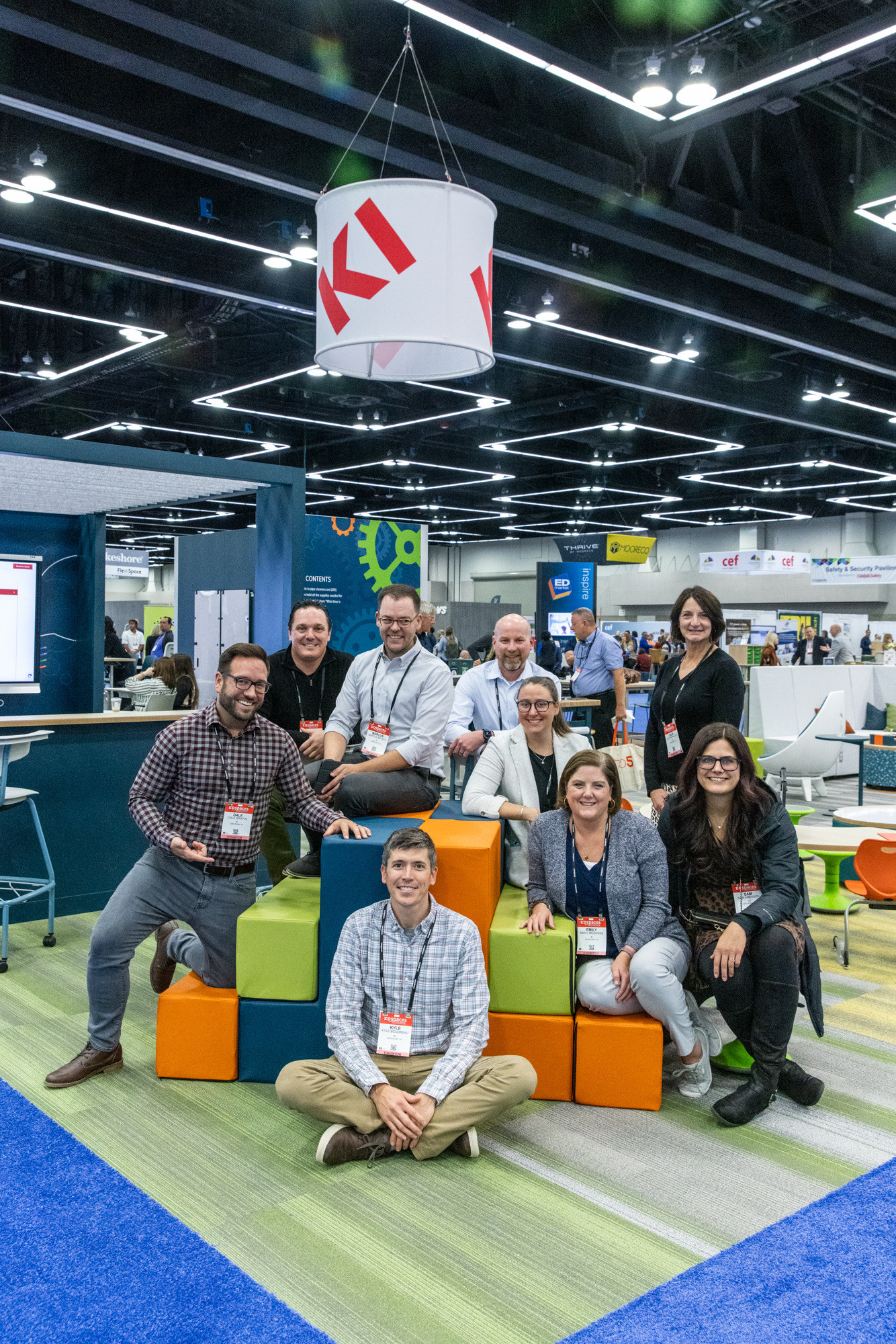 EDspaces is where designers and educators unite to change the future of learning environments. Through education sessions, immersive tours, and a product expo, the event expands your horizons by exploring new possibilities for school and campus learning environments. EDspaces demonstrates how the physical learning environment can meet the pedagogical needs and technology demands to support the mission of student success and well-being.
EDspaces was started by EDmarket, a nonprofit trade association founded in 1916 whose members are thought leaders in the education industry. The association connects manufacturers, dealers, architects, designers, and schools to positively impact education. The group, led by President and CEO Jim McGarry, no longer owns the show (it is now owned by Emerald), but continues to help organize and support it.
Registrations for the event are well ahead of last year and the exhibit floor is full, he said. There are more than 60 different approved education sessions, a strong slate of speakers, and tours of educational facilities both before and after the event begins.
EDspaces has three main categories of attendees. First, it is the largest gathering of dealers in the education space. Second are the architects and designers who specialize in schools and universities. And third is the educational professionals themselves.
"One thing that we highly recommend is they consider bringing their clients with them," McGarry said of the dealers and A&D community that is attending. "If they're working with a school district, they can walk around and guide them through the exhibit floor and show them why the products that they represent work out well. A couple of years ago, we had an architecture firm bring a school district with them with their floor plans and literally specked out an entire school in three days versus the months and months of going back and forth."
Schools bring groups of teachers and others who have a say in classroom design and facility planning. And EDspaces hosts a number of districts who want to come to the event to learn about new trends and products. Nearly 200 school districts applied for scholarships to attend the event.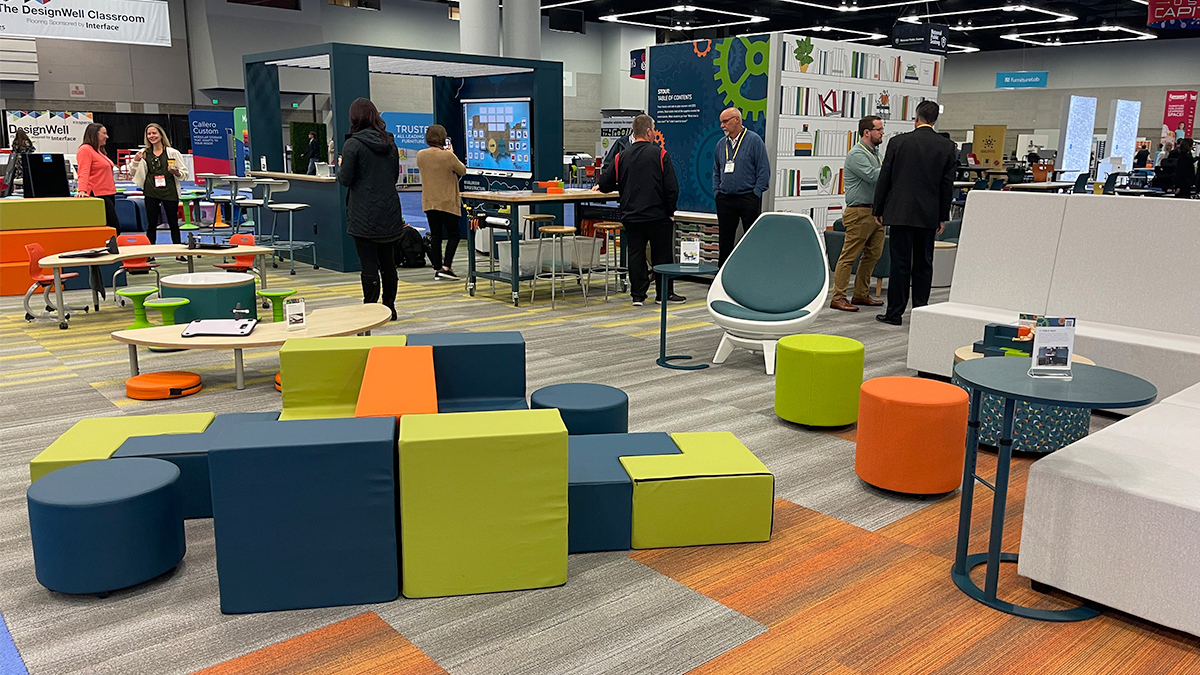 For manufacturers like KI that specialize in educational furniture, EDspaces is a major event. Other than NeoCon, it is the biggest event of the year for KI. KI, along with Smith System and VS America are the three largest K-12 furniture manufacturers.
Bryan Ballegeer, vice president of KI's education market, said a renaissance continues to occur in the K-12 market. "What I mean by that is for the past decade, some longer and some shorter, the early adopters in education have taken a more progressive model going into active learning, collaborative based learning, rather than the rote desk and rows. It's now becoming mainstream," he said.
There are 14,000 school districts and 200,000 schools and not all of them flipped to this model overnight since it takes a major investment. But it gives you an idea of how much potential there is in the market.
"We see bonds continue to get approved [and hear school leaders say], 'Hey, we need to invest in our schools, we need to update them so that the learning styles and the teaching styles are more aligned to what we need in this world and in the future.'," Ballegeer said.
Even with the changes happening in districts around the country, KI does not prescribe the furniture it believes the district needs. Every school community has its own unique culture, he said. So the company coaches its reps and helps school districts understand how the right furniture will fit based on what kind of pedagogy they want to practice. KI's educational furniture bolsters what the district is trying to do.
KI's theme for EDspaces revolves around feeling good about your space. The company wants to create joyful places of learning.
"Schools need to feel good about play. They need to feel good about the movement that they're allowed to have and feel good about creativity. When you're joyful and playful, you learn more. Your receptors are open to learning more. Flexibility is also important — the ability to move as you need as a human. A student might need to stand because they get tired or they might need to wiggle or fidget. The teacher may need them to move into different group sizes for the different work," Ballegeer said.
The idea of joy and playfulness is found throughout KI's catalog of educational furniture. A good example of this is its Imaginasium Blocks and Blips. Imaginasium Blocks are like Tetris blocks for the classroom. Soft and available in different shapes, Imaginasium Blocks come in three shapes that stack and fit together making the classroom more adaptable for the students. Imaginasium Blips are soft seating circles.
"Students can use them to have soft seating or to create a nice little cozy nook to read in or for larger groups to sit around, but they can also just have fun and build a little fort," he said.
McGarry said technology and how it integrates into the classroom is also an important consideration for attendees at EDspaces.
"COVID forced people to learn how to utilize technology in conjunction with in-person learning and think through how technology needs to integrate with the other products that are going to be utilized in those learning spaces," he said. "And then if you think about it, a school is typically built for something like 50 years. So it can't just solve today's needs. We need to create a space that can be flexible enough to accommodate future iterations of what education is going to look like."