KI In The News
KI Outfits Sports Med Facility in Titletown
Business of Furniture
September 27, 2017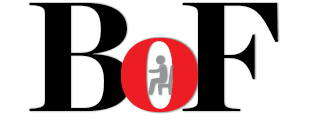 Story by Rob Kirkbride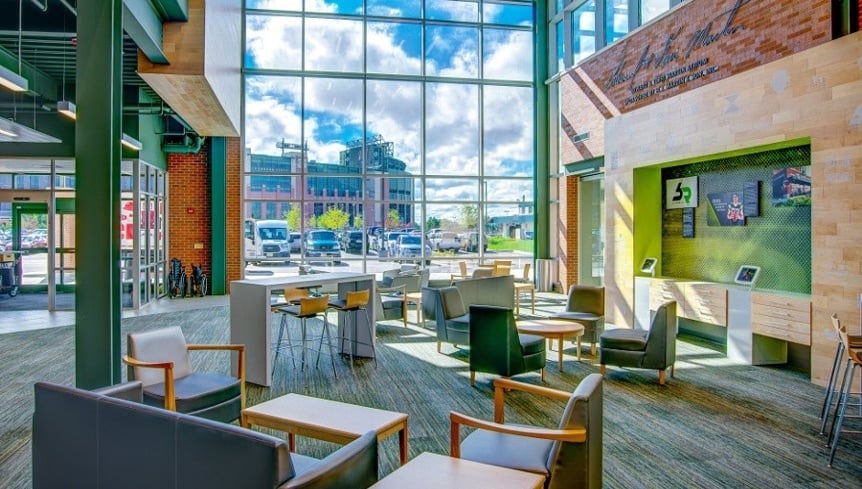 If Green Bay Packers quarterback Aaron Rodgers twists an ankle at Lambeau Field, he doesn't have to hobble very far to find one of the most state-of-the-art sports medicine facilities in the world - and it's outfitted almost completely with KI furniture.
Titletown Sports Medicine & Orthopedics recently opened across the street from the venerable Green Bay stadium and its owner, Bellin Health, tapped KI to fill out the three floors of the building. Titletown Sports Medicine & Orthopedics isn't just a facility for the Packers or professional athletes, though it is staffed by longtime Packers team physician Dr. Patrick McKenzie.
A wall next to the reception desk is covered in shoe soles that represent all the patients who heal there - from the boot sole of a construction worker to the sneaker sole of the athlete. "This space really elevates sports medicine for the community," says Tara Shank of Bellin Health.
It is a resource for the Green Bay community, but Bellin Health believes the world class facility can become a destination for athletes from around the world. The facility has one of the top foot and ankle specialists in the world, Dr. Robert Anderson, as well as Dr. Jim Ebben, Dr. James Spears and other sports medicine specialists.
And though a local soccer player rehabbing from an injury is welcome, Titletown Sports Medicine & Orthopedics is set up to handle the VIP professional athlete patients, with a separate, private entrance and the ability to wall off areas from the public.
The 52,000-square-foot facility is spread over three levels. The first floor has offices for the physicians, labs and MRI equipment, and reception and conference rooms. One step into the lobby, and you know you are in Packer country. Artifacts from the Green Bay Packer Hall of Fame are on display there along with helmets and cleats from the current team.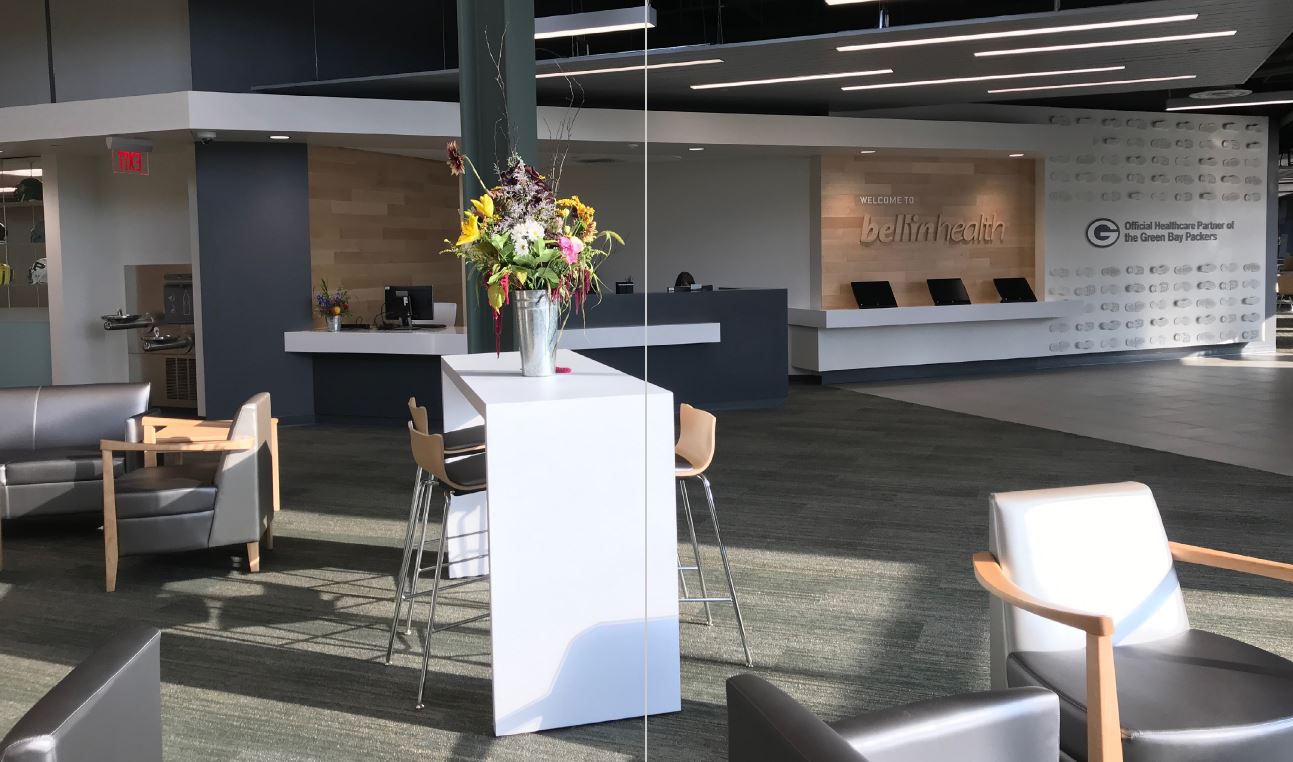 The main conference room on the first floor is used by the facility, but it is also open for community events like Pop Warner football parent meetings. The facility is home to the University of Wisconsin Oshkosh team physicians and is used as home base for athletic training for more than 20 local schools.
It is truly state of the art with fluoroscopy and ultrasound, MRI and a growing biologics program that will eventually include stem cell research. There are 20 exam rooms in all. KI helped advise Bellin on the work areas and exam rooms in the building. Physicians, physician assistants and support staff all work together in "co-location" areas. A lot of effort was spent on creating the public areas of the building, Shank says, adding that the designers wanted to minimize the time spent sitting in exam rooms.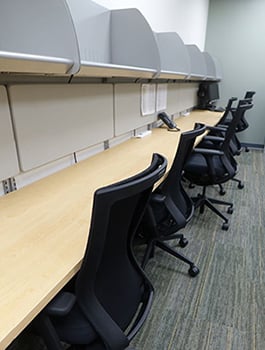 The second floor is home to physical therapy and sports performance with technology used everywhere. Athletes are fitted with electrodes that can show the performance of their muscles. Force plates in the floor can track the impact of jumping or twisting movements.
A running lab uses cameras and special sensors in the treadmill to see if an athlete is favoring an injured leg, for example. A separate cycling lab measures the performance of riders.
"Just about every surface an athlete could use - other than water and ice - can be found at this facility," says Charlie DeCleene, a physical therapist. "From a field to the wooden floor of a basketball court, we have it all covered."
There is a large football and soccer field on the second floor and a half basketball court, ringed with 14 of former Packer coach Vince Lombardi's favorite sayings. A sprinting track is located above it. Another area filled with high-tech camera equipment can measure everything from the swing of a golf club to a baseball player's pitch.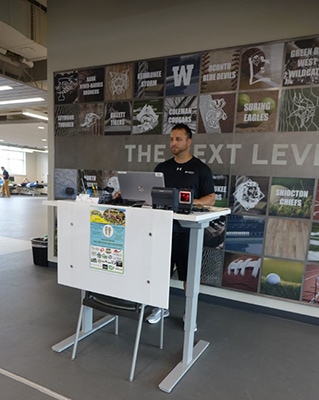 The furniture is a blend of KI products from its health care and office collections, including some of its Lightline architectural walls. "It is great to be part of this wonderful new facility," says Debbie Breunig, KI's vice president of health care. "It is great for Green Bay and for athletes everywhere."
The facility is already helping the community. Taylor Schmidt began playing basketball in the first grade. Playing throughout junior high and high school, she was 30 seconds into her junior year conference game when she tore her ACL as she was driving the basket. "When I first came to Bellin, my doctor asked me numerous questions about what was most important to me. It was then I knew my doctor cared about my whole life and not just my injury," she says.
A public grand opening was held last week that included facility tours, refreshments and giveaways. In true Green Bay fashion, attendees could meet Green Bay Packers alumni Earl Dotson and Doug Evans, and enter for the chance to win Packers tickets and a signed Jordy Nelson jersey.