KI In The News
Beyond the Rocking Chair: Furniture Innovations in Senior Living
Senior Housing News
June 26, 2017


Written by Mary Kate Nelson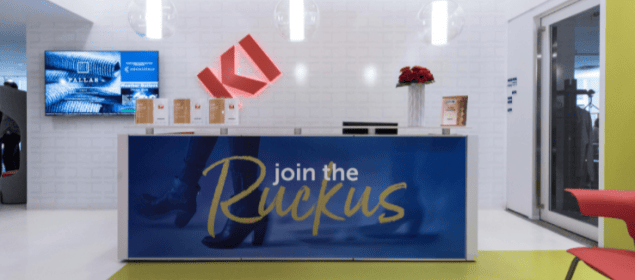 Senior housing operators are beginning to rethink how they furnish their communities to best accommodate increasingly unhealthy residents and impress hard-to-please staff-all without compromising on style or breaking the bank.
That's according to Debbie Breunig, vice president of health care at KI. The furniture company, which is based in Green Bay, Wisconsin, recently showcased several of its furniture offerings at the 2017 NeoCon design conference and trade show in Chicago, many of which were designed with America's growing senior population in mind.
It turns out that furniture can make quite a difference in how warmly a community is received by its inhabitants-as well as quite a difference in how much staff members enjoy, and want to remain in, their work environment.
Homey, but 'wears like a tank'
Furniture designed for senior housing communities should be both welcoming and durable, Breunig told Senior Housing News at NeoCon.
"We want the environment to be able to feel like home, but it has to wear like a tank," Breunig said.
KI designed a wing-backed chair that's ideal for a senior housing environment, as it can be cleaned with bleach, is not too low to the ground and has "subtle" wooden arm rests that are meant for seniors to grasp as they ease into and out of the chair.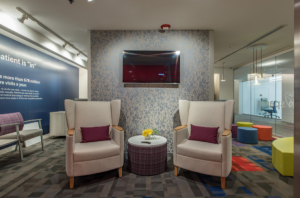 The chair is an upgrade from "what could be kind of a stodgy, traditional wing-backed chair," Breunig added, as it's colorful, stylish and "easy to get in and out of."
It's important that senior housing furniture isn't only designed with an 80-year-old in mind, though. Doing so would be selling seniors short.
KI has also designed an "arts and crafts table" that it believes would be especially suitable for seniors in either a dining or an activities capacity. Specifically, the table has several crescent cut-outs where people can sit, lean in and listen to one another.
"At a typical square table, it's hard to get up to, hard to engage [others]," Breunig said. "With the crescent cut-outs, people can work together so much more closely."
Such a table might come especially in handy for seniors with hearing impairments.
KI has traditionally focused on the inpatient, outpatient and student markets, but it has sold furniture to senior housing communities in the past and expects the demand will only increase as the nation's population ages.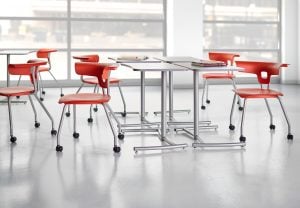 Additionally, KI anticipates that senior housing communities, which have found many new furniture pieces cost-prohibitive in the past, will be increasingly willing to spend more money on quality, lasting pieces in the future.
"It's not just going to be about 'let's buy a few pieces that are the lowest price,' with no thought around it," Breunig said.
'Regenerative' break rooms
Though furnishings used by residents may always be top-of-mind for senior housing operators deciding to redecorate, it's equally important that providers consider how furniture choices impact staff.
In fact, having the right furniture in break rooms can actually be "regenerative" for staff, Breunig said. That same feeling, she said, will not result from "just providing [staff with] a closet with a refrigerator and a microwave."
Some senior housing providers have already figured this out and reworked their strategies accordingly. Staff break rooms at Texas-based Avanti Senior Living communities, for instance, have white boards, charging stations, bean bag chairs and games like ping pong.
To reduce employee burnout and turnover, it's important for senior housing staff to have a place to rest and recharge at work. Recognizing this, Breunig suggested a privacy chair designed by KI that would work in senior living.
Comfortable, inviting furniture may be just what some communities need to keep caregivers happy for the long run. It's all about providers asking themselves one simple but crucial question, Breunig said:
"How do we make that work experience great for them?"