KI In The News
A New Approach to the Skills Gap
Plant Engineering
September 11, 2017

Wisconsin coalition connects education and manufacturing.
By Andy Bushmaker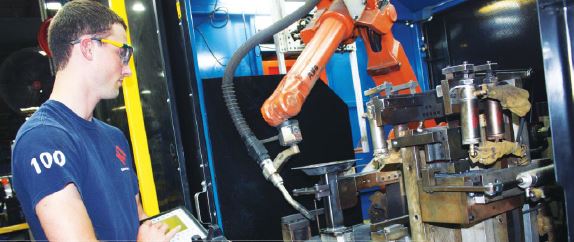 Teacher. Doctor. Lawyer. Ask high schoolers what they want to be when they grow up, and you might expect any of these answers.
But ask high schoolers in Wisconsin and you might hear something else. Robotics specialist. Mechanical engineer. Welder.
That's due in large part to the efforts of a cohort of industry leaders in Northeast Wisconsin. For over a decade, the Northeast Wisconsin (NEW) Manufacturing Alliance has been working to address the region's shortage of skilled labor and redefine the manufacturing industry's image. The group works with primary and secondary schools, universities, and technical colleges to introduce young people to the manufacturing industry.
Founded in 2006, the Alliance is the brainchild of Paul Rauscher, CEO of Wisconsin-based EMT International, which makes printing, converting, and packaging equipment. Rauscher experienced firsthand the challenges associated with building a workforce in the manufacturing industry - from finding skilled workers to changing the stigma that industrial jobs are dirty or dangerous.
Many of these obstacles persist today.
Rauscher believed that bringing area manufacturers together could be the beginning of a solution. Four companies attended the first meeting of the Alliance. Since then, the organization has grown to include over 210 members.
The group's diverse membership roster includes companies in the furniture, food, machinery, metal products, and transportation sectors. Household names like Kohler, Sargento, Nature's Way, and Georgia-Pacific are among them.
The Alliance has found success by enabling collaboration. To stabilize and grow their workforces, manufacturers have joined forces with educators to create mutually-beneficial partnerships with area schools.
At the heart of these partnerships is openness. Manufacturers offer skills-training and youth apprenticeship opportunities to high schoolers. Those students are then prepared to take on highly-skilled manufacturing jobs upon graduation.
The Alliance applies the material that students are learning in the classroom to the real-world. One such initiative is the "Get Real Math" curriculum, which helps teachers answer the age-old student inquiry: "When will I ever use this?"
The Alliance's video series-filmed on-site at local companies-demonstrates practical use for math in the workplace. From calculating the reach of a robotic welding arm at the contract furniture manufacture KI, to developing the perfect proportions for a multi-cheese blend at Sargento, teachers can guide the curriculum while companies get to showcase their work to students.
The Alliance doesn't just ignite student interest in manufacturing. It's also where companies and educators meet to create a qualified workforce. One example is an Employability Skills training program, led by KI, which pairs local high school students with the company's engineers and technicians to solve real-world manufacturing problems.
For instance, KI workers had difficulty installing wheels onto office chair blade bases, so the company consulted a group of students at nearby Denmark High School. With guidance throughout the school year, students ran with the project challenge, developing a timeline, concept proofs, cost estimates, prototypes, and a plan to continue improving the process.
After getting approval from KI's engineers and plant leaders, the students built the machines they designed. They were so engaged in the project that they continued work for a week after graduating. By the end of the project, the students had applied problem-solving skills to create two machines that KI uses on its plant floor today.
Partnership projects like KI's allow students to experience what a career in manufacturing is like-and the benefits are twofold. Manufacturers introduce their work to promising students, and in turn, students gain valuable hands-on experience.
Students find their calling
Companies' investment in their workforce is reflected in what their young employees have to say about their jobs. Erin Halle, a process technician at Sargento, and Alex Peters, a senior automation specialist at KI, both note that they find the variety of their work rewarding. "I've been running lines for six years, and I still see problems that I have never had before," said Halle, who operates and troubleshoots high-speed packaging equipment.
"One week I can be programming and editing a robot, and the next I can be retrofitting a new robot or building an entirely new system," said Peters. "I don't think there's a single day that I've come into work that I haven't learned something."
The Alliance has quickly become an international leader in innovative manufacturing education, taking home the Frost & Sullivan Manufacturing Leadership Council's award in Talent Management Leadership this year. Just four other groups were recognized, including Dow Chemical and Oracle. The Alliance also has been invited to present at the International Economic Development Council.
The share of manufacturing employers who expressed difficulty finding talent has jumped from 29% in 2011 to 80% this year, according to a study commissioned by the Alliance and conducted by the University of Wisconsin, Oshkosh. Welding is one of the three hardest jobs to fill in Northeast Wisconsin.
Those numbers shouldn't be surprising, given that the region's unemployment rate is at a 16-year low. And the Baby Boomers, the backbone of the manufacturing workforce for decades, are retiring. Nationwide, nearly 3.5 million manufacturing jobs will need to be filled in the next decade.
The NEW Alliance is doing its part educate young people about the appeal of those jobs-and equip them with the skills they'll need to take them. It's an approach that's working in Northeast Wisconsin-and could work all over the nation.