KI In The News
Student Wing Reopens With New Technology, Improved Classrooms
Pipe Dream
September 2, 2016

Written by Brendan Zarkower
After almost two years of construction, the Student Wing has reopened its doors to reveal a completely revamped set of classrooms, lounge spaces and technology resources.
The remodeling of the space was driven by a wide variety of departments on campus, from Physical Facilities to the Center for Learning and Teaching (CLT), which hosts the Learning Studio. The Learning Studio is a classroom-lab hybrid that gives Binghamton University's administration an opportunity to test out new educational technologies in a small-scale setting.
"We wanted to put these 20 classrooms online and the question was, do we want to just build a box, or are there other better ideas out there?" said James Pitarresi, vice provost and executive director of the CLT.
Some of the technologies pioneered at the Learning Studio have now made their way to Student Wing classrooms. These include a special paint that allows the walls inside of classrooms to be written on safely with dry erase markers, tiered seating in classrooms to create better lines of sight and multiple large monitors to be used for group presentations.
According to Pitarresi, the CLT's research highlights a few specific items that professors often utilize frequently in their classrooms.
"What they really need were display devices that are bright, large and high definition," Pitarresi said. "People want writing surfaces as well, and the advantage of this space is that instead of having a six-foot glass board you have 20 feet of wall you can write on."
In addition to these technologies, some screens in the new classrooms can be connected to without use of an HDMI or VGA cord.
"In some rooms you have the ability to connect to the screen wirelessly - a student can do that, a faculty member can do that and it can be changed quickly," Pitarresi said.
With the new construction, the Student Wing is now almost completely filled with classrooms, as it was originally intended when built. According to Michelle Ponczek, director of course building and academic space management, the new lounge spaces and classroom areas are based on student and faculty feedback.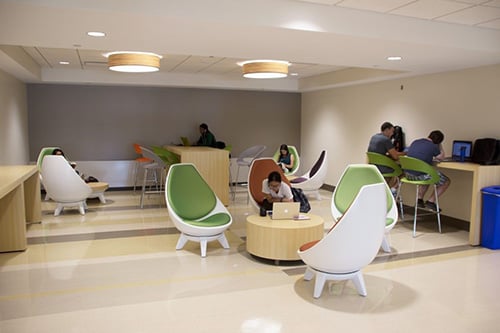 "The Student Wing was actually built as a classroom building but was turned into student services, so it made sense to turn it back into classrooms," Ponczek said. "Since the Dickinson Dining Hall was converted to [Chenango Champlain Collegiate Center], we had a great opportunity to move functions from the Student Wing over to Old Dickinson."
Among the functions of the old Student Wing that have been moved to Old Dickinson Community are the registrar and student accounts.
Jennifer Wegmann, a lecturer in the health and wellness studies department, signed up to use the new classroom technology with her contemporary health issues class.
"The first 20 minutes of class today were spent with the students breaking up into groups and using the walls to articulate wellness in any way they could," Wegmann said. "Some drew pictures, some made charts and they all got into varying levels of detail."
Student reception of the new classrooms and lounge spaces has been generally positive. In particular, some students have particularly enjoyed the new seating arrangements in the lounge area.
"These chairs are dope," said Daniel Greenberg, a senior double-majoring in business administration and integrative neuroscience. "I feel like I'm on a half-spaceship, half-pearl, white egg."