KI In The News
Modular Wall Systems Provide Dynamic Options in Health Care Facilities
Health Facilities Management
November 2, 2016

Prefabricated solutions help to improve flexibility, infection prevention and patient privacy
by Amy Eagle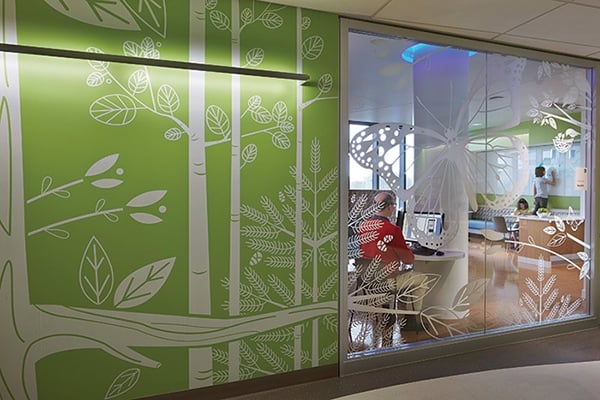 Modular, demountable walls can provide significant first-cost and long-term benefits to health facilities. These interior wall systems are manufactured off-site for quick assembly at a facility. They are also designed for quick disassembly, so they can be rebuilt in another space or reconfigured at the current location as a health care organization's needs change.
Compared with traditional construction, off-site manufacturing is cleaner, safer, faster and greener. Building walls in a factory or warehouse environment results in substantially less noise, dust and disruption for patients and staff at a medical facility.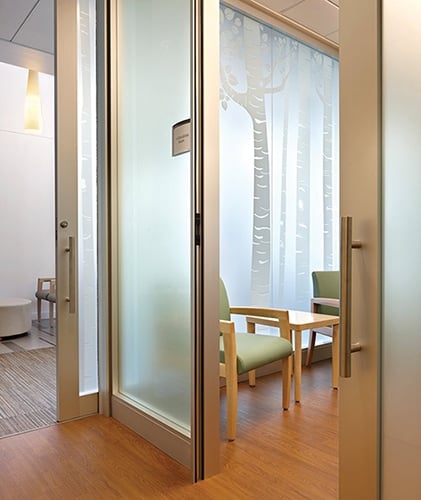 The controlled setting is less hazardous and more efficient for tradespeople. Efficiencies in the construction process produce less material waste and allow newly built or renovated health care spaces to begin serving patients faster. And since modular walls are classified as furniture or personal property for tax purposes, they can be depreciated over five to seven years, versus nearly 40 years for traditional construction. With a variety of materials, finishes and features available, wall systems support well-designed health care interiors beautifully.
Walls that work
KI, Green Bay, Wis., offers a suite of architectural wall systems - Genius, Lightline and Evoke - that can be used in concert with one another or with conventional walls.
Genius is manufactured in a multitude of finishes, including solid panels, glass, veneers, laminates and acrylics. Fabric and vinyl constructions also are available. Framing options range from anodized aluminum to solid wood. Genius's furniture slotting allows installers to suspend modular casework from the wall system's panels, rather than cutting into a facility's permanent walls to hang furnishings.
Lightline is a glass wall product. It has virtually seamless connections to maximize visibility and the flow of natural light through a facility.
Both Genius and Lightline can be customized with hinged or sliding doors. Ryan Usiak, senior product marketing manager, architectural wall, KI, says that depending on the width of the doorway, "we can save as much as 10 square feet within a patient room, just by using a sliding door." Debbie Breunig, EDAC, the company's vice president for health care, notes that safety is another benefit of easy-to-operate sliding doors. "One of your highest risks for falls is the patient transfer from the bed to the bathroom," she says. Patients and staff who don't have to stop, pull open and maneuver around a swinging door have less risk of tripping or becoming entangled with an IV pole or other medical equipment.
KI's newest architecture wall system, Evoke, has the look of traditional drywall. The solid panels can be wrapped in a screen print during manufacturing or painted in the field. The product offers high audio privacy, with a Sound Transmission Class (STC) rating of 50. "Evoke is a game changer in the health care environment, because of the high STC," Usiak says.
DIRTT Environmental Solutions, Calgary, Alberta, uses a process of manufactured construction to custom design and build prefabricated interior solutions to clients' exact requirements, down to the millimeter. The company's in-house software tool, ICE, handles much of the production work of schematic design, freeing interior design professionals to use their expertise to focus on the actual design.
Kristin Moore, director of health care, DIRTT, explains that with traditional construction, 70 percent of a budget goes toward labor and 30 percent toward materials. Efficiencies in DIRTT's manufacturing process flip that ratio, so customers can invest 70 percent of their budget in quality materials. "This means there's a lot more design freedom in what those interiors are going to look like and a higher level of overall performance in the longer term," Moore says.
Innovative materials offered by DIRTT include Willow Glass, manufactured by Corning Inc., Corning, N.Y. Willow Glass is ultrathin (about the thickness of two human hairs, according to Moore), flexible and can be bonded to a variety of surfaces, such as acrylic, polycarbonate, steel and medium-density fiberboard. The glass is chemical-, scratch- and impact-resistant, making it a cleanable and durable solution for health care environments. Additional benefits include lower freight costs for the lightweight material; improved acoustic performance; the ability to integrate touchscreens and other emerging technologies into health care surfaces; and color-free transparency, so that any graphic image can be printed on the back of the glass to serve as a design element or positive distraction.
DIRTT walls feature a layered design. The first layer is the wall structure. The second layer contains whatever infrastructure the wall needs to carry, such as hospital-grade electrical service, plumbing chases, medical gas lines, reverse osmosis lines for hemodialysis or cabling for information technology. The third layer is the exterior surface of the wall. To access the wall cavity, facility maintenance staff can simply open the surface layer; there's no need to cut into the wall. "From an infection prevention and control standpoint, they're not having to worry about drywall dust. They're not having to repair the wall. They're not having to refinish the wall in an occupied environment," Moore says.
The walls can support casework, such as embedded exam or consultation tables. This enables facilities to move case goods off the floor to declutter the environment and make it easier to clean. "The walls aren't just there to divide space," Moore says. "The walls themselves can be put to work."
Prefabricated headwalls
Modular Services Co. (MSC), Oklahoma City, creates, manufactures and services a number of advanced prefabricated products for the health care market, including medical headwalls, footwalls, sinkwalls, fixed and movable columns and movable boom systems. MSC's modular solutions bring together the services needed for patient care under one package with ample equipment management and consistent design, to help organize patient care spaces and streamline patient care processes, says Allison West, marketing coordinator.
The company's wide range of headwalls is designed to meet a variety of health facility needs. The Flatwall and Profile models run vertically; Silhouette and Provider Plus run horizontally. Form headwalls are part of a full-room system that also includes footwalls, sinkwalls and sidewalls. Method headwalls are custom designed to clients' specifications. The new Evolution Series semi-recessed headwall features a Fast-Track template that allows all trades to move forward with installation, including mechanical-electrical-plumbing, insulation and drywall, prior to the headwall's arrival on-site; the headwall ships fully assembled and ready to install. In addition, Evolution Series headwalls include MSC's new NeoTrack angled equipment management tracks, which can be used to move clinical accessories out of the way and provide easy access to all services, such as medical gases and electrical devices, as well as patient monitoring or charting systems. The Evolution Series is available in a number of widths, to accommodate different acuity levels, with 3-D-wrapped panels for a smooth, easy-to-clean finish.
For further infection protection, MSC's patented WellJoint is available as an add-on to any of the company's headwalls that include panel seams. WellJoint is manufactured with CuVerro bactericidal copper surfaces along the perimeter of each headwall panel to help inhibit bacterial growth, in conjunction with standard hospital infection control practices. CuVerro is a business unit of Olin Brass, Louisville, Ky. Laboratory testing has shown that when cleaned regularly, CuVerro surfaces kill more than 99.9 percent of bacteria within two hours of contact and continue to kill 99 percent of bacteria after repeated contamination.
Door and glass options
Space Plus, the commercial division of The Sliding Door Co., Chatsworth, Calif., has a number of room dividers, partitions, privacy walls and interior glass door solutions for health facilities. The company's door panels are available in combinations of clear, frosted, linen, milky, smoked and laminated glass, allowing facilities to balance the need for privacy, visibility and the flow of natural light. The panels have a smooth design with few ridges or other dust-collecting areas. "That really does help with cleanliness," says Sheryl Hai-Ami, administrative officer, Space Plus. "In a health care environment, cleanliness is vital."
Another benefit important to health care is that all Space Plus sliding panels can be installed to stack to one side of an opening. This maximizes the space available for moving patients, staff and medical equipment quickly and easily in and out of a room.
Space Plus sliding doors can be mounted in a low-profile, ADA-compliant track system or suspended from above, with no bottom track at all. New this year is a feature that allows the company's sliding and swing doors to be locked with individual keys while remaining master keyed to the main building or storefront. Maintenance workers, information technology staff or managers who need access to offices or other areas that may be locked can "have one master key on their chain now, instead of 30," explains Hai-Ami.
Innovative Glass Corp., Plainview, N.Y., has engineered wiring systems to incorporate the company's eGlass brand switchable LC Privacy Glass into major manufacturers' demountable wall or sliding door systems. eGlass switches from clear to frosted at the touch of a button, through the use of a low-level electrical current that stimulates microscopic particles within the material. According to Anthony Branscum, the company's vice president of architectural sales, health care clients who install eGlass in patient care areas typically remove cubicle curtains from those areas. "Now they don't have to take the curtains down and put up new curtains as they move the patients out," he says. "They're able to wash the glass down as they ordinarily would, with their normal disinfectants, and they can move patients in and out of these rooms more quickly."
eGlass makes it easy to switch between patient visibility and privacy in areas like intensive care units, which place a high demand on each. The opaque and clear settings are useful for distinguishing occupied and unoccupied exam rooms in clinic or urgent care settings. The material also has been installed in pediatric settings to make the experience of care more comfortable for young patients. In back-of-house areas, meeting rooms or offices with eGlass can be set to private when needed or left clear for a more open aesthetic that encourages collaboration and allows for natural light flow. "Most designs these days want to connect interior spaces with one another," says Branscum.
Sophisticated design
While walls might seem to be among the most basic units of an interior design, the latest wall systems are every bit as high-tech, sophisticated and important to efficient, high-quality care as any other component of a health facility.