KI In The News
Class Warriors Don't Create Jobs in State
Milwaukee Journal Sentinel
November 20, 2016

Written by Dick Resch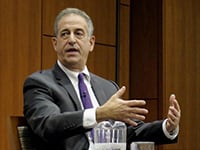 Last week, Wisconsinites delivered a resounding message at the ballot box. They're not buying the class warfare that the Democratic political establishment is selling.
In his bid for U.S. Senate, Russ Feingold blamed CEOs and businesses for all that ails the middle class and the state economy. He proposed a raft of new taxes and regulations on companies and their executives.
And he lost.
Our economy is firing on all cylinders and creating good-paying jobs in the process. Feingold's anti-business agenda threatened that progress - and would've harmed the very middle-class Wisconsinites he purported to speak for.
Feingold made attacking business a cornerstone of his campaign. He lamented, "Wisconsinites are working together to create an economy that works for everyone - not just corporate CEOs" but "corporate interests have poured into our state . . . at the expense of Wisconsin's working families."
Those families showed up at the polls and instead re-elected Republican Ron Johnson - the first Wisconsin Republican to win a U.S. Senate seat in the same year as a presidential election in more than 30 years. Republicans also gained seats in the state Legislature, even though they were expected to lose them.
Wisconsinites saw what Feingold and his fellow class warriors have missed. Wisconsin's economy is booming.
In 2011 - the year the state added the phrase "Open for Business" to its welcome signs - the state ranked 49th in the country in forecasted job growth. Since then, the state has jumped 28 spots.
It's no wonder Wisconsin's unemployment rate is at 4.1% - well below the national average of 5%.
Incomes have also improved. The average Wisconsinite now earns more than $10,000 more annually than in 2005.
In a recent survey of state economic health - which assessed factors such as unemployment rate and household income - Wisconsin ranked fifth in the nation.
Our economy is growing because our businesses are growing - and investing their hard-earned dollars back in the state.
Take Bemis, a Neenah-based packaging manufacturer. The company just started a $25 million expansion project in Oshkosh that will create nearly 200 jobs. Milwaukee-based life insurer Northwestern Mutual recently held a conference that brought in 10,000 of the business's financial representatives, employees, and their family members, and contributed $12.9 million to the local economy.
The total economic impact of the company I lead, KI, on the state is nearly $200 million a year. In 2015, our more than 2,000 employees paid more than $2.2 million in property taxes. KI itself contributed almost $300,000 in property taxes to state coffers last year.
Further, when Wisconsin companies perform well, their executives aren't the only one who reap the returns. In many cases, their employees benefit, too - because they have a financial stake in the business. Dairy company Schreiber Foods, brokerage company Robert W. Baird, and KI are all employee-owned.
The rhetoric of class warfare may sound enticing, but the facts are clear. On Nov. 8, the people spoke. They want leaders who will keep Wisconsin's economy working - for those in the boardroom, those on the factory floor, and those everywhere in between.
Dick Resch is chief executive of Green Bay-based manufacturer KI (www.ki.com).