What Design Education Means Now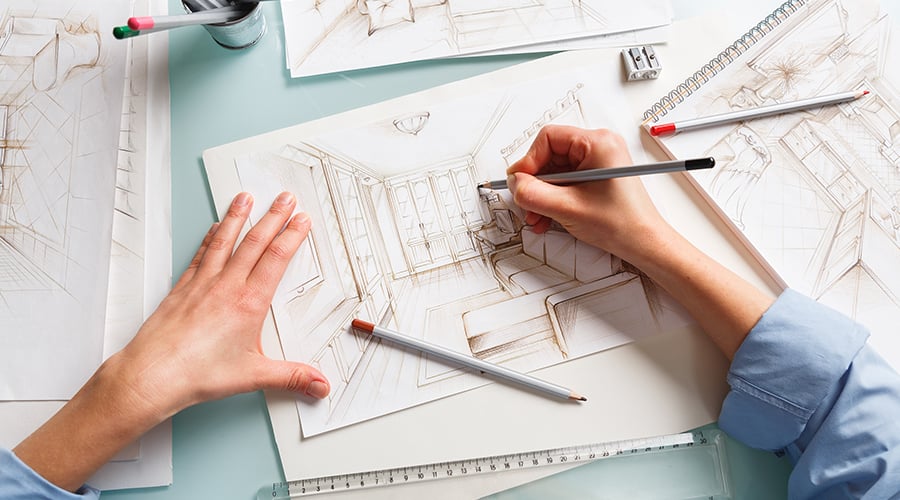 During the 2020 IIDA Educators Panel, presented by KI and moderated by IIDA Executive Vice President and CEO Cheryl S. Durst, Hon. FIIDA, six designers and education professionals came together virtually to discuss what it means to teach in a global health crisis and what they are optimistic about as we head into a hopeful future.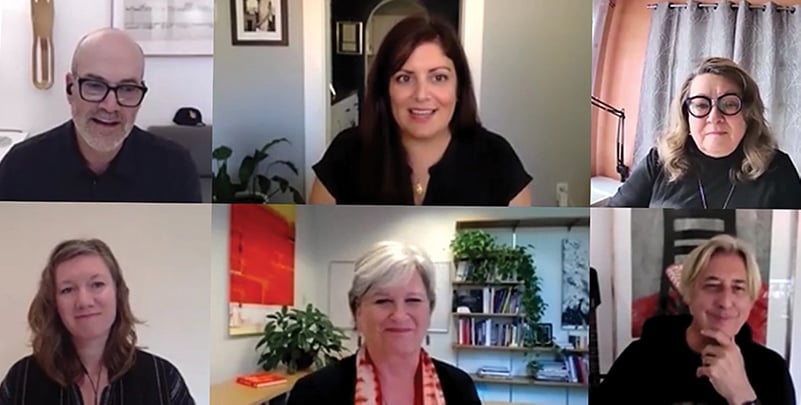 From the onset of the COVID-19 pandemic, educators have taken on many roles—as essential workers, Zoom troubleshooting experts, and above all, drivers in how young people interact with the outside world. "An important thing that has come to light in the middle of all of this is the great responsibility we have as educators to encourage and support our students," says panelist Jon Otis, IIDA, founder and principal of Object Agency (O|A) and a professor of interior design at Pratt Institute. Through patience and hyper-clarity, educators are finding ways to connect with and prepare future designers and design leaders for an ever-changing world that needs them.
"From an educational point of view, we must remain optimistic so our students can continue to learn." – Jon Otis, IIDA
Rethinking the Classroom
The majority of fall 2020 classes are virtual, which has generated new challenges—and opportunities—in the ways that educators engage with their students. "One of the biggest obstacles I've come across is that students do get overwhelmed in a virtual setting," says Christina Gonano, IIDA, IDEC, professor of interior design at the Savannah College of Art and Design.
The online learning process is new to many students, especially undergraduates, and educators are finding themselves adjusting to different ways of teaching. This, of course, can be a significant positive. "The technology we have access to now is helping us push the envelope of teaching," says Dr. Pamela K. Evans, Ph.D., IIDA, FIDEC, the retired director of interior design at Kent State University. "We've been doing things the same way for a while and I look forward to embracing new components of education."
Because of these changes, Amy Campos, IIDA, chair of interior design, associate professor, and interior design internship coordinator at the California College of Arts, says it's critical for design educators to approach their classrooms with a sense of "empathy and flexibility," which are qualities so critical for designers to possess. "It's important for this moment that we are over-communicating and consistently checking in with our students," Campos says.
Design educators are also finding that, in addition to rethinking their classroom interactions, they are also adjusting their lesson plans, with an emphasis on current issues and events. "Diversity, equity, sustainability and public health have already been embedded into our design curricula," says Otis, "but the current state of affairs has us rethinking language, lexicon and putting a new focus on how design can help the world around us."
Finding New Ways to Connect
Virtual learning has created new conditions under which students and educators meet and collaborate. "We have students in various time zones across the globe, so figuring out a time for our sessions that works for everyone has been pretty interesting," offers Campos.
In the context of virtual connections, we are all finding ourselves in the homes of other people and educators are using this as a moment to have meaningful conversations with their students regarding their specific, local circumstances. Campos says that due to the ongoing forest fires in California, she often finds herself surrounded by an eerie orange glow while on Zoom calls. "That registers with students and affects them while they are communicating with their teacher via a screen," she says. "This situation has allowed us to embrace the student body in a very personal way and this has actually been refreshing and beneficial."
While we miss in-person social moments, virtual meetings and events are allowing both students and educators to connect with a wider design community far more easily than before. "I am truly looking forward to keeping these virtual experiences to enhance the design collaboration process," says Gonano.
Brian Graham, IIDA, IDSA, founder and creative director of Graham Design LLC, agrees. "I am a lot more accessible to students than I've been before and because of this, I've had many meaningful portfolio reviews and other connections I would not have otherwise had."
Emphasizing the Value of Design
In the midst of a pandemic, educators are emphasizing the value of design from different standpoints. "We are focusing more on the human condition and less on aesthetics," says Evans. "Design is at the forefront in evaluating what people really need."
Since design is helping us all adapt to the physical environment, educators are helping steer their students in talking about the importance of championing design for health, safety, and accessibility. "One positive to come out of the current situation is the newfound appreciation for work designers do and the strategy that they provide," says Evans.
Katherine Ankerson, FIIDA, AIA, the dean of the College of Architecture at the University of Nebraska-Lincoln, says the global situation has been an opportunity for designers and design educators to articulate qualitative and quantitative data that demonstrates that design does indeed matter. Campos agrees and asserts that she enjoys the challenge of "everything being at stake." Designers are reevaluating their teaching tools and the ways they present design in addition to addressing equity and access to learning and information.
"Design is an optimistic act because you have to believe that you can make something better than what already exists." – Brian Graham, IIDA, IDSA
Educating the Future
All six of the panelists agreed that the issues that have come seriously to the forefront this past year are all things that design has already been addressing and attempting to reckon with. As we head into the future and prepare the next generation of designers, we have to focus on creativity, adaptability and flexibility. "As educators, we are preparing agents of change," says Ankerson. "We are giving them the tools to have critical thought and be resilient."
The future projections for a post-pandemic world offer a way for us to be optimistic and provide a vision for a better tomorrow. Students are being prepared to face a future where the way we interact with public space—from the workplace to the sidewalk—will look radically different. The challenge for design is to continue orchestrating culture and human engagement, even under unique circumstances. "That is something to prepare for in a positive and forward-thinking way that is really empowering for the students," says Campos.
Ultimately, the way we position design education will continue to evolve and educators are looking forward to the possibility of innovation and the ways in which we can inspire change in the next generation.
Subscribe
Stay up to date with the latest trends and more.