Supporting the Healing Touch of Family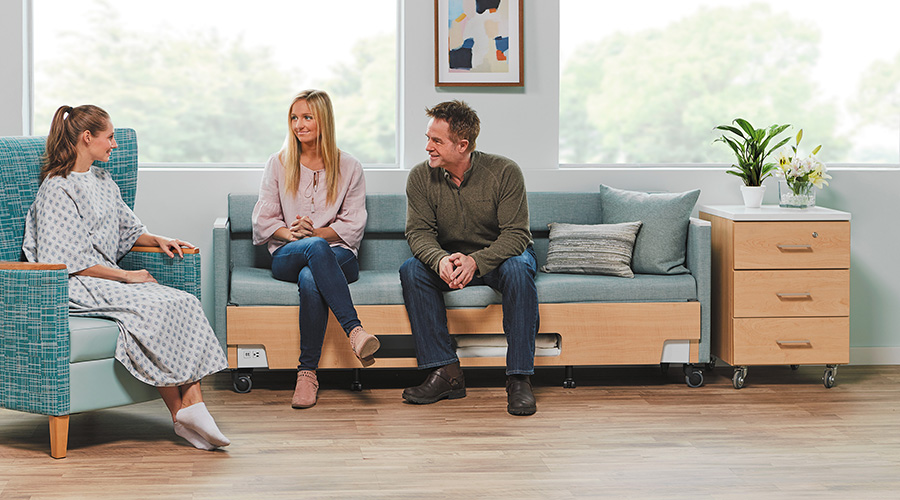 Hospitals are increasingly switching to single-occupancy rooms. Space for staff, equipment and family members are at a premium.
Consequently, administrators and designers are searching for mobile, smaller-scale furniture that comfortably supports visitors' needs without taking up a lot of real estate.
Accommodating visitors is almost as important as addressing patients' needs. That's because social interaction and easy access to family and friends can help patients heal faster. According to a study from the American College of Surgeons, patients with large social networks are more likely to have a hospital stay of less than a week, relative to those with similar ailments but smaller social circles.
Proximity between patients and visitors provides psychological and emotional support, and can decrease stress and provide encouragement to patients. A patient room designed with guests in mind can go a long way toward ensuring that patients get the social stimuli they need to make their hospital stay as short as possible.
That design process starts by considering what visitors want. Family members typically are looking for places to sleep, eat, hang up a coat or charge their phones. Patients and visitors alike yearn for experiences that remind them of home.
We've designed our Hiatus Sleeper Bench with the express intent of bringing the feel of home into healthcare facilities. The bench easily converts to a trundle style bed, so visitors can comfortably stay overnight with their loved ones. It's compact, so doctors, nurses and medical personnel can do their jobs unencumbered. And it's mounted on casters, so staff can easily move and work around medical equipment.
Hiatus also features a storage compartment that keeps personal belongings handy and off the floor. Integrated power outlets allow families to charge their personal devices without hunting down a wall outlet.
With Hiatus, it's convenient for visitors to stay at the hospital with their loved ones. That's a win for the hospital and for the patient, who will feel supported-- and may get well even sooner.
Check out our quick demo of how easy it is to convert Hiatus to and from sleeping mode.
Subscribe
Stay up to date with the latest trends and more.