Reflections on Adversity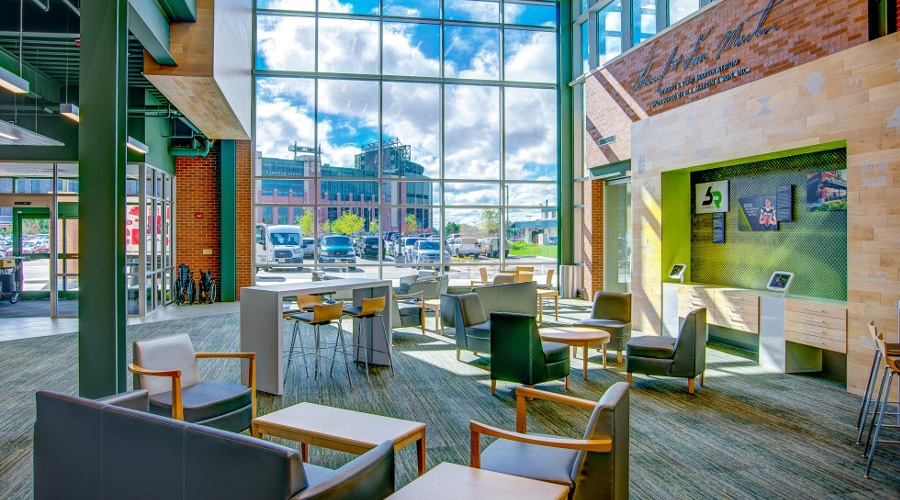 The seasons of autumn and winter are sure to bring talk of all things football, the star players and unfortunately – and sometimes it feels inevitable – their injuries.
While injured athletes work on their comeback, so too do many other men, women and kids who have experienced work or sports injuries. And the new Bellin Health Titletown Sports Medicine and Orthopedics center is now the premier place in the country for making comeback stories happen.
Located in the new Titletown District, in the shadow of Lambeau Field, the three-story, 52,000 square-foot facility is where adversity meets excellence in sports medicine. The world-class facility goes far beyond a traditional healthcare facility providing injury treatment, physical therapy, injury prevention, and performance improvement. With its team-based care, advanced technology, and KI furniture solutions, it incorporates key principles of active design to help get patients back in the game.
Daylight is implemented via the two-story atrium, bringing inherent health benefits.
A variety of communal and flexible multi-use spaces are found throughout.
A centrally located and visually appealing staircase stands central to reception, encouraging the use of stairs over elevators.
Face-to-face communications are encouraged with plenty of open spaces that incite movement and collaboration.
Height-adjustable worksurfaces allow staff to alternate between sitting and standing during the workday.
Read our case study to learn more.
As we close the old year and prepare for the new, we wish you the strength and resilience to face any challenge ahead and to overcome every obstacle. Whatever's in your path, know that you'll always have the KI team behind you and beside you to help you turn adversity into opportunity.

Happy Holidays and Happy New Year.
Subscribe
Stay up to date with the latest trends and more.