How to Successfully Work from Home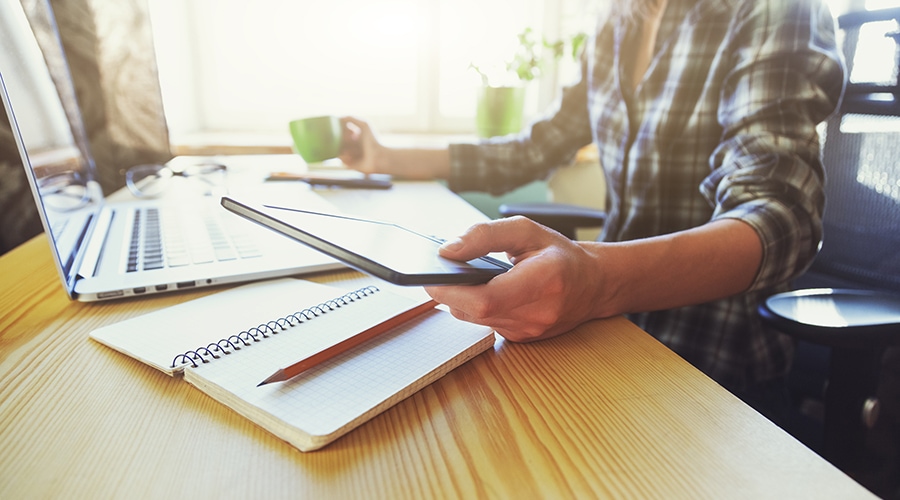 John Molitor, a KI wall sales technical specialist, is a 19-year veteran of our company. He lives on the East Coast and has been working from home his entire career with KI. He shares his tips for successfully working from home.
The COVID-19 pandemic is affecting just about every aspect of our daily lives. For most of us at KI, this has meant an immediate shift to a work from home strategy. For many, this is a completely new way of working – coupled with the complexity of having most of our cohabitants (family, roommates … pets) home, too. It's a dramatic change that can feel overwhelming.
In my 19-year career at KI, I have been blessed to work in the field and from home the entire time. I've learned a lot and thought it may be helpful to share some tips on how to make the most of what can be an amazing opportunity to work in a completely different way than most are used to. Here are my top five tips:
1. Have A Dedicated Space for Work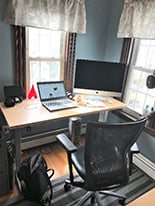 The most important thing is to find a space, no matter how small, that can be dedicated to work. Research shows that having a dedicated space will help create the necessary triggers to tell you this is your place for work. A dedicated space also helps minimize distractions from other residents in your home going about their daily routines. A space somewhere with a door and window (for access to natural light) like a bedroom is ideal. The kitchen table can work too, but it's the equivalent of working in an open plan office – a lot of activity and potential distractions.
2. Communicate Expectations and Be Flexible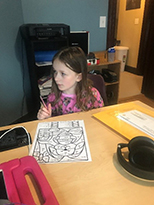 Having clear lines of communication with your family/roommates is critical. If you have children, be mindful that they can struggle at fully understanding the need for privacy as we tend to try to separate our work distractions from family life. My daughter understands to not come screaming into the office, but she is welcome to come in any time to give me the latest update on the day's events. In fact, it's one of my favorite parts of the day. I'd argue most of you working in an office get constantly distracted by others at your workstation throughout the day about unproductive topics (who won the game last night, the latest joke…) so have a little patience and enjoy it.
If you and your spouse are both working from home, constant communication throughout the day will be important as well. I'd recommend checking in with each other to review schedules and meeting times (we're all going to be on a lot more calls and virtual meetings). That way, you can attempt to not have overlapping meetings and you will be better equipped to react to any of the little surprises of the day. Think of it the same way you check to see if the conference room is available for that team meeting you want to schedule. There are always things going on outside of your control affecting your schedule.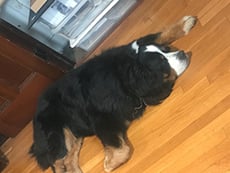 And don't forget about your pets! For us, Thomas Hanx is usually pretty chill and happy to be next to my desk, but there are certain parts of the day where he tends to bark a little more. If I know I have a call coming up, I'll send Thomas out to the back yard for a while.
3. Equipment
For most of us, work technology only requires a small surface for our laptop and space to take some notes. Now is not the time to invest in much, so use what you have – a simple folding table or dining room chair will do. Because this is temporary, ask your employer if you can borrow your task chair from the office (or call up your favorite furniture salesperson to see if they have a spare sample to try out!). If an ergonomic setup is not an option, it's critical to remember to get up and move around even if it's just to do some simple stretches. There are plenty of home workout options to search right from your browser, and with no co-workers around to judge, have some fun with it!
The one other important item I recommend is a pair of Bluetooth headphones with a microphone for your phone. Being hands free for all the extra conference calls and Zoom meetings is an absolute must! Taking notes gets a lot harder with one hand holding up a phone to your head and phone or laptop speakers can be distracting to your other residents!
4. Create a Schedule That is Productive and Fun
Establishing a routine will ensure you are not distracted and start your day productively. Setting established times for breaks and when you intend to end your workday will help you avoid the trap of literally working all day. There are also a ton of opportunities in the day to leverage. With no commute, get a morning walk in and stay caught up on all the podcasts you were listening to in the car. Set a specific time for lunch with the entire family or time a coffee break with your spouse. These breaks can be a great time for you to connect as well as provide a nice break and separation from work.
5. Embrace the Change – We're All In This Together
What's so unique about the current working environment is that so many more people are faced with the same challenges. This means everyone is going to be much more forgiving of your kids interrupting a call or the occasional barking dog. Take some time to check in and call or IM your co-workers and see how they are doing with all the change. It will help you stay connected and feel less isolated from your work tribe. And if you are finding it stressful, know that this will eventually pass as well.
Subscribe
Stay up to date with the latest trends and more.