How to Care for KI Furniture Solutions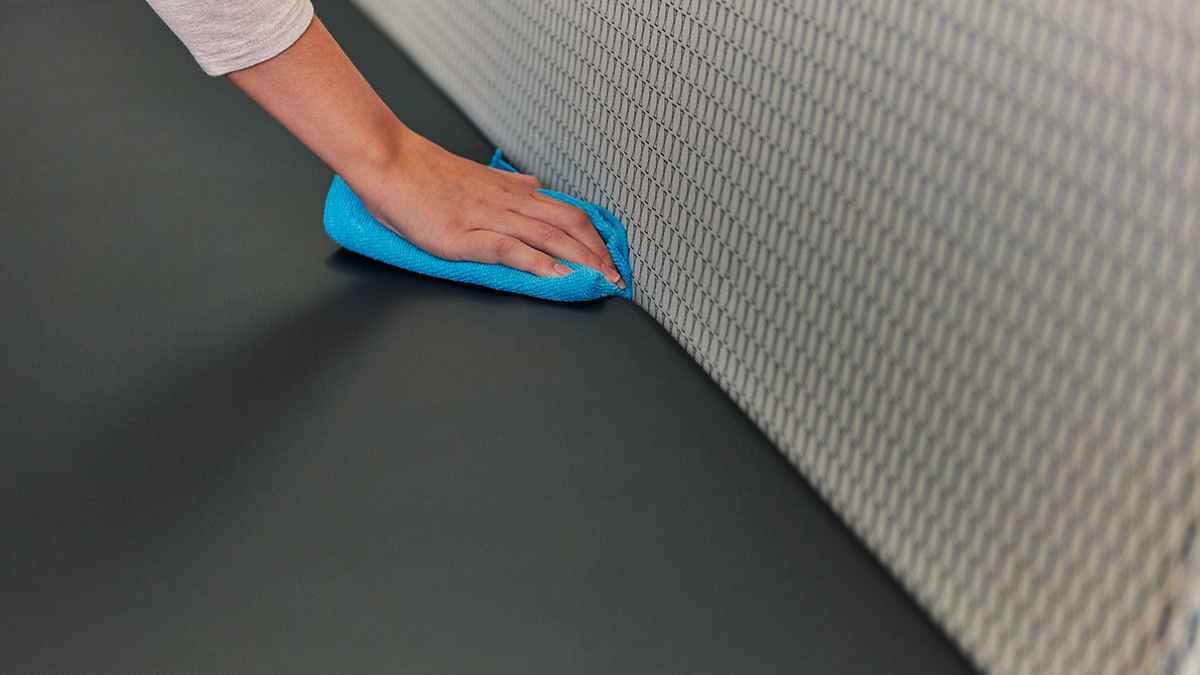 A year ago, a light cleaning of the office or classroom might have entailed wiping up spilled coffee or extricating play dough from carpet.
Today, a light cleaning means so much more. The pandemic has made maintaining a clean work or learning space absolutely crucial. Moreover, understanding the cleanability properties of furniture has become incredibly important. Routine cleaning is tantamount to infection control and prevention, which is critical in keeping students and employees healthy and safe in schools and workplaces.
At KI, we're committed to making durable, high-quality products that our customers can use safely. We diligently ensure that our care and maintenance protocols meet cleaning and disinfecting guidelines issued by the Centers for Disease Control and Prevention and other public health authorities.
To ensure you keep your KI furniture in top shape for years to come, we encourage you to be aware of the differences in care for various materials. Following are some best practices for proper cleaning and maintenance in support of your warranty and more importantly, mitigating infection and safeguarding wellness.
Cleaning vs. Disinfecting
Knowing the difference between cleaning and disinfecting is the first step to stopping germs in their tracks.
Cleaning removes dirt and impurities, including germs, from surfaces. Cleaning alone doesn't necessarily kill germs. But it removes them and reduces the risk of a person picking up a pathogen from a surface.
Disinfecting kills germs on surfaces or objects using chemicals, like disinfectants registered with the Environmental Protection Agency. Disinfecting doesn't necessarily clean dirty surfaces. But it kills germs that remain on a surface after cleaning – further decreasing the risk of infection.
Not all cleaning agents are EPA-registered disinfectants equipped to kill viruses like COVID-19. To find out if your cleaning agent is EPA-registered, enter the registration number from the cleaning product's packaging on this EPA website.
An Antimicrobial Army
Over the past year, "antimicrobial" has become a popular term in product advertising. Antimicrobials are toxic to microorganisms and prevent their growth or action. Most are disinfectants, like bleach, which kill a wide range of microbes and prevent the spread of disease.
But science has not yet proven that products with antimicrobial properties can combat viruses like COVID-19. So, even if your product has antimicrobial properties, you still need to properly clean and disinfect it.

Proceed With Caution
From lounge chairs to worksurfaces to door handles, it can be hard to keep track of different cleaning requirements. For instance, vinyl requires a solution of water and dish soap, while wood only needs to be wiped down with a damp cloth followed by a dry one.
Our comprehensive cleaning guide offers details on cleaning and disinfecting a wide variety of surfaces and upholstery. To protect a product's warranty, we recommend testing cleaners and disinfectants on an inconspicuous area before using them on an entire surface – and always finish with a clean water rinse before drying with a soft cloth.
A Safe Return
The pandemic has raised the stakes for cleanliness. By learning how to properly clean, disinfect and protect our built environments, we can ensure that the spaces where we work, learn and play are sanitized and safe.
Learn more at ki.com/infection-control. Please contact your dedicated KI sales specialist or customer service coordinator with questions on cleaning your KI furniture.
Subscribe
Stay up to date with the latest trends and more.