Four Ways to Plan for Privacy with Architectural Walls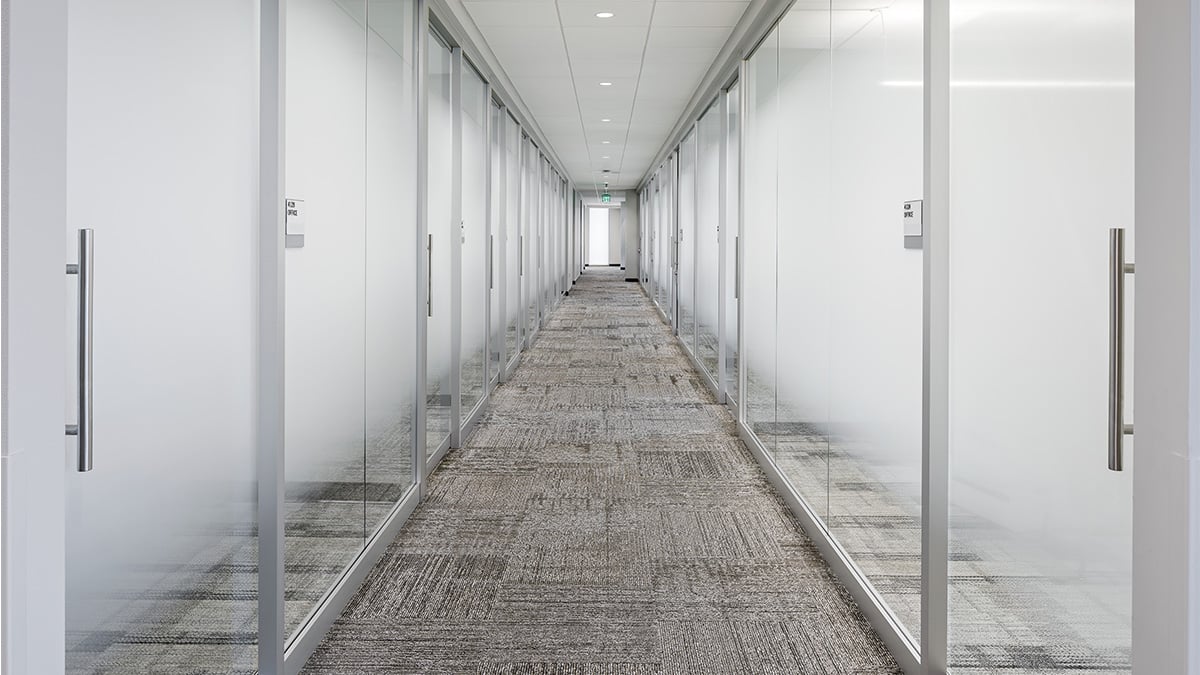 At KI, we understand the importance of privacy within a shared space. From hearing confidential conversations to seeing protected information, it is imperative to ensure acoustical and visual privacy needs are met within workplaces, healthcare facilities, education spaces, government centers and more.
Architectural walls can help block sound and secure visual privacy for sensitive environments. With the flexibility to complement a variety of aesthetics and ability to install incredibly quickly due to pre-assembled delivery, architectural walls prioritize design and function while satisfying the critical needs of privacy.
Consider the following factors when designing your space with architectural walls to achieve acoustical and visual privacy.
1.

Evaluate Sound Performance

Many factors contribute to the overall noise level of a space. In fact, acoustics is a detailed science. Carpet, ceilings, light fixtures, wall treatments, HVAC and furniture affect how sound travels through a space.

Therefore, it's important to know how architectural walls can be measured for sound performance. According to industry standards, conventional interior wall construction has Sound Transmission Class (STC) ratings that typically range from 36 to 42.

KI's architectural wall products have been rigorously tested to verify STC ratings and have outstanding performance as follows:
Lightline: An STC rating of 36 to 39 blocks out speech at a normal volume and makes loud speech incoherent.
Genius: Loud speech is barely audible with an STC rating of 41 to 48.
Evoke: With an STC rating of 50, Evoke rates higher than traditional 4-inch drywall or 6-inch lightweight concrete block; shouting is barely audible.
2. Let the Sunshine In
Sound performance and natural light are not mutually exclusive. Glass architectural walls allow sunlight to flow through a space without sacrificing the division of space or speech privacy.
Specific finish options can also impact the sound performance of glass walls. For example, walls made with thicker glass, double-glazed glass or laminated glass offer superior noise control.
Our Lightline architectural walls are available with these glass options, offering acoustical privacy and maximizing the transfer of natural light, all with a sleek aesthetic.
3. Provide Visual Privacy
In places that require confidential conversations, visual privacy is often just as important as auditory privacy.
Architectural walls make it easy to create differing levels of visibility. Walls with floor-to-ceiling glass panels can be specified with frosted glass or partial film to create an open, spacious feel while maintaining visual privacy. Similarly, solid architectural walls with a clerestory provide a private space while allowing sunlight in.
Our Genius and Evoke architectural walls can be tailored to offer numerous levels of privacy. Genius is available in myriad surface materials, including finishes, colors and textures. Evoke solid panels can be specified with painted steel, steel markerboard or inkjet-printed shells. Magnetic accessories such as tackboards can easily be used with these steel sheels to further enhance the acoustics and function of your space.
4. Consider Your Entire Space
Sound travels along the path of least resistance, which accentuates the need to focus on the connections between architectural walls and the built environment. Connections at the ceiling, built walls, columns, curtain wall and floor require attention.
Door frames should include seals or full strikes to assist in mitigating sound transfer. Attention should also be paid to door undercuts. The use of mechanical drop seals on doors can reduce the amount of sound that transfers from space to space.
In addition, penetrations in the ceiling and the type of ceiling used play a major part in acoustic privacy. HVAC, light fixtures and fire suppression can also create a path for sound to travel and should be part of overall acoustic evaluations.
All-Purpose Privacy
Whether you're looking to create a quiet study spot, a one-on-one meeting room or a space for discreet doctor-patient discussions, architectural walls are a key component of planning for privacy.
For more details on KI's architectural walls, check out our suite of solutions.
Subscribe
Stay up to date with the latest trends and more.