Food for Thought: Dining and Design in Healthcare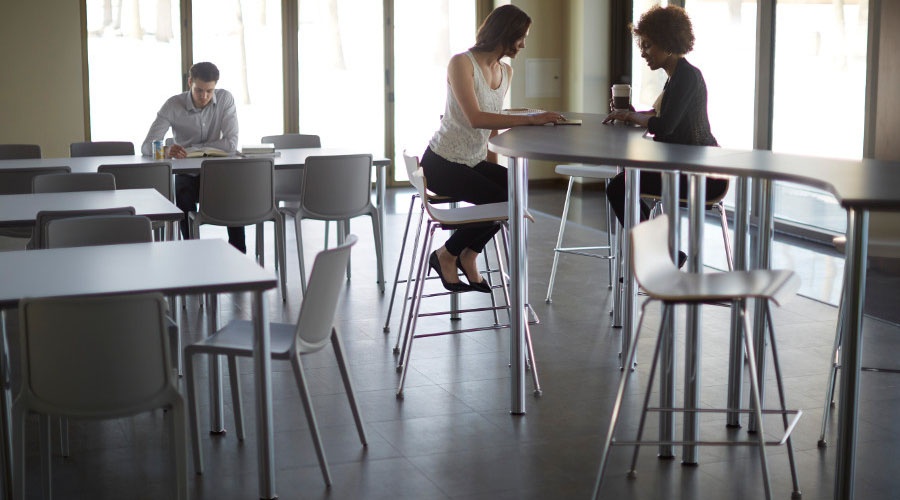 When you hear "hospital food" you likely have visions of wobbly blocks of jell-o, bland chicken breast and soggy green beans. You may also conjure up memories of sterile cafeterias with uncomfortable stack chairs. "Exceptional" is hardly the adjective you may use to describe the healthcare dining experience.
But, times and healthcare facilities are changing! Walk into any of the newest healthcare facilities across the country and you'll be offered delicious food options in beautiful, functional dining spaces with furnishings that are not only comfortable but welcoming. Imagine your favorite fast, casual restaurant within a hospital.
What's driving this change? Patient satisfaction.
The patient experience, as well as the experience of family and visitors is now paramount to the success of healthcare providers. Expectations are high. Consumer attitudes about customer service, accessibility and design are having a dramatic impact on the healthcare experience. Patients and visitors are looking for healthy, inexpensive, satisfying meal options and providers are beginning to deliver!
Food is only one aspect of dining experience in healthcare. The café or dining environment really sets the stage for an inviting, relaxed atmosphere for guests. The institutional buffet line accompanied by cafeteria furniture is being replaced with café height stools and tables, lounge pieces, tables that can be reconfigured and a variety of other solutions.
When we think back to those influential consumer attitudes, take a page from café spaces seen in innovative corporate facilities or large universities. They offer choice when it comes to food, as well as furnishings that support people as they eat, work, study or socialize. Healthcare patients and visitors want similar options.
What considerations go into the design of café and dining facilities?
Here are several themes and specifying trends we are seeing when designing for the healthcare dining experience:
Natural Light – Natural light is shown to boost mood and aid in patient recovery. Whenever possible, plan for windows or architectural wall solutions that let light in rather than using drywall or other light-inhibiting materials. Hospital guests and patients may be undergoing a lot of stress, access to light and nature is shown to have positive benefits to well-being.
Restaurant Vibes – Ditch traditional cafeteria furnishings for furniture solutions that emulate popular restaurants. Include café height seating and tables as well as tables on casters that are mobile allowing for flexibility. Select upholstery and finishes that are warm with even a residential feel.
Connectivity – Ensure that guests have easy access to WI-FI. Offer furniture solutions with built in charging stations or that provide access to power outlets. Guests can plug in and connect their phone, tablet or laptop.
Layouts that Promote Choice – Forget the typical buffet line. Design the dining space so that guests can choose from a variety of food options and seating choices. Consider planning smaller, quieter eating areas for individuals while also accommodating larger groups using various table shapes and sizes.
We encourage you to click below to view recent KI cafe installations that incorporate the themes discussed above.
Subscribe
Stay up to date with the latest trends and more.