Creating Community in Coworking Spaces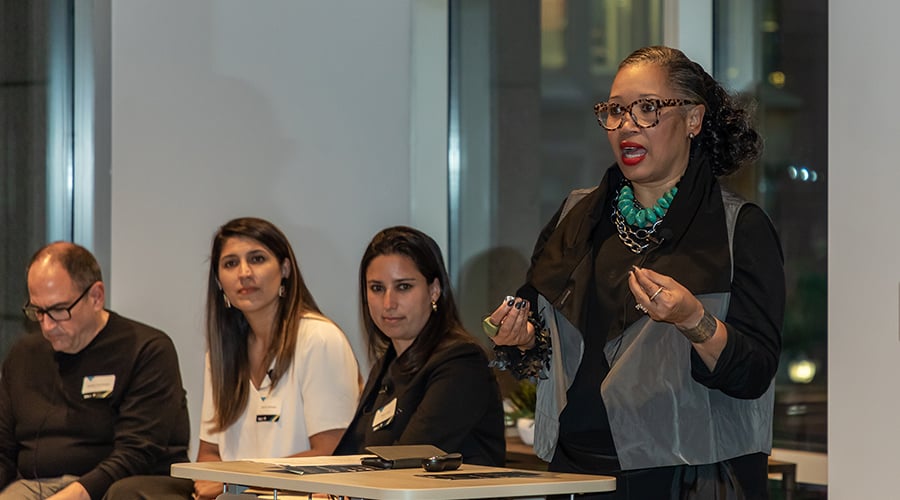 KI and IIDA are hosting a six-city panel discussion focused on Community as Strategy. The emerging topic centers around how the idea of community is shaping design in various markets and locations. Each event features a panel of designers, clients and academia and is hosted by Cheryl Durst, IIDA's Executive Vice President and CEO.
As the coworking concept has taken hold and evolved in recent years, more and more businesses are looking at ways they can create a client experience beyond just offering a temporary desk and an office chair. This topic came to light at the most recent IIDA Community as Strategy event in Boston.
Thais Galli, managing director of Tishman Speyer, heads up Studio, Tishman Speyer's global coworking space. She gave us an inside look during the panel at how coworking is providing not only a great work environment but a place where clients can blend work and life.
"The way we're seeing companies building a place, and not just a space, is by adding those more personal components to the workplace," she said. "If people feel like they're home, they're going to stay longer hours."
The Community as Strategy panel included:

As coworking has matured into a viable business venture, companies like Studio have strategically carved out their place in the market. That means going beyond just offering physical spaces to hosting fun after-work events and gatherings - like a recent speed dating event that attracted 120 participants. Some coworking locations offer onsite health screenings, travel planning and wellness programs.
Coworking enterprises are exploring even more diverse spaces and amenities like nap pods and music rooms where workers can retreat with their instrument, play for a little while and return to work.
"Creating community means making people feel like the coworking space is their office and not just a temporary space to work for two or three months," she said. "It's about creating a home where they can stay for years."
Studio centers around private offices and workspaces interspersed with strategically placed common areas designed to bring clients together.
Galli incorporated a large amount of furniture into Studio's shared spaces, intentionally arranging it to facilitate chance encounters among clients. Open-plan work areas, living room-like settings and café spaces offer areas to work and socialize. Spots where people are likely to grab a coffee and chat have a relaxed residential feel. Conference rooms, phone rooms, offices and private offices provide areas for focused work.
"Every time we have a sitting area, people are facing each other," she said. "We made the sitting areas as tight as possible, so you have to talk to the person next to you."
Creating an engaging environment with meaningful amenities and vibrant community is a powerful attraction and retention tool for coworking spaces as they seek out clients. That same idea extends to the corporate world and higher education where competition for workers and students is fierce.
With low unemployment and as many as 51 percent of employees actively seeking job opportunities, spaces design with community in mind can forge connection between employee, employer and coworkers – generating a sense of belonging that can ease turnover.
"We're seeing metrics where workers, especially younger generations in the workforce, are willing to go to an organization where they feel more connected to the company culture and purpose over salary," Gensler's Silvester told the panel attendees. "If it feels unique and feels like they're creating a bigger impact in the world, they're more likely to come back to the space or stay with the organization and do their best work."
Providing places that feel engaging and personal will undoubtedly continue to drive client, student and employee choices. As Studio demonstrates, blending workspaces with other elements of life – from the availability of onsite personal grooming to afterhours events and meditation rooms – can take coworking from a place to work to a place to live.
We'll continue to explore community as strategy at our final discussion on Oct. 22 in San Francisco. To conclude the series, we'll compile our findings in an executive summary highlighting the key takeaways from across the country.
You can follow along across the country on social media using the hashtags #ispyki, #kifurniture, #iidaiseverywhere and #iida_hq.
Subscribe
Stay up to date with the latest trends and more.