Architectural Walls in Healthcare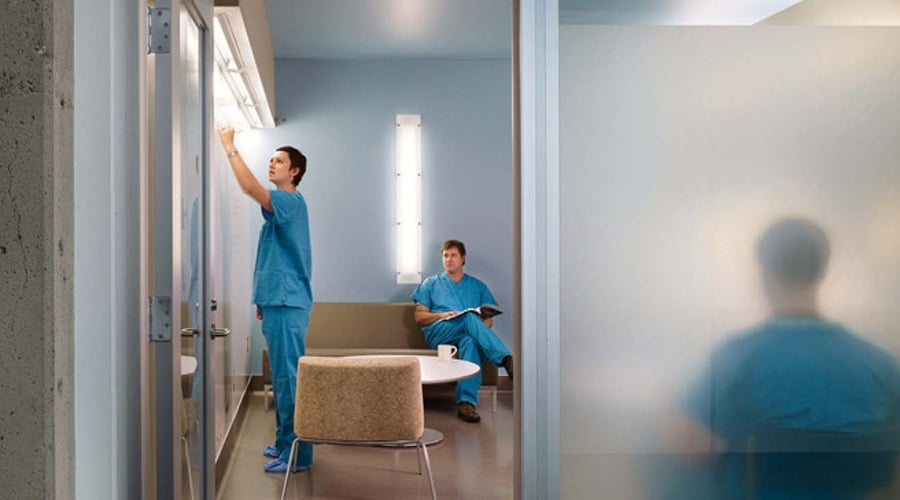 Healthcare environments encompass a variety of architectural spaces – from academic medical centers and community hospitals to ambulatory care centers, medical office buildings and veterans hospitals. When it comes to defining space in these different environments, movable walls provide an ideal solution.
In every facility, change is constant. It's fueled on many fronts; change results from technology adoption, trends in worker productivity and efficiency, and the need to continually evolve to meet the needs of healthcare patients.
These demands have led the charge for modular interior construction known as "movable" or architectural walls. Movable walls offer the promise of a more efficient footprint. Wall systems let healthcare facilities contract, expand, or simply change with ease. An alternative to traditional construction, movable wall is quite versatile, flexible and cost-effective.

A Measurable Difference
Visually speaking, architectural walls create beautifully designed spaces. However, it's really the inherent qualities of the product that bring the greatest value to healthcare built environments; qualities that enhance the physical and emotional well-being of patients, families and healthcare staff. These qualities include:
Flexibility – Movable walls adapt quickly and easily to the ever-changing demands of healthcare environments.
Improved Air Quality – Architectural wall systems meet strict limits on chemical emissions and are SCS Advantage Gold certified.
Infection Control – Walls can be specified in a variety of durable finishes which support cleaning with a 1:10 bleach solution which is essential in healthcare environments.
Privacy Support – KI walls have best-in-class Sound Transmission Classification (STC) ratings and support privacy requirements. This allows patients and staff to conduct personal and confidential conversations.
Enhanced Daylighting and Views – Architectural walls with glass panels, such as all-glass storefronts or transom glass, provide exposure to light which is shown to positively impact health and employee productivity.
Click here for more information about KI's architectural wall solutions.
Subscribe
Stay up to date with the latest trends and more.