Increase Your Purchasing Power
KI is pleased to offer a variety of national, state and local contracts to give you greater purchasing power. We understand the importance of enabling your team with modern purchasing procedures to ensure the most competitive pricing.
By engaging with contracts and cooperative purchasing agreements, you will also reduce your team's administrative burden. In fact, this structure is among the most efficient and economic ways to purchase furniture and provides greater opportunities for you to engage with us—at no additional cost for your team.
State/Local Contracts
In addition to national contracts and GPOs, you can purchase through state-specific contracts. Find your state in the map below to view established contracts and contact info.
View All
Search and sort the chart below to find the national, GPO or state contracts from which you can purchase KI furniture to maximize your investment and engage our most competitive pricing.


Contract Name
Contract Details
Contact
Magnet Group, CO-OP
Agreement #9112
Andy Vanstraten
Managed Health Care Associates (MHA)
BP50497N
Andy Vanstraten
Premier
PP-FA-851
Andy Vanstraten
Sourcewell
#121919-KII
Tim Healy
OMNIA
Region 4 #R191808 & #R180402
Dale Halvorson
TIPS
200301 Furniture, Furnishings and Service
Andy Vanstraten
NPP/Gov National Purchasing/LOC League of Oregon
PS20145
Matt Arnold
Alaska, State of
NASPO Office Furniture MA2777
Matt Arnold
Alabama, State of
MA220000002810
Tyler Scharafanow
Arkansas, State of
Addendum TIPS #200301
Glen Jones
California Community Colleges, Foundation for (FCCC-CSU)

CB145-18 Seating, Tables, Lounge & Classroom
CB265-18 Specialty Products

Andy Steen
California System, University of
UC/Agreement #2021.002823 – OMNIA
Andy Steen
California Multiple Award Schedule (CMAS)
#4-09-71-0075B
Andy Steen
California, Los Angeles Unified School District (LAUSD)
#1450033: School & Admin Furniture
Chris Mellgren
Connecticut, State of

#15PSX0041 Freestanding Office, Lounge, Dorm & Residence
#15PSX0160 Wall
#16PSX0190 Classroom Dock
#16PSX0171 Systems

Jacqueline McGuire
Connecticut Library Consortium
F101
Jacqueline McGuire
Florida, State of
56120000-19-ACS
Tom Krajewski
Florida, Miami-Dade County
#RTQ-000439
Tom Krajewski
Georgia, State of
99999-001-SPD0000100-0056
Tyler Scharafanow
Iowa, State of
031715-KI/#121919-KII Sourcewell
Mandi Wiltz
Illinois Public Higher Education Cooperative (IPHEC)
1905 - Furniture Access, Installation and Related Service
Bob Stefan
Kentucky, State of
NASPO Office Furniture MA2777
Drew Daniel
Louisiana State University System
#R191808 OMNIA
Glen Jones
Louisiana, State of
#121919-KII Sourcewell
Glen Jones
Massachusetts State
OFF38
Jacqueline McGuire
Massachusetts Higher Education Consortium (MHEC)
MC12-C07
Jacqueline McGuire
Minnesota, State of

Contract #143056
NASPO Office Furniture MA2777
155905 F-522(5) KI Systems Furniture

Tim Healy
Minnesota, University of
U42.111
Tim Healy
Missouri, State of
CS202251001
Ian Lingle
Mississippi, State of

# 8200056546 - Cafe, Dorm, Loose
# 8200059233 - Panel Systems Delivered and Installed

Glen Jones
Montana, State of
NASPO Office Furniture MA2777
Matt Arnold
North Carolina, State of
Contract #201800242 STC #420A
Angel Burgess
Nebraska, State of
15364OC - Wall, MA2166
Dan Mahlik
New Jersey, Educational Services Commission of (ESCNJ)
20/21-01
Matt Hopton
New Jersey, State of
A81720 - Office, Lounge, Systems
Matt Hopton
New Mexico, State of
#50-000-15-00051 Public Entities, Cities, Colleges, Schools
Brian Bromber
New York, State of
PC68367
Matt Hopton
Ohio, State of (STS)
Contract 800876
Bryan Hansen
South Carolina, State of
Contract 4400022833
Angel Burgess
South Dakota, State of

NASPO Office Furniture MA2777
17531 Furniture

Tim Healy
Tennessee Valley Authority
15694
Drew Daniel
Utah, State of

#MA2777 NASPO Office Furniture
#MA671 Educational
#MA2166 Architectural Wall

Andy Vanstraten
Virginia, Fairfax County of
Contract No. 4400010359 – OMNIA
Jeff Rach
Virginia, Loudoun County of
C-2932-B
Jeff Rach
Wisconsin, University of

18-5665 Misc Edu Furniture
SYS-20-8104-B Student Residence Furniture
22-5968 Demountable Walls

Dan Mahlik
Wisconsin, State of

505ENT-M20-OFFURNITUR-12 - Statewide Furniture

Dan Mahlik
Wyoming, State of
Contract #AA02KI
Carl Canter
Additional Resources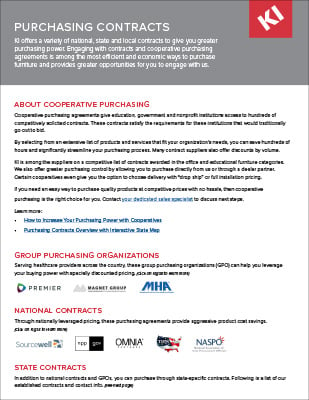 Info Sheet