Press Releases
KI Introduces Enhancements to Lightline® Architectural Wall at NeoCon 2016
CHICAGO - KI introduces a freeform option for Lightline Architectural Wall at the NeoCon® World's Trade Fair 2016 (#1181). This enhancement is a revolutionary way to create faceted curves and angles with standard unitized non-progressive architectural wall. Freeform Lightline allows for angles ranging from 90-180 degrees using standard panels and a clear rigid dry-seal connection while maintaining vertical panel height adjustability.
Lightline wall creates beautiful, adaptive, sustainable environments. It offers a seamless glass architectural wall solution with passive, light construction to support natural daylighting. Lightline integrates both freestanding furniture and permanent construction to unify space and provide an attractive aesthetic throughout a variety of environments.
Lightline is the first unitized or pre-assembled seamless butt-glazed architectural wall on the market. Lightline architectural wall uses ½" thick glass, which is recommended by GANA for ceiling heights from 96" to 120". ½" glass boasts STC performance from 36-39STC. Vertical adjustment built into the unitized construction responds to floor and ceiling variations without the need for soffits or pre-installation floor leveling. It is easily reconfigured saving time, material costs and labor.
Lightline is Level Certified and offers unlimited product reuse versus a stick-built glazing product. It is comprised of highly recyclable materials and offers unlimited glass options.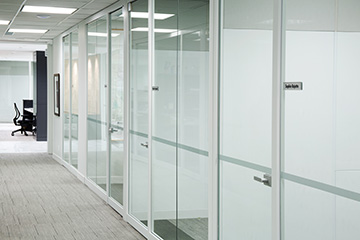 KI manufactures innovative furniture and wall system solutions for education, healthcare, government and corporate markets. The employee-owned company is headquartered in Green Bay, Wis. and operates sales offices and manufacturing facilities in the United States, Canada, Latin America, Europe and Asia. KI tailors products and service solutions to the specific needs of each customer through its unique design and manufacturing philosophy. For more information, visit www.ki.com.
###