Press Release
KI Introduces Enhancements to Connection Zone® Collection at NeoCon 2016
CHICAGO - KI introduces enhancements to its Connection Zone Collection at the NeoCon® World's Trade Fair 2016 (#1181). The Connection Zone Collection from KI addresses the human element of work space and how the right "zones" align with the needs of the individuals. Enhancements include café height teaming tables, frameless privacy screens and supporting privacy screens for benching. Mobile screens with magnetic steel inserts, optional bulletin boards and fabric inserts are also available.
Connection Zone addresses the human element of workspace. From benching solutions, mobile screens and storage to privacy booths, Connection Zone supports the shift from ME space to WE space, creating "zones" that foster performance and accommodate a variety of work styles. Focus zones, ideation zones, interaction zones and privacy zones are supported by unique elements designed to efficiently maximize workspace.
Connection Zone enhancements further expand the collection's planning continuum. Cafe height teaming tables facilitate impromptu gatherings. Frameless privacy screens offer a lighter aesthetic and open sight lines. Supporting privacy screens provide heightened privacy and support shelves and cubbies. Mobile Screens are available with magnetic steel inserts, bulletin boards and fabric inserts.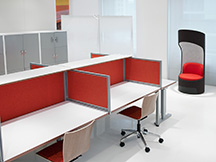 KI manufactures innovative furniture and wall system solutions for education, healthcare, government and corporate markets. The employee-owned company is headquartered in Green Bay, Wis. and operates sales offices and manufacturing facilities in the United States, Canada, Latin America, Europe and Asia. KI tailors products and service solutions to the specific needs of each customer through its unique design and manufacturing philosophy. For more information, visit www.ki.com.