KI In The News
What if School Was Fun?
Learning By Design
April 2021

A facility rethink led to innovation at every intersection for the Gilroy Unified School District
By Sean O'Keefe
The City of Gilroy California is a community with a spice for life; an effervescence of spirit that manifests itself in the people, places, and perspectives. Famous for the Gilroy Garlic Festival held annually on the last weekend in July, Gilroy quaintly finds itself at the intersection of today and tomorrow. Situated at the southern gateway to Silicon Valley, Gilroy also abuts the northern edge of the San Joaquin Valley's abundant agricultural fertility. An idyllic California bedroom-community, Gilroy's population spans an all-American spectrum of workforce demographics.
Paul Nadeau, the Director of Planning and Management for the Gilroy Unified School District, believes Gilroy's down-to-earth, hometown feel plays an important role in the learning environments the District cultivates.
"Gilroy is a place where everyone is interested, involved, and committed to a shared goal of making this community a better place," says Nadeau. "Our District educates more than 11,000 K-12 students on 15 different campuses with a focus of transitionary learning environments that serve a diverse population."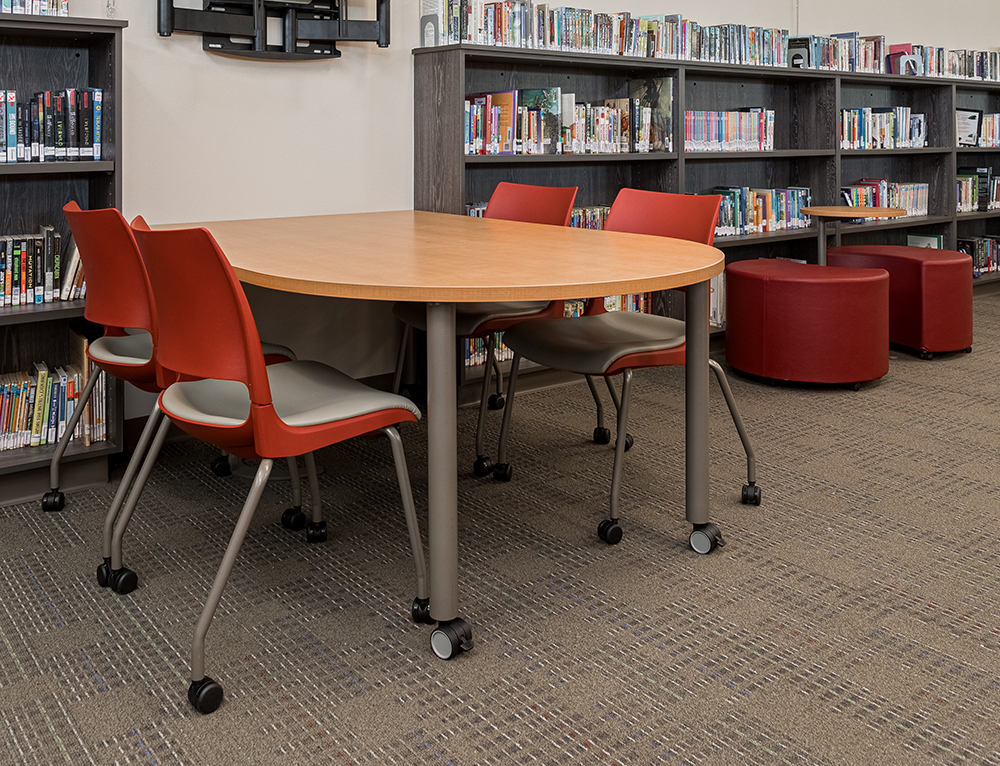 In 2018, when Nadeau and his team were tasked with a major campus replacement for the District's largest middle school, it was an opportunity to rethink the design perspective from the ground up. Built in the 1940s, the existing Brownell Middle School Campus had long since worn thin on functionality, aesthetic appeal, and practical repair. It needed more than an upgrade, -it needed a complete reimagination of what learning could be about.
The team at Aedis Architects was given the chance to re-envision the Brownell Middle School Campus by reconsidering what learning means. Through a hands-on design visioning process, Aedis led school administrators, faculty, staff, and District operations through a workshop exploration in search of a defining inspiration.
"The question we came to ask ourselves was what if school was like summer camp?" says Joe Vela, a principal with Aedis and a key figure behind the design. Aedis specializes in educational facilities and understands schools as a vital center of public engagement in healthy communities. Vela and his team knew the Brownell campus was an opportunity to truly push the boundaries of educational organization and design.
"We engaged campus and district stakeholders in a series of design workshops," says Vela of the deep dive into user needs developed through a language of collaboration. The first workshop session established a collective consciousness about what matters most and how to materialize it. The second session leverage the concept of primordial spaces popularized by David Thornburg's concept Core Education, which uses six primordial spaces as metaphors for the basic design and function of educational arenas. These primordial environments - Watering Hole, Mountain Top, Sandpit, Cave, and Campfire - represent one of five kinds of learning environments intended to facilitate a specific teaching or learning behavior. The Cave, for instance, represents an independent research space to foster critical thinking; the Campfire embodies small group engagement; and the Sandpit encourages experimentation through prototyping.
"A site organization plan began to emerge that clustered groups of buildings along a meandering river," says Vela. "There was a desire to embrace biophilia, fresh air, sunshine, and natural exploration as a means of fostering critical thinking, nurturing creativity, and compelling communications and collaboration, not just as educational objectives but as life skills."
The result is a collection of highly flexible and adaptable small learning communities that provide opportunities for students and teachers to seamlessly transition through the primordial spaces both inside and outdoors. Each small learning communities is designed to accommodate a wide variety of teaching and learning styles through hands-on learning labs, multidimensional presentation capacities, and a wide range of ways to express learning and retention.
"In designing these spaces, flexibility now and well into the future was key," continues Vela. "The ability to move furniture from inside to outside, through the oversized, roll-up doors, relied on flexible furnishings that can be used in a lot of different ways."
Based out of Green Bay, WI, KI is a contract furnishing company that takes pride in helping school districts make smart furniture decisions. KI offers expert advice, design options, and personalized solutions to reimagine educational facilities. Bryan Ballegeer, Vice President of Education Markets, came to KI as a customer from a New York school district where KI products were the standard in the district's 41-building portfolio.
"As furnishing specialists, our goal is to help districts understand how important educational furnishings are to learning. We help them test drive a wide range of options to see what works best," says Ballegeer. In Gilroy, KI fully furnished three classrooms with several different collections of tables, chairs, desks, stools, casegoods, and filing systems. The principal and instructors were able to check everything out over time and Aedis conducted a training session on how the furnishings could be easily reconfigured for different uses. Students also visited the sample classrooms and completed a preferences survey.
"Every school community has a unique culture of learning," says Ballegeer. "Selected furnishings must complement that culture because districts generally only purchase a collection of furniture once every 20 or 30 years. Landing on the right mix of flexibility, durability, portability, and functional comfort benefits from some hands-on experience without any pressure to buy one thing or another."
In Gilroy, furnishings were largely chosen from KI's Ruckus® Collection. This simple, inspiring, and astonishingly innovative collection is designed to allow users of all age levels the freedom to move however they want. This enhances student engagement and enables a wide range of teaching styles. Ruckus' non-directional seating system allows users to quickly and easily change from a focused activity to a group collaboration without having to rearrange the furniture. The integrated arm and backrest doubles as a work ledge to promote unlimited room layouts and individual seating options.
"The world of K-12 education is evolving rather quickly these days," finishes Nadeau. "The District's facilities play a large role in this. If you stagnate, you are going to deliver an inferior product. Collaborating with KI and Aedis Architects helped us select furnishings that integrate with the facility we designed and the educational model we follow."