KI In The News
Teaching Agency, Resilience, and Curiosity Amid a Global Pandemic

By Jonathan Matta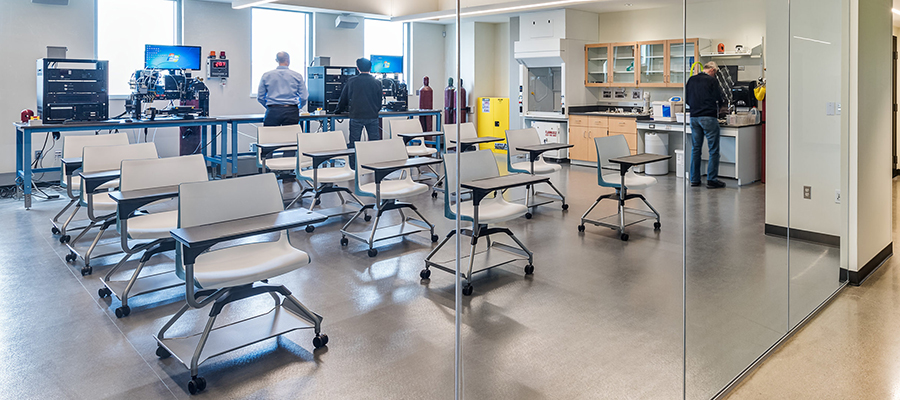 ---
A few years ago, I was visiting a university when an administrator asked me, "What do you know about active learning?" It struck me, initially, as a rhetorical question. Was this a test? Once I realized the administrator was serious, my mind began to race. Where do I start? All the way back in ancient Greece, with Socrates?
---
I argued that active learning is innate to who we are as human beings. I waxed poetic about the ancient Greek philosophers and how their teachings were at the root of what we know as active learning today.
My interlocutor was unimpressed. He wanted to know what furniture would facilitate active learning. Would desks and chairs on wheels do the trick? Certainly, some moveable furniture would attract and retain students and improve their learning outcomes, right?
This conversation exemplifies the tension between the instructional approach to active learning and the physical design approach. At KI, we believe the two approaches are firmly intertwined.
What Does Active Learning Teach Us?
For decades, educators have sought to teach students three core qualities: agency, resilience, and curiosity. This quest spawned different approaches to instruction, including active learning and cognitive learning. To bolster these types of learning, educators reimagined what classrooms should look like.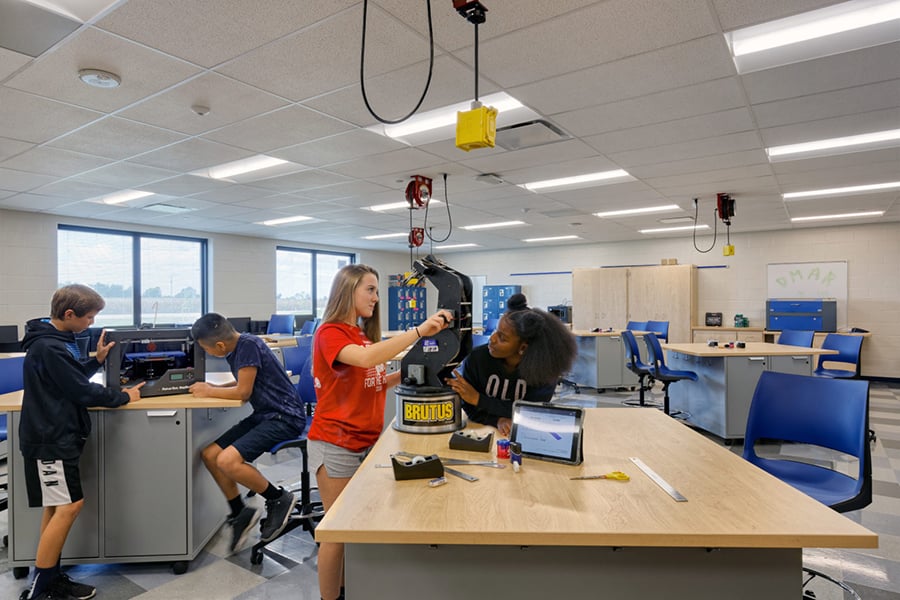 Hilliard High School, Columbus, Ohio. Fanning Howey
To teach agency, educators craft lessons that encourage students to do more than just submit an assignment in exchange for a grade. Strategies like project-based learning encourage students to do everything from solving problems that have real-life implications to developing ideas that can better humanity. By teaching kids agency, instructors aim to shape the leaders of tomorrow.
Students learn agency through their physical environment when they have complete autonomy over their space. Educators facilitate this by designating "zones" between which students can move back and forth depending on their activity, learning style or mood. Instructors also equip classrooms with reconfigurable furniture so students can create their own workspaces at a moment's notice.
To teach resilience, educators allow kids to experience failure. When students create something with their own hands and part of it doesn't work, they have to try something else. When that new part doesn't work either, they have to try again. To physically support this experience in the classroom, teachers introduced makerspaces.
Many educators find they don't have to teach curiosity. They simply have to reignite it. Children are inherently curious. It's the reason they ask, "Why?" more than we can usually answer. Educators worldwide aim to push the limits of this curiosity and harness its power for student learning.
"To wonder is to learn. To wonder is to grow. To wonder is to live. Live with wonder, because in the simplicity of wonder lie the answers," neuroscientist and author Abhijit Naskar writes in his book, Time to Save Medicine.
To teach kids curiosity is to teach them to wonder. All learning starts with one thought: "I wonder…" Those two words are a pathway toward creative problem-solving.
Although intangible, agency, resilience and curiosity are the skills that shape children into the leaders and learners of tomorrow. The reason these skills are so important originates with our history as human beings.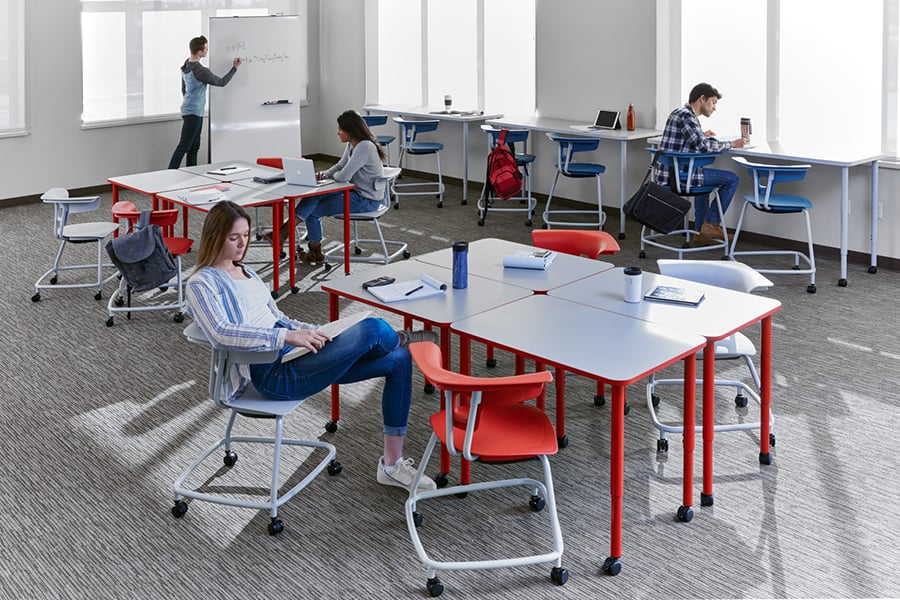 Cognitive inquiry sustained our survival and evolution. After all, how did we hunt for and gather food? Our ancestors certainly didn't learn to do so in a classroom. They had to figure it out for themselves.
Socrates, Plato, and Aristotle devised structures and systems of learning to drive cognitive inquiry, which evolved over thousands of years to become the cornerstones of today's schooling, from social learning to the Socratic Method.
But there's only so much agency, resilience or curiosity one can learn in the classroom. At some point, there just isn't skin in the game. Even if students solve math problems that involve calculating how they'll save up to buy a house, they know that at the end of the day, it's not real life. It's just schoolwork.
When Real Life Intervenes
In recent months, the experience of learning has drastically changed. The critical, real-life skills we've designed curricula around are suddenly punching us in the face. Students are being exposed to challenges they've never experienced: a global pandemic, mass economic shutdown, systemic inequalities, and widespread civil unrest. Kids are organically learning agency, resilience and curiosity as a direct result.
This spring, schools nationwide shut down to stop the spread of the coronavirus. Suddenly, students were thrust into managing their own time and schoolwork, building agency in real life.
At KI, we recently conducted interviews with students from kindergarten through college to gauge how they felt about the transition to distance learning. Several students told us they enjoyed the freedom to control how they spent their day. "[Distance learning] just gives me a lot more flexibility to do my work, in the time that I want to do it in, and in the place that I want to do it in," one 11th grader told us. "A single student can go at the pace he wants to be instead of the teacher's pace," a seventh-grader shared.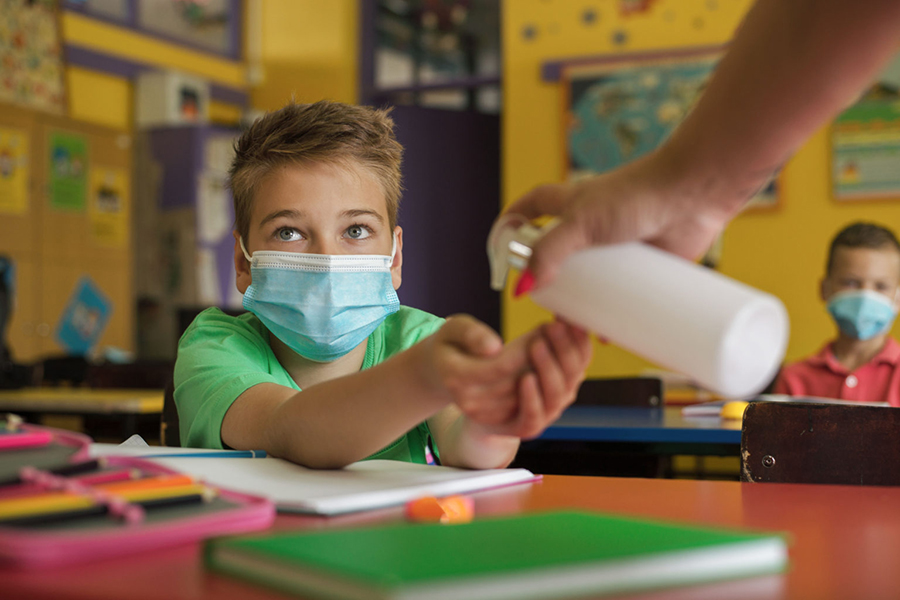 In addition to building agency in their routines by completing coursework honorably, students develop social agency by speaking up about current issues or participating in protests. They develop hygienic agency by wearing masks and practicing social distancing to protect themselves and others.
Meanwhile, nearly everything young people are experiencing right now is making them more resilient. They're learning to cope with grief and loss — the loss of social interaction with their friends, the loss of extracurricular activities and sports, the loss of educational milestones like prom and graduation. Like all of us, they're coping with anxiety and fear of loved ones contracting the coronavirus.
Most of the students we interviewed cited social isolation as one of the most challenging aspects of distance learning. "I really want to see my friends again, in person," a sixth-grader told us. "I'm most upset that my lacrosse season got canceled," a ninth-grader shared. "I like learning from home but still want to be able to see my friends at school. And I really miss playing sports," a fifth-grader echoed.
So much about the future is unknown right now. But one of the silver linings of that uncertainty is that curiosity comes more naturally to students and adults alike. We find ourselves examining everything from how to keep people safe and healthy in a pandemic, to how to keep our businesses running, to how our histories impact today's socioeconomic inequalities.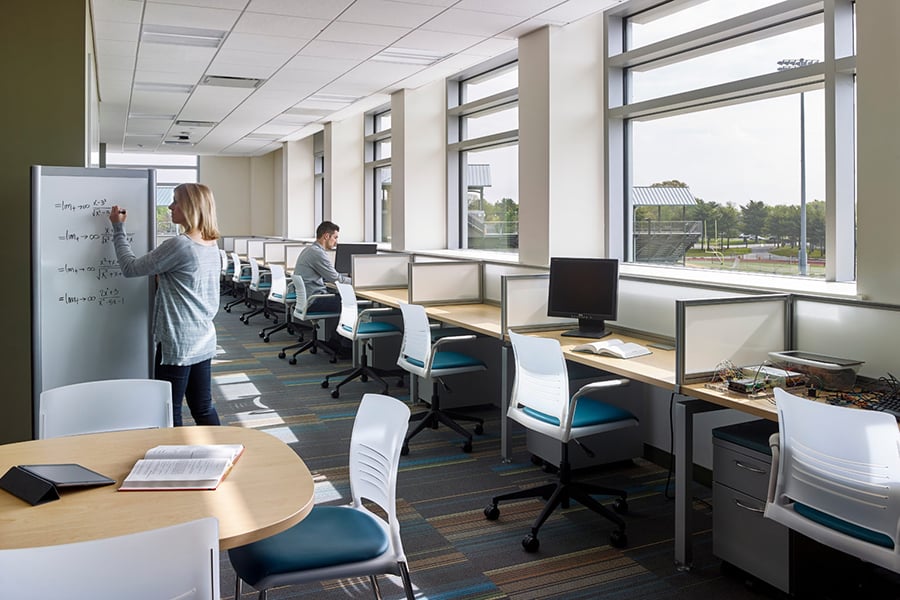 Moving Forward
When they return to school, students are going to come back with a shifted worldview. Some will have participated in protests. Others will have lost loved ones. All will have endured some form of social isolation.
As educators, we want to know how we can make the most of this new resilience without being flippant. How can I focus on teaching when I have high school seniors who have to find jobs because their mom or dad lost theirs? Are makerspaces and mock think tanks moot in light of all that our students have experienced?
When it comes to the physical learning environment, the answer is fairly simple. Educators should strive to create resilient spaces.
At KI, we've conducted more than 200 workshops on designing learning spaces. Across the board, the number-one request from staff and faculty is for "flexible" spaces. But "flexible" often means "resilient" — classroom set-ups that support various instructional models with the same "kit of parts" or set of furniture.
Resilient spaces will be especially important when students and educators return to school. They'll need learning spaces that support social distancing without compromising collaboration — and that support a spectrum of learning styles. They'll need learning spaces resilient to change, no matter the complexities of today or tomorrow.
How to reform instructional approaches for active learning post-pandemic is less clear. Educators should recognize the growth their students will have experienced within such a short time. They should build on that strengthened agency and resilience, empowering students to continue questioning and problem-solving amid all the uncertainty.
Right now, we find ourselves genuinely curious about what the future holds. Will we have regular school days? Will we be able to play high school sports?
We encourage you to ask your children, your students, your peers, and yourself a slightly different question. How might we have regular school days? How might we have EDspaces in the future? How might we have high school sports?
Today, we're experiencing the real-life circumstances that spur agency, resilience and curiosity — the three components of active learning that educators have tried to design school-based learning systems around for decades. The world is throwing all sorts of challenges at us. There's nothing we can do but embrace them. We'll be better learners — and human beings — for it.
Jonathan Matta and Bryan Ballegeer from KI will be leading an interactive discussion on "Reimaging Learning Systems in a Post-COVID World" on November 10 at 11 AM (ET) at EDspaces 2020. Register today!