KI In The News
Want to Improve Student Learning?
School Planning & Management
November 1, 2017

By Rod Bohm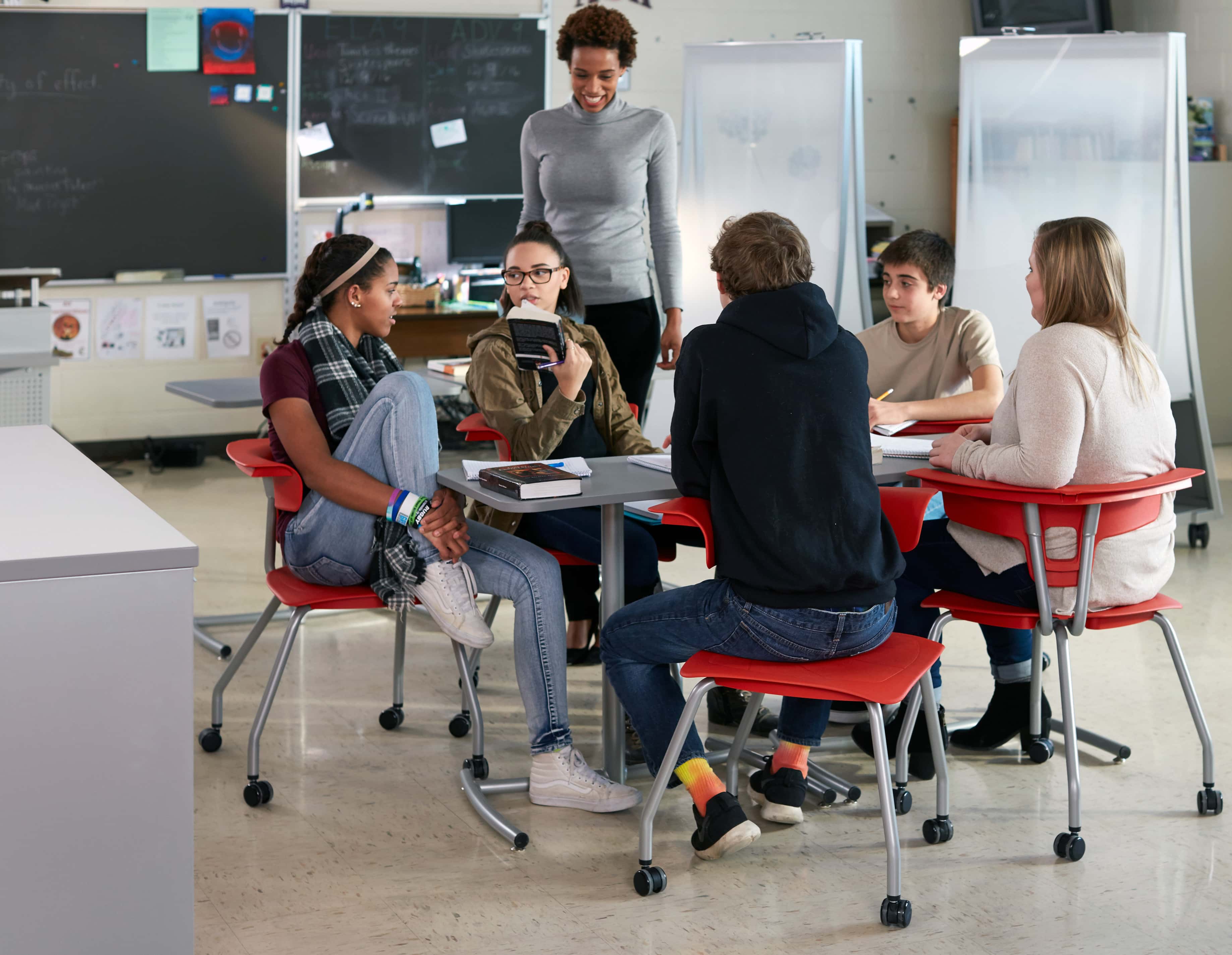 Educators know that to reach - and teach - every student, they must make learning engaging and exciting. Consequently, lesson plans are growing more creative, and collaboration among students and teachers alike is now the rule.
But the classroom hasn't kept up with these rapid changes in pedagogy. It's about time that changed. Teachers need the ability to create physical learning environments that adapt to different learning styles. Their students deserve nothing less.
Adaptive classrooms are the product of a human-centered approach to design. Under this rubric, learning spaces prioritize the needs of, well, humans - students, teachers and administrators.
"We all see the world in different ways, and students are no exception," said Jonathan Matta, vice president of Education at global furniture manufacturer KI. "Human-centered learning spaces are dynamic and fluid, so that they can accommodate a variety of learnand teaching styles."
What does a human-centered classroom look like? It varies.
It could be a classroom where one student can read independently, two others can grapple with the newest math concept, and a group can do a hands-on science project - all simultaneously.
It could be one with floor-to-ceiling windows to let students and teachers take advantage of the well-documented health and cognitive benefits of natural light.
It could be decorated in vivid colors and palpable textures to stimulate the minds of its students.
In today's ever-connected world, human-centered classrooms also have to keep up with technology - and support techinspired learning. That could mean providing students with convenient access to power, maintaining wireless networks throughout the school, or building classrooms that can be adapted and reconfigured as new technologies are incorporated into the curriculum.
Rather than encouraging a school day filled with sit-and-listen, lecture-driven teaching from start to finish, human-centered classrooms create spaces that balance traditional instruction with opportunities for other styles of learning. Such learning spaces empower students to learn by doing - they can include everything from a do-it-yourself arts and crafts set-up to a three-dimensional printer workstation. These "maker spaces" may also be outfitted with flexible storage options, work surfaces, and seating to inspire students' creativity and curiosity.
"Think about the traditional learning experience - the one with straight rows, linear curriculum, and structured instruction," Matta said. "The physical space that supports such an experience is the antithesis of a connected and empathetic student learning space."
Research is beginning to show how crucial engagement, excitement, and even movement are to learning outcomes. In one study, scholars at the University of Chicago found that students who acted out word problems did much better than their peers who simply read them. Schools that have incorporated 15-minute recess breaks throughout their school day saw gains in student attention span and instructional time.
Student interaction is also proven to have a positive learning impact. On average, students tend to retain just five percent of information taught via lecture but 50 percent of a lesson taught in discussion groups. When students teach each other, the retention rate skyrockets to 80 percent.
We strive to embody human-centered learning at Southwest High School in Green Bay, Wis. Our advanced language arts and AP literature and composition classes utilize Ruckus, a reconfigurable furniture solution from KI. This allows students and teachers to quickly adjust classroom set-ups to best suit a given lesson or group activity. The furniture adjusts for height and comfort and is designed to support all the possible ways teens make use of it. I'll walk into the classroom and see ninth-graders or 12th-graders perched on the back of the chair - or foregoing a desk entirely to use part of the chair when taking notes.
Over the course of the past school year, students and staff alike have seen the positive effect this dynamic learning space has on our Southwest students. "The chairs and tables on wheels are fantastic to be able to move around easily for group work," said Beth Counard, English language and arts teacher.
If we aren't designing classrooms with the human beings who use them in mind, then who are they for? Teachers in flexible learning spaces don't have to lose time reconfiguring the classroom layout. They can spend that time engaging with students instead. And by responding to our students' different learning styles, we can create classrooms that boost their focus and performance - all while empowering their agency and creativity.