KI In The News
Lost In Transition: The Three Fs To Increase Engagement And Retention With New Millennial Workers

Written by Stan Phelps
Almost 90% of college graduates say they've felt "lost in transition" in their first year on the job. That's one of the findings of a white paper on the concept of collegiate design by Jonathan Webb of KI and Brett Shwery of AECOM. The paper emphasizes how today's recent college grads are disenchanted and disengaged in their new work environment. These "lost" employees are translating into lower retention rates.
The future workplace needs to adapt to a rapidly changing landscape. In the article "Maximizing Millennials in the Workplace" by UNC Kenan-Flagler Business School, "The nearly 80 million Millennials who are about to enter, or who are already in the workforce, will fundamentally change how business is conducted in the future." Today's employers can't afford to ignore the preferences of millennials. Workers born after 1980 now comprise the largest share of the American workforce. By 2020 they will account for 51% of the total workforce.
So, what can you do to boost their engagement? Here's three F's to improve retention and engagement:
1. Form - Space matters. Your physical work space should reinforce culture, not dictate it. According to Mark Fidelman, "The best workplaces find a way to integrate their organization's culture and mission. In the future, these work spaces will also help your workforce to become more effective. An adaptive workplace - where physical objectives and software adapt to the working style of the organization and not the other way around."
Webb and Shwery have found through their research that most young workers expect their workplaces to resemble college. They've been sorely disappointed when that hasn't been the case. To quote a line from the character Diane Court in the movie Say Anything, "I have glimpsed our future, and all I can say is... go back."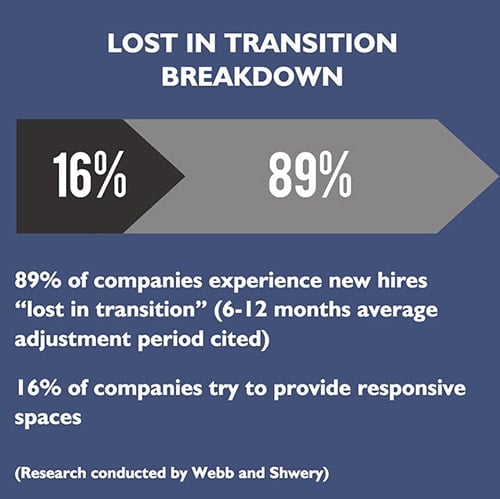 Ninety-five percent or large employers are recruiting on college campuses. According to the report, only 16% of the companies interviewed actually offered work spaces that responded to the preferences of new workers. As one Fortune 100 executive in the research put it, "No wonder we can't get anyone to come work for us."
Takeaway - Millennials work differently and need responsive spaces. For example, they like to work in groups. Different than teamwork, this requires spaces where they can work individually near others. A mix of space is needed to adapt. In the words of former Steelcase CEO, Jim Hackett, "Celebrate the shift of what we call the 'I' space to the 'we' space… Space has to enable and empower information in ways we only imagine… (across) a continuum of I and we work… people need a range of settings to accommodate focused, collaborative and social work in both open and enclosed environments - in other words, a palette of place."
2. Flexibility - If today's millennials haven't hated their cube farms, they've chafed at the lack of flexibility the status quo workplace offers. They have come from a collegiate environment where they chose when and where they did their work.
Today's employers need to learn how provide greater flexibility for millennials. Webb and Shwery recommend going back to campus to see how millennials work. Among the key observations from the research on collegiate design:
• Students work everywhere-park benches, stairwells, hallways, wide-open areas, noisy environments and quiet confines.
• Don't forget outside - exterior spaces are maximized and utilized for work/study.
• Blending work/social - College is a 24/7 intersection of work and social interaction. They both occur at any time and constantly shift easily and instantly.
• Work the core - Central building and core spaces are the primary collaboration, communication and interaction spaces found within collegiate buildings.
Millennials want greater control over the "how" and "when" of work. The report shares feedback from a recent college graduate regarding today's workplace expectations, "Professors give me assignments and deadlines. How I complete those tasks is entirely up to me. They don't say, 'You will write this paper between 9 a.m. and 5 p.m. while sitting at this assigned library table."
Takeaway - Work is no longer somewhere you go, work is simply what you do. One size no longer fits all. Today's employers need to provide greater flexibility. Webb and Shwery advocate for what IFMA labels a distributed work strategy. It's a "work anywhere, work anytime' policy. In the workplace, that often means accommodating a variety of work styles and tasks-heads-down, concentrative work, collaboration, offsite and mobile, etc."
3. Fluidity - Today's employers need to experiment to find the right balance of individual and group work spaces. Ideally, you are able to create fluid spaces that adapt to your needs. Here are a couple of examples of this:
A. Experimentation - The Frontier in Research Triangle Park in North Carolina is a mix of free open drop in / meeting spaces and office space. The company Indoff Solutions has partnered with The Frontier to experiment with different furniture and set-ups. One interesting example of this is BOB by fluid.
BOB is a mobile office in a box. The self-contained workstation can be set-up in a variety of ways. We now live in a world without wires. Add a rechargeable battery pack and/or leverage solar panels for BOB and you can literally work anywhere for the day.
B. Mobility - The software and gaming platform company Valve provides desks with wheels for every employee. Those wheels are a symbolic reminder of the need to go where you are most valuable in the company. The employee handbook even provides a fun four-step method on how to move your desk.
Takeaway - Take an agile approach to design. Try new things. According to Mary Lee Duff, "For some clients that means going into benching systems, for others its simply lowering the panel walls [on cubes] and being able to offer greater control over how to reconfigure one's own space."
Final Thoughts - Millennial workers are keeping their managers up at night. It's not because they're performing poorly, but because they're worried about retaining them. According to Deloitte's "2016 Millennial Survey," 66% of the millennials expect to change jobs in the next five years. Gallup estimates that millennial turnover alone costs the U.S. economy $30.5 billion annually. Smart companies will be proactive in form, flexibility and fluidity to drive engagement and increase retention for new millennial employees.