KI In The News
Here's Why It Matters That Millennials Hate Where They Work

Don't be so quick to call them entitled. There are actually compelling reasons to redesign your office with millennials in mind.
By Laura Garnett, Performance Strategist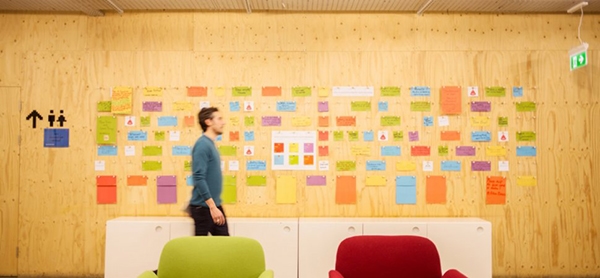 Graduating from college is as daunting as it is exciting. Young adults leave the familiarity of their campuses and classrooms and head into the vast unknown that is the workforce. There are so many new, moving parts that it's no surprise an overwhelming number of companies found their employees are often "lost in transition" right after graduation.
That'd be troubling for any Human Resources director to hear, but is it worth worrying over? Isn't that to be expected when a new employee joins a company? According to a white paper from workplace design gurus Jonathan Webb and Brett Shwery, this is actually evidence of a bigger, more troubling issue at play.
In "Collegiate Design: The New Driver for Workplace Design," Webb and Shwery reveal that the key to attracting these recent grads to your company and keeping them happy once they're hired is often overlooked. Instead of looking at various incentives, companies should take "design and workspace planning cues from institutions of higher education." The reason is simple: These learning environments are what influenced the people they're looking to recruit.
If you're rolling your eyes at the idea of redesigning a workspace just for millennials, keep reading. The three reasons below might make you change your mind.
1. Millennials will change the way we work (and it'll happen sooner than we think).
As noted in "Maximizing Millennials in the Workplace," this generation accounts for 80 million people who are about to enter or are already in the workforce. If that number seems impressive, consider that in just three short years almost half of all workers in the United States will be millennials. It's impossible to deny that they will "fundamentally change how business is conducted in the future." The uncomfortable reality for most companies is that those changes are going to come sooner than we think.
If your company is looking to hire (and retain) one of those 80 million people, you might want to start by paying attention to their learning environments and making adjustments in your workspace. Preparing for these changes - and your future superstar employees - sooner rather than later will save many headaches down the road.
2. Most corporations are recruiting on college campuses.
Data shows that 95% of corporations are focusing their recruitment efforts on college campuses. If corporations hire from that population and then ignore the ways they can support them in the workplace - i.e. - failing to take into consideration the fact that most students work everywhere, not just in one fixed spot - they're setting themselves up for failure.
Remember: Job seekers aren't the only ones being interviewed. They're also evaluating your company to see if it's a good fit. Why settle for high turnover rates when you can find ways to maximize your company's potential for success?
3. These HR challenges won't go away anytime soon.
One of the most interesting data points in the white paper is that 36 percent of HR professionals identify "creating a corporate culture that attracts the best employees to their organization" as one of their top three biggest challenges they'll face in the next decade. However, the authors also found that only 5% of companies said they consider attributes of collegiate design when designing their work environments. This means even companies that offer a candidate's dream job might not be able to keep them happy at work because they're not creating a welcoming and productive environment. It also confirms that those HR professionals are right to be worried about attracting the best employees.
Workplace design might seem like an afterthought when you're focused on offering things like competitive salaries and great benefits, but this data suggests it might be better to bring it front of mind. Check out the white paper to learn more about how your company can start to design your workplace with millennials in mind.

The opinions expressed here by Inc.com columnists are their own, not those of Inc.com.