KI In The News
Expect to See More Standing Desks in the Workplace in 2017
Government Product News
January 9, 2017

Written by Michael Keating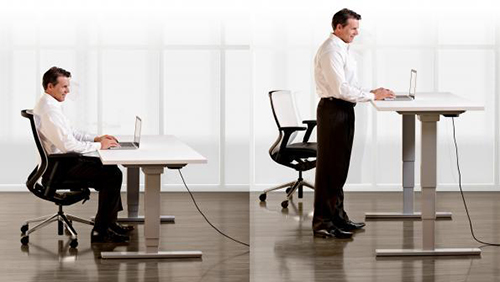 More offices and workplaces will start using standing desks in 2017, predicts Jonathan Webb, a workplace trends expert for global manufacturing firm KI Furniture. He's been quoted on the benefits of standing desks at Bloomberg, TechRepublic, and other major outlets.
Webb's views match up with our recent Government Product News-American City & County poll that shows 53 percent of respondents believe that standing desks boost productivity. A total of 314 government officials and others took part in the poll. Below are Webb's thoughts on standing desks.
GPN: Are more offices/workplaces using standing desks now?
Jonathan Webb: Government offices are using sit/stand desks as a standard practice more than ever. In fact, recent guidance from organizations like Fitwel is almost dictating that sit/stand desks become standard practice.
Fitwel is a health and wellness standard for buildings developed by the CDC and the General Services Administration (the government agency that runs federal office buildings). After testing the standard in government facilities, it was released to the public a few months ago, with the help of a New York City nonprofit, the Center for Active Design. It's aimed at helping employers evaluate all the design factors that go into creating a healthy workplace, from proximity to public transit, bike parking, indoor air quality, healthy food access, and stairwell design.
Fitwel will be used as a standard for new construction projects within the federal government, and implementing sit/stand desks is a common practice.
GPN: Will more offices/workplaces use standing desks in 2017?
JW: I believe so, yes. There are a couple of reasons for this. First, the cost of sit/stand desks continues to drop as the product becomes more popular worldwide. In fact, sit/stand desks once used to command a 40 percent price premium over a static desk. The cost delta between sit/stand and static desks has dropped over 50 percent in recent years. Secondly, organizations see the benefits of allowing workers the ability to sit and stand throughout the day. For one, keeping knowledge workers at their most productive place - their computer - makes for a more productive employee. In addition, there are significant health benefits to altering postures throughout the day, including improved metabolism and heart rates, and reduced blood pressure.
GPN: Are standing desks a healthy alternative to government workers and other workers?
JW: Certainly. Most workers still work in a very sedentary work style. KI has conducted significant research on the topic of active design, which provides workplace strategies designed to promote inherent movement within the workplace. Unfortunately, even the best workplace wellness programs aren't doing enough to change behaviors for the masses. Organizations must seek ways to promote movement through workplace design and sit/stand desks are a key component of Active Design. You can learn more here in the Active Design white paper.
In the video learn about the health benefits of sit-stand workstations and work surfaces.